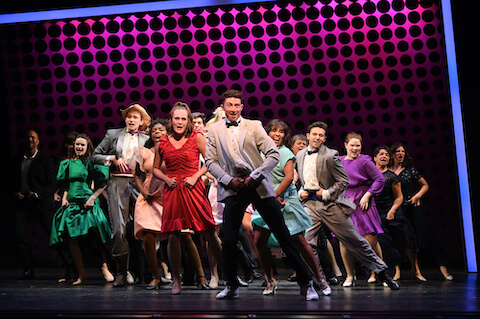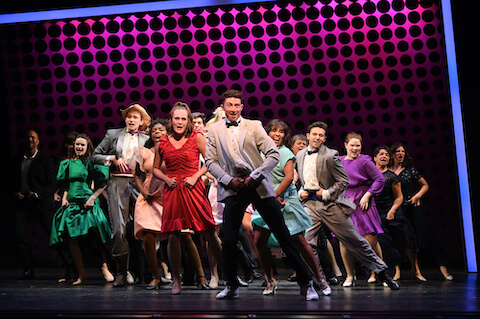 WAKEFIELD, RI — When blockbusters frequently transform into mediocre stage musicals, it was pleasant to observe a dazzling "Footloose" at Theatre By the Sea.
Based on the smash 1980s film starring Kevin Bacon, the show is an infectious, high-energy blast of summertime fun. The script was written by Dean Pitchford and Walter Bobbie, based on Pitchford's original screenplay.
Director Bob Richard ("West Side Story"), working with choreographer Diane Laurenson, has crafted a fast-paced show with energetic dance scenes.
JP Qualters' Ren McCormack relocates from the bustling Chicago to a small Western town where dancing and rock music have been banned.
There he meets the rebellious and beautiful Ariel (Emma Wilcox), the teenage daughter of the Reverend Shaw Moore, who holds an iron grip over the town council. It turns out there was a car crash which resulted in the deaths of some teenagers, one of them Moore's son.
Ren first has to win over Ariel from her abusive boyfriend Chuck (James Oblak) as well as convince the town council to allow the teenagers to hold a dance. The Reverend Moore, of course, is vehemently opposed.
Qualters is charismatic and sports a lean physique as the outsider Ren, who eventually wins over his high school classmates.
Besides being a skilled dancer, Qualters delivers superb vocals on "I Can't Stand Still" and the romantic duet with Ariel, "Almost Paradise."
Wilcox, most recently seen in "Million Dollar Quartet," is sassy yet vulnerable as Ariel struggles with her father's stern demeanor resulting from deep grief over their family tragedy.
As Reverend Moore, Matthew J. Taylor takes what could've been merely a strident religious figure and imbues him with a real sense of humanity and tenderness.
Taylor shines on the ballads "Heaven Help Me" and "Can You Find It In Your Heart."
Aimee Doherty portrays Vi, Moore's devoted but long-suffering wife. Doherty brings depth and dimension to the character and beautifully performs the ballad "Learning To Be Silent."
I also liked Candace Haynes as Rusty, one of Ariel's close friends who falls for Ren's shy friend Willard (an appealing Ethan James Lynch). Haynes is a vibrant actress and brought the house down with the irresistibly catchy "Let's Hear It For The Boy" and "Somebody's Eyes."
The production also benefits from Kyle Dixon's snazzy set design (I especially liked the barbecue joint where the teens dance) and Mikayla Reid's colorful costumes.
All in all, "Footloose" is a show with some good music, especially the iconic title song by Kenny Loggins, and an important message at its core. As Ren and company strut their stuff on stage, we are reminded that when rights are taken away, you need to stand up and fight for freedom.
Footloose runs through July 16 at Theatre By the Sea. 364 Cards Pond Road, Wakefield. Tickets are $61 – $84 for all performances (additional fees may apply). Discount rates are available for groups of 10 or more by calling (401) 782-3800 x112. Tickets are on sale at the box office Monday through Saturday from 11:00 am – 5:00 pm and performance days from 11:00 am until curtain, (performance Sundays 12 noon until curtain), online 24-hours-a-day at www.theatrebythesea.com and via telephone during normal box office hours by calling (401) 782-TKTS (8587).