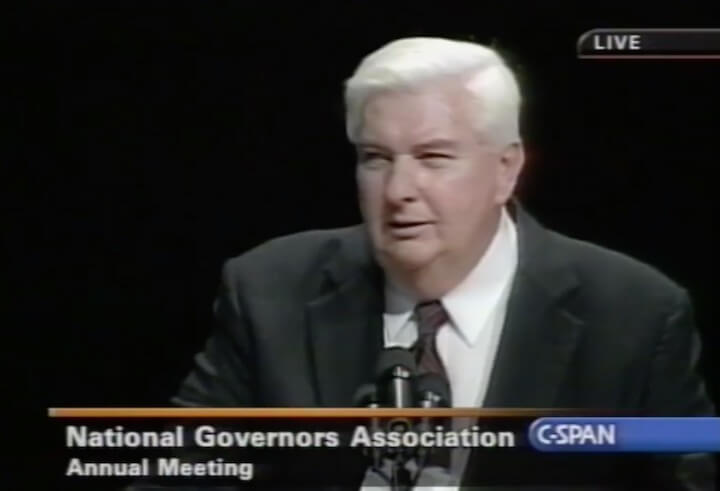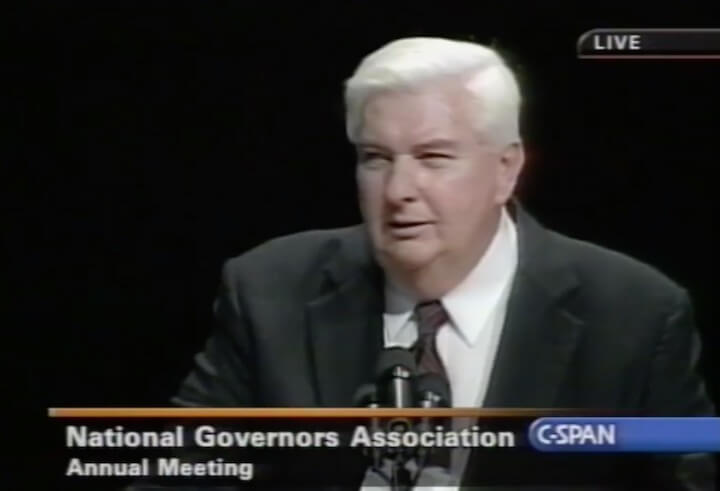 PROVIDENCE, RI — Gov. Dan McKee has ordered flags lowered half-staff in memory of former Rhode Island Governor Lincoln Almond, and for his portrait hung in the State House Rotunda.
Almond's official state portrait will be displayed with a book for the public to sign and offer condolences. The tribute begins Thursday, Jan. 5 at 11 a.m. and lasts till Friday, Jan. 6, 4:30 p.m. The flags will be flown at half-staff until sunset on the day of his interment, and McKee has asked Rhode Islanders to lower their own flags as a sign of respect.
"Susan and I are saddened to learn of the passing of former Rhode Island Governor Lincoln Almond," McKee wrote upon learning of Almond's death early Tuesday morning.
Almond, 86, served as Governor from 1995 until 2003. Born in Pawtucket and raised in Central Falls, Almond also served as the state's U.S. District Attorney from 1981 until 1993.
"As United States Attorney, Lincoln C. Almond led by example: whether trying cases, or fearlessly pursuing investigations into organized crime and corruption, he set a standard for this Office that continues to resonate to this day," wrote U.S. Attorney Zachary A. Cunha in a statement reflecting on Almond's early contributions to Rhode Island.  "More than any other figure in recent memory, Lincoln Almond's tenure set the bar for what it means to excel as a servant of justice.  This Office mourns the passing of a legendary figure, and extends our heartfelt condolences to his family."
"The first governor to serve a four-year term, Governor Almond often said his number one goal was to make Rhode Island a place where people wanted to work and raise a family. Whether it was expanding the number of state subsidized child care seats, increasing education aid, investing in Rhode Island's institutions of higher education, creating thousands of good paying jobs and laying the foundation for Quonset to be the economic engine it is today – Rhode Island was better off because of his eight years as Governor. We thank Governor Almond for his decades of service to Rhode Island and our thoughts and prayers are with his family and loved ones during this difficult time," McKee wrote
"RI lost a dedicated public servant & distinguished advocate for our state: Lincoln Almond was a man of compelling honesty, integrity & decency and a sterling example of selfless service. He was true to his Blackstone Valley roots & faithfully served RIers for decades," U.S. Sen. Jack Reed tweeted.