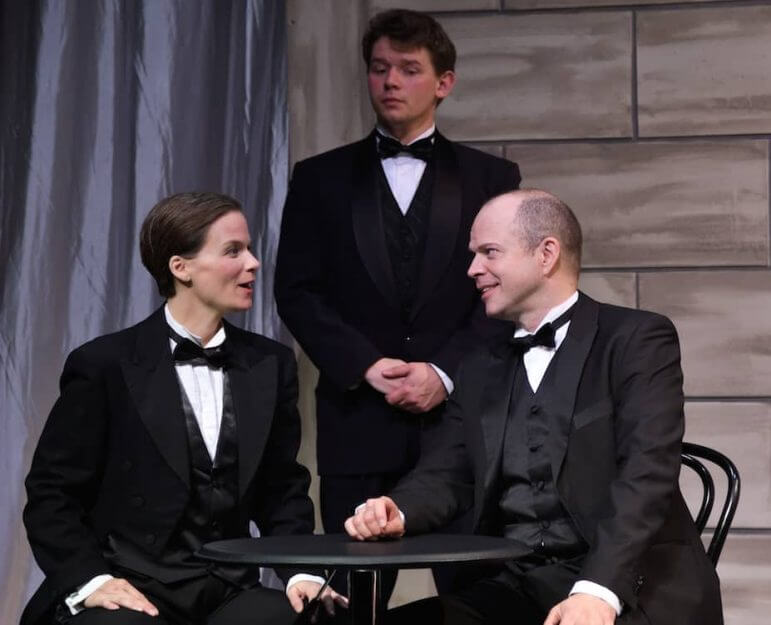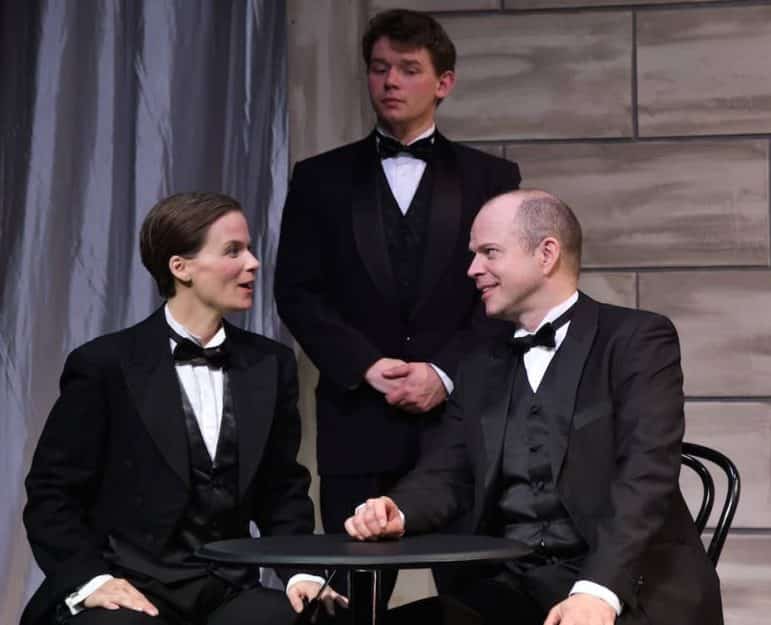 WARWICK, RI — Ocean State Theater Company closes the season with an entertaining production of the gender-bending musical comedy "Victor/Victoria," featuring quick pacing and memorable performances.
Eden Casteel plays Victoria, a down-on-her-luck singer who becomes a nightclub sensation when she masquerades as Polish Count Victor Grezinski, in 1930s Paris. Grezinski is actually a female impersonator. Casteel plays a woman playing a man playing a woman, with predictably comical consequences.
"Victor," wins the affection of King Marchan, a wealthy businessman with a bodyguard, Squash (Ben Salus). Meanwhile, Victoria confides in her gay friend Toddy (Bill Whitehead Jr.) about her infatuation with Marchan.
The 1982 movie, on which the musical is based, starred Julie Andrews and was directed by Blake Edwards, who wrote the script for the stage adaptation. Casteel manages to sound a lot like Andrews in the show's early moments and is quite convincing as a man. She also has an appealing chemistry with Christopher Swan, likable and charming as Marchan.
Marchan agonizes over his sexual identity after falling in love with Victor – "King's Dilemma."Swan, who has appeared in several other shows at Ocean State, is blessed with a keen sense of comic timing and vocal skills.
The show also boasts a fantastic performance by Kristin Wetherington, who steals the show as Marchan's fiancée Norma, a vivacious blond sexpot. Norma is truly one of a kind, a woman who never hesitates to tell everyone what she's thinking. She's brash, bawdy, and very funny. Her performance of "Paris Makes Me Horny" was one of the highlights of the first act.
Brad Kirton, as the flamboyant nightclub owner Andre' Cassell, and David Groccia as the pompous Henri Labisse, also deliver amusing performances.
Director Amiee Turner maintains a fast pace and created a memorable comic set piece involving several characters sneaking into and out of adjoining hotel suites.
Erik Diaz's sets were attractive, especially the hotel suites used by Victor and Marchan. The orchestra, led by Esther Zabinski, was in fine form as well.
Victor/Victoria is a sweet musical with a valuable message about acceptance and love.
Victor/Victoria runs through May 21 at Ocean State Theater Company, 1245 Jefferson Boulevard, Warwick, RI. Tickets are $39 for preview performances, $39-$59 for all other performances except Thrifty Thursday (May 4) when all tickets are priced at a $10 discount ($29-$49). $30 "Rush" tickets are available on a limited basis one hour prior to curtain on the day of the performance. Additional discounted rates may be available for groups of 10 or more by calling(401) 921-1777 x112. Tickets are on sale at the box office Monday through Friday from 12 noon – 6:00 pm, Saturdays from 12 noon – 4:00 pm, and from 12 noon until curtain time on performance days. Tickets are also available online 24 hours a day at www.OceanStateTheatre.organd via telephone during normal box office hours by calling (401) 921-6800.