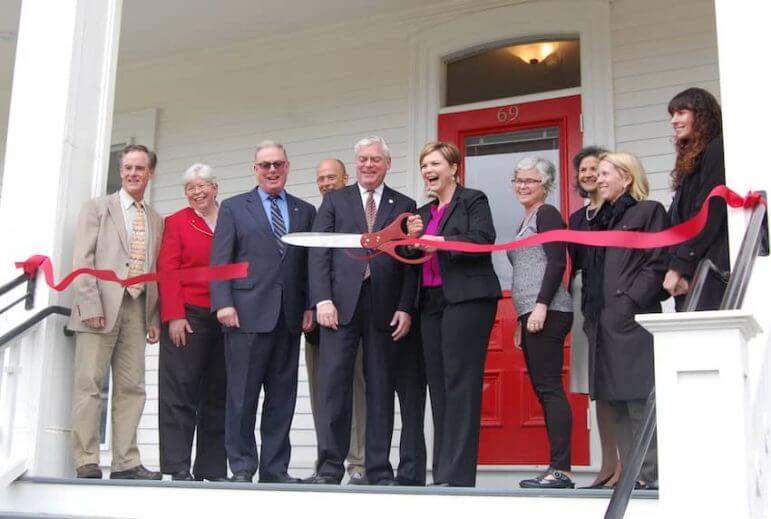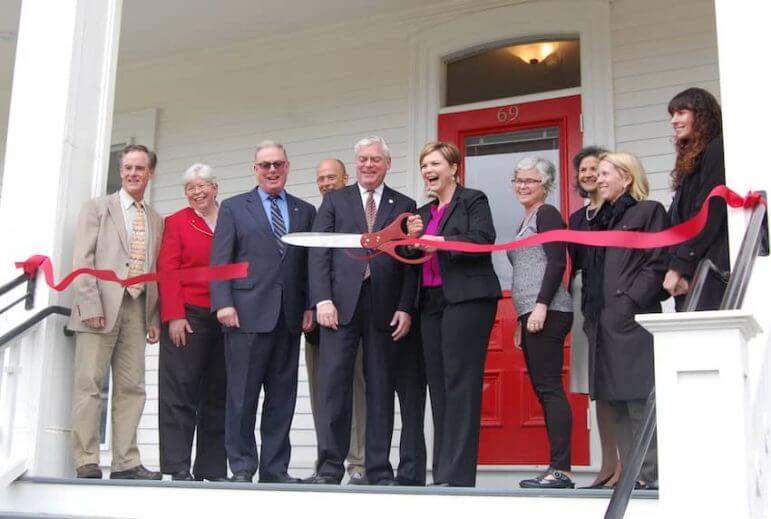 Editor's note: The following information was provided in a news release from the House of Hope.
WARWICK, RI – Fair House, the one-time headquarters for 19th Century state fairs, began its latest chapter Monday — as a haven for homeless and disabled individuals.
About 75 people attended a ribbon-cutting ceremony, many of them having played significant roles: finding funds, designing, rebuilding and advocating for the restoration of the nearly 200-year-old building at 69 Fair St., in Pawtuxet Village.
House of Hope Community Development Corporation, the Warwick-based, nonprofit agency that works to reduce homelessness, purchased the former fairgrounds' exhibit hall in 2012 to create eight efficiency and two one-bedroom apartments.
"There were days that I didn't think we were going to be here," joked Warwick Mayor Scott Avedisian, referring to the long process of tapping various state and federal programs to raise money to pay for the project, designing a new addition to provide five of the apartments and seeking permission from various historical, local, state and federal authorities.
"This $2.5 million renovation project really allows us to not only celebrate the past, but to look forward with new, exciting vigor as to what Fair House will become for other people," Avedisian said.
The mayor presented a historical plaque to House of Hope "to signify the importance of Fair House in our neighborhood, and to tell you that, when you are ready to take on the next project, we are ready to listen."
"Thank you so much, Mr. Mayor, "I'll call you this afternoon," quipped, Laura Jaworski, House of Hope's executive director.
"We have a couple of locations…," Avedisian replied, as he left the podium under a large white tent that was set up in the parking lot in anticipation of rain that preceded the event but stopped and held off until after the mid-morning ceremony ended.
A light moment came when Henry A.L. Brown, Warwick's official city historian, presented Jaworski with copies of state lottery tickets sold in 1821 and 1825 to raise money to pay for construction of the building. The timing was fortunate, Brown noted, because "the lottery was deemed a very, very corrupt agency, and it was dismantled in the 1830s and 40s" and was not reestablished until many decades later.
Many of the speakers noted the importance of affordable housing, including Ron Caniglia, president of the Stand Corporation of Warwick, the general contractor for the Fair House project.
"I would like to leave you with one message, and it's not about the construction, it's about the excitement," Caniglia said, predicting that when attendees toured the house, they would become advocates for more such housing. But he noted that the process, especially the "paperwork" phase, is unnecessarily slow.
"Let's all leave with that thought," Caniglia said, "so we can have more housing, for more people, quicker, here in the state of Rhode Island. We can do it."
Deborah Imondi, House of Hope's board president, thanked the project's partners for turning the agency's dream into reality: "Now, it's on to the future – when we make this house into a home."
Michel "Mike" Chapman, a House of Hope constituent who has been assigned one of the Fair House apartments, ended the speaking program by saying how important House of Hope services have been in helping him to end seven years of homelessness.
His decision to change his life came when his 6-year-old son asked him: "Daddy, do you have a home?"  He reached out for help, which House of Hope provided, such as bus passes, food and counseling.
"I'm very grateful to everybody, that I don't know, who made this possible," Chapman said. "And my son now gets to point at a place and say: 'That's my Daddy's home.' "