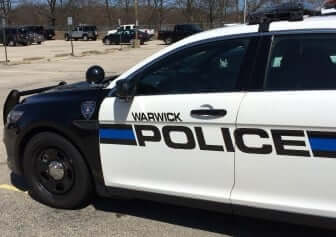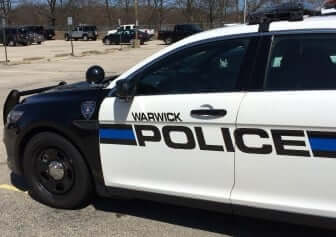 WARWICK, RI — Warwick Police charged a Cranston woman with DUI after stopping her on East Avenue near Warwick Mall Nov. 11 at 12:32 a.m., where she was driving half in the breakdown lane.
Officer David Babcock spotted the woman's car, a black 2006 BMW, stopped on East Avenue halfway in the breakdown lane, then followed as the driver proceeded west through the Bald Hill Road intersection, continuing with her car partway in the breakdown lane. He stopped her a short distance past the intersection, approached the right-hand side of the car, first signaling that she should roll down that window, then knocked on the window, but the woman looked at him without doing anything. Finally, Babcock walked to the front driver's side window and signaled her to roll down the window, which she did, according to the officer's report.
Babcock reported smelling alcohol coming from the inside of the BMW. He asked for her license, which she couldn't find, handing over her debit card instead. Babcock was able to look her up in DMV records, identifying her as Catherine Bishop, 42, of 101 Stony Acre Drive, Cranston, RI.
Babcock asked why she had been stopped earlier on East Avenue, and Bishop said she had been yelling at her boyfriend. When asked if she had been using her phone, Bishop said no. Babcock asked how she could have been yelling at her boyfriend if she wasn't using her phone, to which Bishop replied, "Oh, you know."
After a series of questions, Babcock determined Bishop had been returning home from an unnamed location in Cranston, where she had drank a Scorpion Bowl mixed drink, according to the report. Babcock noted that Bishop made several unintelligible comments during their conversation. He called for fellow officers' assistance and asked Bishop to perform a series of sobriety tests, which she agreed to.
Bishop attempted the vision test, but was unable to finish it, and she then refused to do a walk and turn test or a one-leg stand test. Babcock arrested her on suspicion of DUI, and placed her in his cruiser. Bishop began slamming her head against the window, and when an assisting officer asked her to stop, she swore at him.
Bishop transported her to Warwick Police Headquarters, 99 Veterans Memorial Drive, Warwick, RI, where she refused a breath test of her blood alcohol level. Babcock charged her with DUI, first offense, blood alcohol unknown, and cited for refusing the breath test.
In her cell, Bishop banged her head against the wall, and was transferred to a padded cell, where she continued banging her head, and also removed all her clothes. Warwick Police called a Warwick Fire rescue transport her to Kent hospital for an evaluation. She was cleared an returned to Warwick Police Headquarters.
She was later arraigned and scheduled for a Dec. 9 pretrial conference in Third Division District Court. She was also released on $1,000 personal recognizance and $1,000 surety bail, the latter conditioned on pretrial monitoring for substance abuse and mental health.