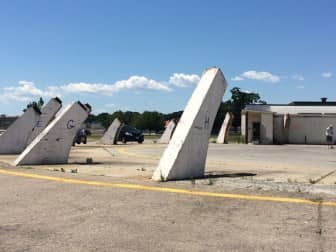 Warwick, RI — The Airport Road dome, geodesic hemisphere vehicle shelter and long-time landmark just north of TF Green Airport no longer stands, but it might be re-assembled somewhere in the state on the promise of Robert Corio, founder of Dome Restorations.
Corio, also the principal of the company, founded it to save the dome from demolition. He said he has promised the RIAC that he'll offer it to the 39 towns and municipalities of RI and possibly other interested non profit organizations.
On Saturday, the panels of the dome had been taken apart and moved to an undisclosed warehouse in the state. Taking it apart took about a month's worth of work, said Norman Cook, one the three-man crew at the site measuring the concrete pylons that made up the base of the dome.
With the measurements, Corio said, he can rebuild the dome wherever it winds up, possibly using the same pylon base technique.
"The concept of the concrete buttresses will most probably be constructed again," Corio said.
 The dome remains in the control of the RIAC until the Bill of Sale to Dome Restorations is completed.
Once the foundation and pylons are demolished, the lot will make way for a new refuel and maintenance station for Enterprise Rent-A-Car vehicles.