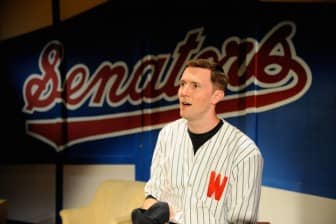 WARWICK, RI — Ocean State Theatre's latest ensemble delivered a poignant, wistful tale of escapism versus love on opening night for 'Damn Yankees' July 8, shining through a few minor missteps with impressive finesse.
Producing Artistic Director Amiee Turner noted the theatre's summer season is also opening with an offer of original pieces of the stage from the Warwick Musical Theatre for $40, and DVD copies of "The Tent: Life in the Round," donated to OSTC for fundraising by Larry Bonoff, of the Bonoff Foundation for the Warwick Musical Theater.
"Their goal is that we become part of the Warwick (Musical Theater) tradition," Turner said.
That tradition appeared in good hands as OSTC's team told the story of an aged Joe Boyd played by John Costa, given a chance to lead his favorite team, the Senators, to the championship as a young man by Mr. Applegate, played by Beau Allen, who dismisses Joe's marriage to and love for Meg, played by Sally Ann Swarm.
The Senators gain a youthful and magically gifted Joe played by Matt Gibson, and begin an unprecedented march to the championship as the lure of a youth and fame pulls Joe further from his wife and love.
Long time couples in the audience will share sentimental moments during Joe and Meg's duet,  "A Man Doesn't Know," and there's the bat-swinging, foot-stomping fun as Kristen Arsenault's Gloria leads the Senators, then Joe's trying temptation by Lauren Gemelli's Lola in "Whatever Lola Wants." There's plenty to keep the audience engaged, laughing and rooting for the good guys during this show.  
The dance numbers include a few "trust fall" moments braved by Arsenault, who recovered from one brief slip during a dive toward the stage so deftly that the athleticism of the show is revealed for an enlightening split second, and a few ad-libbed moments deftly recovered by Allen that served as beauty marks on the performance.
OSTC's 'Damn Yankees' is a heart-warming and heart-racing experience, delivered by professionals who entertain no matter what is thrown their way. Your night out won't go wrong with this one.
Damn Yankees will be presented at Ocean State Theatre through July 24. Previews are scheduled for Wednesday, July 6 and Thursday, July 7 at 7:30 pm. All other performances will be held Tuesday (except July 12), Wednesday, Thursday, Friday, and Saturday evenings at 7:30 pm, with matinees at 2 p.m. on Sundays. Special matinees also scheduled forThursday, July 14 and Saturday, July 23 at 2 p.m.