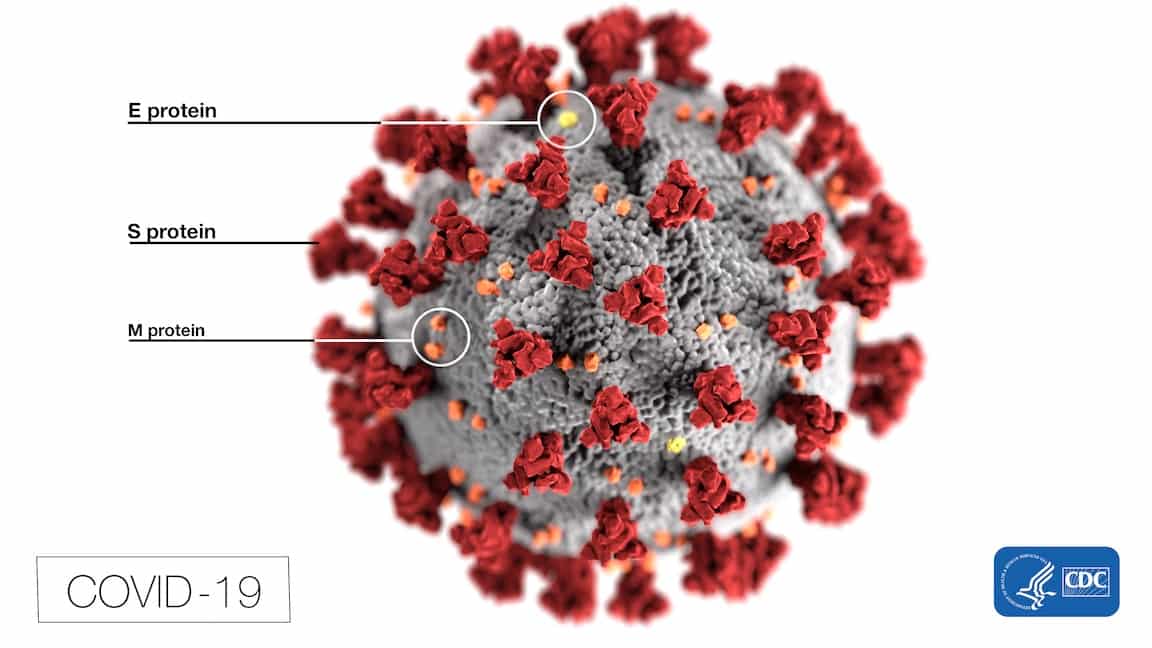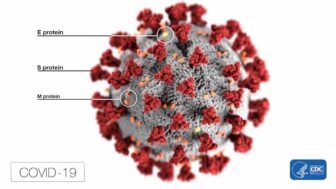 PROVIDENCE, RI — Monday, two days before the World Health Organization declared the COVID-19 outbreak a global pandemic, Rhode Island Hospital closed all but one entrance, stationing masked screeners to check anyone entering.
The precaution, part of a state-wide restriction on visitors to hospitals and nursing homes as Gov. Gina Raimondo declared a state of emergency, began at about 2:30 p.m. as staff stopped the revolving doors and locked the other doors, closing the building to visitors, said Douglas Pugsley, who was leaving the hospital after a routine visit.
A few hours later, two new COVID-19 cases brought the total confirmed cases in the state to five. One was a woman in her 50s with recent travel history to Egypt. The second, a woman in her 30s, is a healthcare worker at one of the state's hospitals.
The healthcare worker's source of infection is currently unknown and is being investigated to determine if it is an indication of community spread, meaning the infection cannot be directly attributed to travel from an affected area. Community Spread refers to an illness established in the community, not among travelers, as Amesh Adalja, infectious-disease expert at the Johns Hopkins Center for Health Security, told Business Insider Feb. 27.
"We do not yet know whether this is an instance of community transmission," said Joseph Wendelken, spokesman for RIDOH, on Monday.
Earlier Monday morning, Raimondo had invoked a state of emergency to marshal unemployment and disability insurance resources to ensure sick Rhode Islanders would have the financial security to stay home sick if quarantined or ill.
By Wednesday, Raimondo had called for organizers and attendees to cancel or avoid events drawing more than 250 people.
The precautions follow the Centers for Disease Prevention and Control (CDC)'s COVID-19 mitigation strategies for "minimal to moderate" impact from the disease.
COVID-19 events impact:
In Warwick, Mayor Joseph J. Solomon convened the City's Coronavirus/COVID-19 Response Team to organize the city's response to Raimondo's emergency declaration and large event cancellation order, issuing the following announcements:
Effective immediately, all large-scale activities in Warwick (groups of more than 250 people) will be postponed for at least the next two weeks, Solomon announced.
All activities at Warwick's senior centers will be postponed for at least two weeks, in accordance with the guidelines issued today to protect adults over age 60, who are especially at risk for COVID-19.
The Buttonwoods Community Center will be canceling and/or not accepting reservations for events until the threat of COVID-19 is determined to be over.  Since some seniors depend on senior centers for meals, they city is implementing provisions to ensure the continuity of food services.
Solomon has posted an alert for staff and residents on the City's homepage, listing resources for accurate, updated information. Additionally, employees participating in the City's health insurance program have a telemedicine benefit available; Mayor Solomon has proactively shared information about this benefit with city employees and is encouraging them to take advantage of it.
"I realize that these precautions may pose a tremendous hardship for our residents, but no party, parade or activity is worth risking someone's life," said Solomon. "Virus carriers may not show symptoms of COVID-19 for as long as 14 days, and in the meantime they are potentially spreading germs to the community. The bottom line is that this is such a new virus, there is just a lot we don't yet know. I would rather err on the side of caution to protect our public."
A number of state-wide private, college and university classes and events have also been cancelled:
– CCRI Spring break is extended through Sunday, March 22.
– CCRI classes will move to remote instruction Monday, March 23 through Friday, April 3.
-CCRI has suspended all college-sponsored domestic* and international travel for the near future. This includes any international travel associated with the college as a CCRI employee or student, including travel funded by a government grant, foundation, company or other private entity.
– URI has cancelled all face-to-face undergraduate and graduate classes on all campuses Beginning Monday, March 16, through Friday, March 20, 2020 are canceled. Beginning Monday, March 23, 2020, through at least Friday, April 3, 2020, all undergraduate and graduate classes will be delivered remotely. All face-to-face instruction is suspended. This includes any class meetings.
– URI Students living in undergraduate residence halls should delay their return to campus through April 3.
– URI – sponsored international travel was suspended until May 1, 2020.
–Rhode Island College is cancelling classes from Monday, March 16 through Friday, March 20, 2020. On Monday, March 23, classes will resume through online and/or alternative delivery until further notice.
Gamm Theater's production of Assassins will continue, since the building's capacity is just 200 persons. However, the theater noted the following precautions would be taken:
Hand sanitizer is available at the box office and concessions;
Regularly disinfecting frequently touched surfaces in lobby and restrooms, as well as railings and armrests in the theater following each performance of Assassins; and
The program books distributed are new. Should they need to recycle books later in the run, they will be sure to use the ones that have not been touched for at least 72 hours. Additionally, Gamm has posted the QR code that allows you to capture the program on your phone so you may read it on your personal device.
CDC guidance for schools
According to the CDC's guidance for schools during minimal to moderate COVID-19 impact, administrators should take the following measures:
Implement social distancing measures:
Reduce the frequency of large gatherings (e.g., assemblies), and limit the number of attendees per gathering.
Alter schedules to reduce mixing (e.g., stagger recess, entry/dismissal times)
Limit inter-school interactions » Consider distance or e-learning in some settings
Consider regular health checks (e.g., temperature and respiratory symptom screening) of students, staff, and visitors (if feasible).
Short-term dismissals for school and extracurricular activities as needed (e.g., if cases in staff/students) for cleaning and contact tracing.
Students at increased risk of severe illness should consider implementing individual plans for distance learning, e-learning.
Warwick Schools Superintendent Phil Thornton met as part of Mayor Joseph J. Solomon's Task Force on the situation Wednesday to discuss ways to comply with Raimondo's direction to limit gatherings to below 250 people, according to School Committee member David Testa.
Warwick Public Schools will restructure lunch programs to mitigate exposure for students, according to Solomon. Instead of the typical lunch blocks, where it was possible that more than 250 students would be in a lunch room simultaneously, Warwick Schools will implement "grab and go" lunches to prevent large-scale virus spread.
WHO's pandemic announcement
According to the WHO, there have been more than 118,000 COVID-19 cases in 114 countries, and 4,291 people have lost their lives as a result.
The declaration of a pandemic recognizes world-wide spread of the flu-like respiratory disease. It is also the first pandemic attributed to a coronavirus.
The pandemic announcement was prompted from a deep concern about both "the alarming levels of spread and severity, and by the alarming levels of inaction," according to Wednesday's announcement.
"And we have called every day for countries to take urgent and aggressive action," according to the announcement.
"If countries detect, test, treat, isolate, trace, and mobilize their people in the response, those with a handful of cases can prevent those cases becoming clusters, and those clusters becoming community transmission.
Even those countries with community transmission or large clusters can turn the tide on this virus. Several countries have demonstrated that this virus can be suppressed and controlled," the WHO wrote in its update.
COVID-19 Symptoms, Illness
COVID-19 is similar to the flu, particularly in how it is spread from person to person. COVID-19 symptoms, which may appear 2-14 days after exposure, include:
Fever
Cough
Shortness of breath
While the illness is similar to seasonal influenza, it is currently less wide-spread than flu. However, it also causes a more serious illness and is less well-studied than influenza.
Person-to-person spread
According to the CDC, COVID-19 is thought to spread mainly from person-to-person.
Between people who are in close contact with one another (within about 6 feet).
Through respiratory droplets produced when an infected person coughs or sneezes.
These droplets can land in the mouths or noses of people who are nearby or possibly be inhaled into the lungs.
Spread from contact with infected surfaces or objects
It may be possible that a person can get COVID-19 by touching a surface or object that has the virus on it and then touching their own mouth, nose, or possibly their eyes, but this is not thought to be the main way the virus spreads.
Public COVID-19 tips:
 Get your flu shot. Flu shots are your best protection against the flu, and they help protect the friends and loved ones around you who may be more at risk of getting very sick because of the flu, such as pregnant women, infants, and older adults. Flu vaccine can also help people avoid flu-related hospitalizations. This allows hospitals to focus on patients with more severe illnesses.
Wash your hands regularly. When washing your hands, use warm water and soap. If soap and water are not available, use alcohol-based hand gel.
Cough or sneeze into your elbow. Flu is spread through coughing or sneezing on other people or into your hands. Cover your coughs and sneezes to prevent others from getting sick.
Stay home from work or school when you are sick.
Avoid touching your eyes, nose, or mouth. Germs spread this way.
Get plenty of sleep, be physically active, manage your stress, drink plenty of fluids, and eat nutritious foods.
Keep surfaces clean (especially bedside tables, surfaces in the bathroom, and toys for children) by wiping them down with a household disinfectant.
Don't wear a mask unless you're sick: You should only wear a mask if a healthcare professional recommends it. Face masks are generally used to prevent sick people from getting other people sick.
COVID-19: Elderly at Higher Risk
Early data suggest that older adults are twice as likely to experience serious COVID-19 illness. RIDOH is reiterating CDC's guidance for people older than 60 years of age:
Avoid close contact with people who are sick.
Be sure you have over-the-counter medicines and medical supplies (tissues, etc.) to treat fever and other symptoms.
Most people will be able to recover from COVID-19 at home.
Pay attention for potential COVID-19 symptoms including, fever, cough, and shortness of breath.
If you feel like you are developing symptoms, call your doctor.
CDC: Conditions that may increase risk of serious COVID-19 illness
Blood disorders (e.g., sickle cell disease or on blood thinners)
Chronic kidney disease as defined by your doctor. Patient has been told to avoid or reduce the dose of mdications because of kidney disease, or is under treatment for kidney disease, including receiving dialysis
Chronic liver disease as defined by your doctor. (e.g., cirrhosis, chronic hepatitis) Patient has been told to avoid or reduce the dose of medications because liver disease or is under treatment for liver disease.
Compromised immune system (immunosuppression) (e.g., seeing a doctor for cancer and treatment such as chemotherapy or radiation, received an organ or bone marrow transplant, taking high doses of corticosteroids or other immunosuppressant medications, HIV or AIDS)
Current or recent pregnancy in the last two weeks
Endocrine disorders (e.g., diabetes mellitus)
Metabolic disorders (such as inherited metabolic disorders and mitochondrial disorders)
Heart disease (such as congenital heart disease, congestive heart failure and coronary artery disease)
Lung disease including asthma or chronic obstructive pulmonary disease (chronic bronchitis or emphysema) or other chronic conditions associated with impaired lung function or that require home oxygen
Neurological and neurologic and neurodevelopment conditions [including disorders of the brain, spinal cord, peripheral nerve, and muscle such as cerebral palsy, epilepsy (seizure disorders), stroke, intellectual disability, moderate to severe developmental delay, muscular dystrophy, or spinal cord injury].