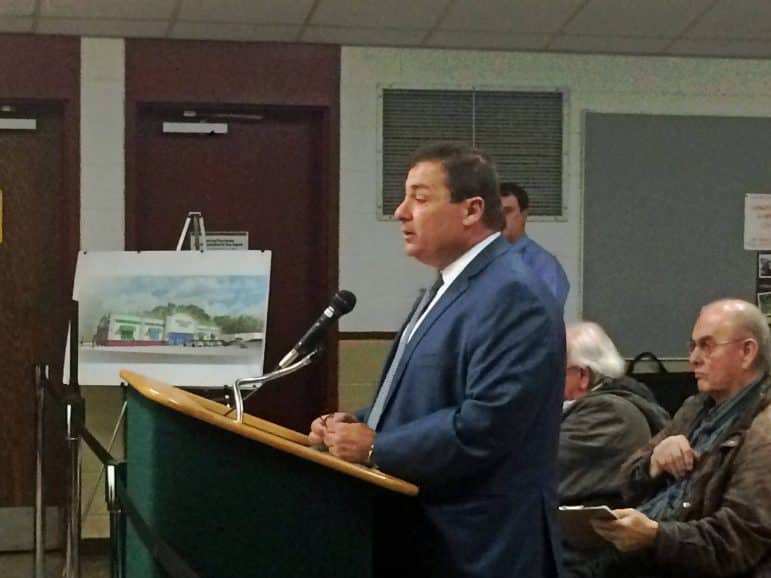 WARWICK, RI — Monday night's Warwick City Council meeting was a good one for Station District boosters, for Ward 2, and a bad one for rats.
The night began with approval of two zoning changes, made by separate petitioners, each represented by attorney Joseph Shekarchi, also House Majority Leader and Democratic representative of Dist. 23.
First was a zoning change allowing the Dollar Tree retail chain to build a new building where old boarded-up buildings currently stand on Warwick Avenue, across Atlantic Avenue, from the CVS store. The petition was brought by Shekarchi on behalf of DT Retail Properties, LLC, Sordham Devleopment, LLC, & Expo Realty, LLC.
Shekarchi told the Council the move would bring at least 25 jobs to the city, perhaps as many as 40. The Warwick City Council approved the zoning change from General Business, Office and Residential A-7 to General Business, unanimously.
Next was a zoning change requested by PHM Providence, LLC for lots 294, 295, 296, 297, 298, 319, 322 and 323 on Assessor's Plat 323 from Warwick Station District – Gateway to Warwick Station District – Intermodal. The change makes way for the company to do a $3 million remodel of the existing Radisson Inn hotel, build a new, "upscale" Italian wine bar in place of the old Legal Seafood location, and build a new $30 million Residence Inn, with 50 full time jobs, nearby.
The development represents at least a $43 million investment in the City of Warwick, Shekarchi said. The refurbished Radisson, which has added 30 full-time jobs under the new ownership of PHM Providence, will be on the City's tax rolls. The property was previously owned by Johnson and Wales University, which paid little in taxes.
"This is a windfall to our tax coffers," Shekarchi said, who noted the hotel tax and room tax paid to the city and hospitality association, he said. "This is an economic explosion of all benefits to the City of Warwick," Shekarchi said.
"It shows that the City is on the move," said Councilman Steve McAllister.
"This is the kind of development that we want, right in that area of the City," said Councilman Jeremy Rix, who noted its proximity to the train station, airport and many parking garages.
Shekarchi credited Councilman Timothy Howe with setting a positive tone during meetings with Shekarchi and PHM Providence representatives that contributed to their decision to purchase the property.
"This is igniting the Station District," Shekarchi said, which he said has been stagnant since 1992.
Councilman Ed Ladouceur also credited the cooperation of the Warwick City Council and Mayor Joseph Solomon for encouraging the investment in the Station District.
"How many times have we heard tonight about what happens when the Council is working united with the corner office? We haven't experienced this type of energy in many, many years."
Council President Steve Merolla echoed those sentiments and praised the work of William DePasquale in encouraging the investment, in DePasquale's dual roles as Planning Director and Chief of Staff for the Mayor.
The Council approved the change unanimously.
The Council also approved an estimated $325,000 deal with F.H. Fisher Homes to convert the shuttered Rhodes Elementary School into 29 single-family houses.
One resident expressed concern for the danger of displacing rats that may have made their home in the building since it was shuttered years ago. Hugh A. Fisher, owner of H. A. Fisher Homes, explained any demolition involves an assessment of pests on site before work begins.
During a break in the meeting, Fisher explained that could mean poisoning or trapping the pests.
"We will address that right up front," to remove the pests before construction activity sends them into other areas, Fisher said.
Later during the meeting, the Council also unanimously passed Rix's wildlife feeding resolution, which prohibits feeding wildlife by throwing feed or food directly on the ground, a practice that attracts rats, coyotes, and other pests. Feeding birds from elevated feeders is allowed in the legislation, as is normal spill from such feeders.
The penalty for the first offense within a year is a warning, followed by a $250 fine for a second offense, and a third offense would carry a fine of between $50 and $500.
The Council also voted to add a discussion of the release of funds from a $40 million school infrastructure improvement bond to the March 4 City Council Finance Committee agenda.
"I can assure you they're not getting the entire $40 million," said Ladouceur. He said it's unlikely that a plan to use so much of those funds in one project or simultaneous projects could be responsibly and efficiently managed.
"We want to see responsible productivity for that bond money," Ladouceur said.