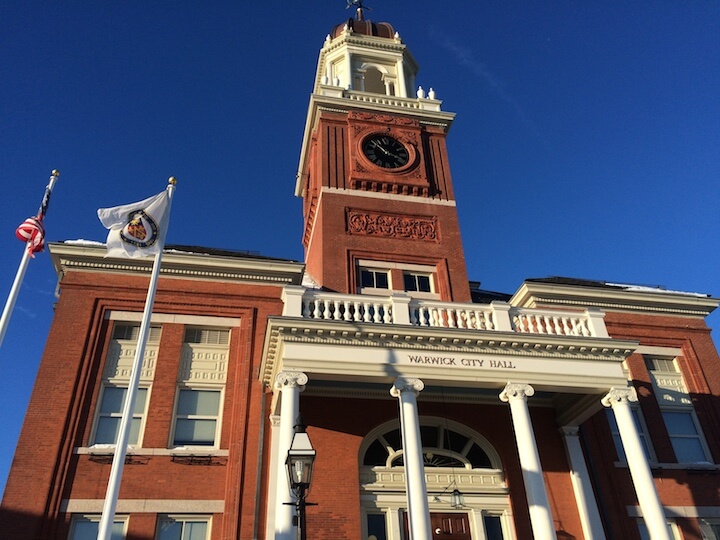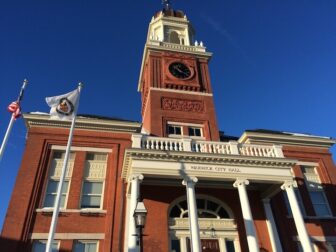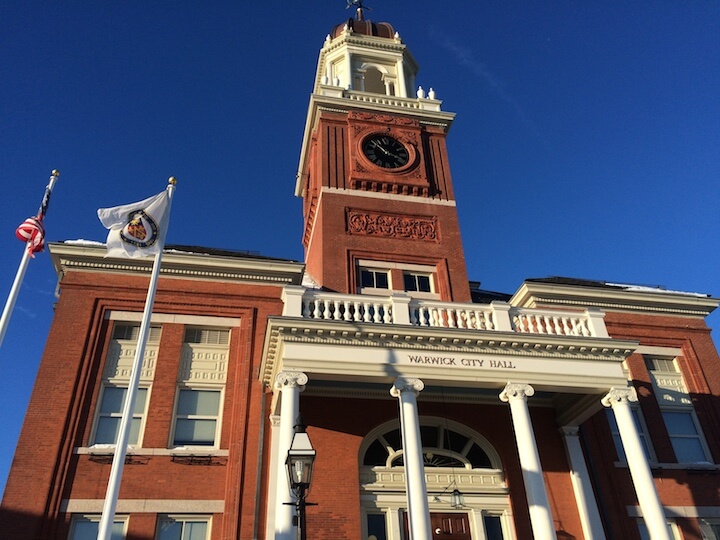 WARWICK, RI — Northeast Family Martial Arts led the Pledge and National Anthem at the start of Monday's City Council meeting, which ended approving a new Clegg Field cell tower.
Richard Langseth of Budlong Farm Road spoke to the Council to announce a Nov. 14 Harbor Commission workshop for rights of way in the city. Langseth said the local fire district pays the taxes for road and sewer improvements in the area, yet its taxpayers are prohibited from shore access on those roads by the local beach association. "The entity that pays the taxes is the fire district. Now, can you believe that there's a private corporation, built by a developer corporation, owned by shareholders, that gets a municipality, the fire district, to pay its taxes. And then, it turns around and days, 'Oh, we're private.' This simply just does not add up," Langseth said.
During the regular portion of the meeting, The Council voted to authorize the City Finance Director on behalf of the Mayor to execute a lease agreement with Cellco Partnership d/b/a Verizon Wireless to relocate and construct a new telecommunication tower at Clegg Field. The tower will be 120 ft. tall, allowing three carriers to be located on it, said attorney George Watson representing the company. Verizon will be on top with the best coverage, he said.
"We know that this is going to greatly enhance what is poor service in this part of the city," said City Planner Tom Kravitz, something that residents will appreciate, he added. The tower will provide significant coverage for West Shore Road, Conimicut Point Park, and Church Lane, said Keith Vellante of C Squared Systems. He said that although the tower will not completely address the lack of coverage in the area, about 7,000 residents who currently don't have cell reception will get it.
Paul Blakesley objected to the zone change required for the tower during public comment on the proposal. He referenced the Council's work on the solar ordinance, in part lauding its protection of open space. He said the council in this case doesn't seem as concerned with open space.
"I personally do not understand why the City of Warwick is using public spaces to do business with private enterprises. It seems to me that they are perfectly capable of finding places that are not going to impact public open space."
Blakesley added the question calls for a zoning change, "But there is no zoning district for it," he said. He said the request for changing it from "Open Space" to "Open Space A-611," which he said doesn't appear to exist. He said there are thus no requirements for such a zone such as setbacks, height and screening. Also, he said, the map for the concerned property shows four lots when there are five.
"You people need to look at the documentation, because if you make an illegal decision, you've got a problem," Blakesley said.
Kravitz said that while he appreciated Blakesley's objection to the use of public open space for private use, the existing tower has been in that area on public land and the location meets the safety requirements for a tower. He noted that while there was a mistake in the map submitted to the council, the property to be zoned differently is accurate in the legal notice for the public hearing. He said the pertinent information, the lots where the change will take place, is correct in the documents, he said.
The change passed unanimously with 8 yes votes, with Councilman Vinny Gebhardt absent from the meeting.
Pledge, Anthem, Anti-Bullying
After leading the anthem, Daniel Luzzi of Coventry's Northeast Family Martial Arts told the Council about the importance of the community standing up against bullying. "We need to let people know that not only is it OK to ask for help but that they should ask for help," said, who noted many children miss school attempting to avoid bullying.
Apponaug Playground, New Business, Impaired Driving Discussion
Apponaug Playground Council President Steve McAllister noted Apponaug Playground is finished and that the City will host a ribbon cutting event for the playground Tuesday at 3:30 p.m., "So, all are welcome," McAllister said, "The Playground's been open for about a week now, and it is busy. People are really enjoying it and I think we should be really proud of that."
New Business Opening Councilman Timothy Howe announced a new business opening at the border of Ward 3, in Ward 4, called Now and Then Sports Collectibles, 1728 Warwick Ave. The business will host a grand opening with food trucks and events at the location Saturday at 10 a.m., Howe said.
Spooky Path Oct. 28 Howe also announced the annual Sand Pond Spooky Path from 6-8 p.m. on Saturday. "Visit the creatures of Sand Pond," Howe said, noting there would be trick or treating and costumes are welcome. A $5 donation is suggested.
Dress Your Dog Howl-a-ween Oct. 28 Saturday, Oct. 28, from 12-3 p.m., the Elizabeth Gray Foundation hosts the 2023 Dress Your Dog Howl-a-ween Competition at Shanon View Inn, 1901 Post Road. Hot dogs, hamburgers and refreshments will be served, and a 50/50 raffle will be held during the event. A $20 donation is suggested.
Impaired Driving Discussion Wednesday Councilwoman Donna Travis announced Wednesday from 6-8, Torey Lynn Andreozzi Foundation hosts a conversation about impaired driving, the law and a call to action at Warwick Veterans Middle School auditorium.from 6-9 p.m. Several speakers will address the topic, including WPD Col. Brad Connor.