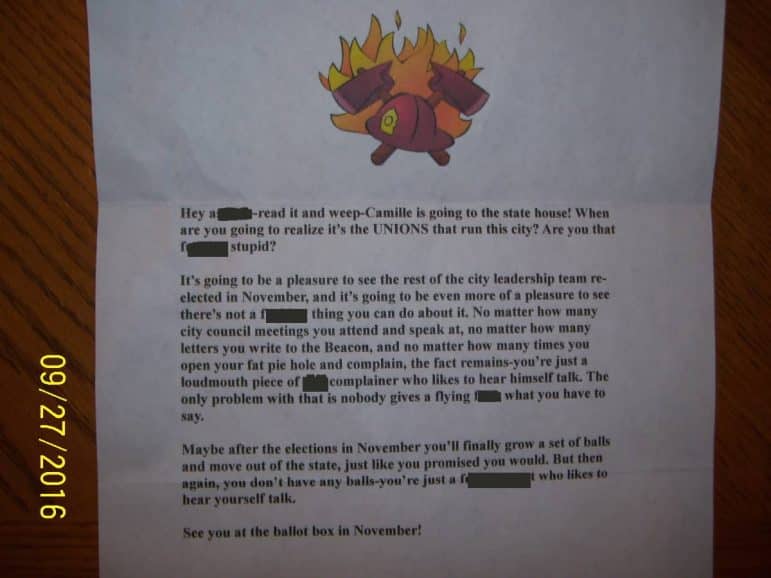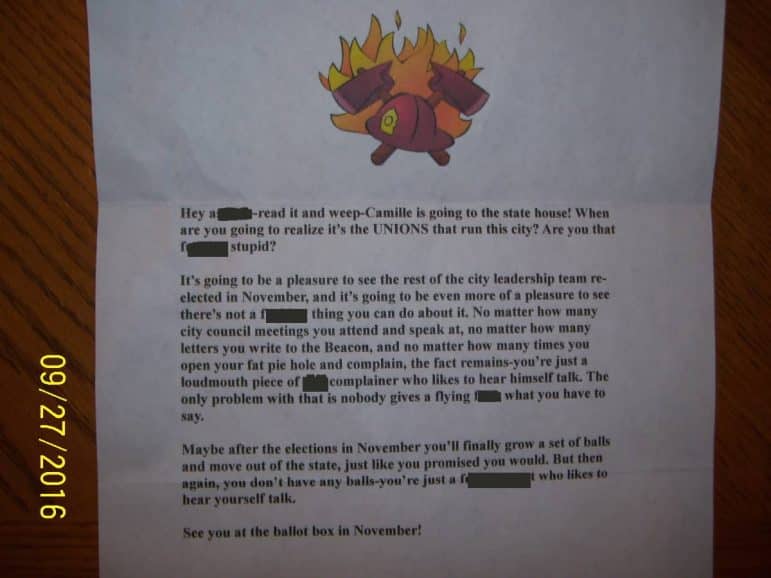 WARWICK, RI — Rob Cote, a regular critic of Mayor Scott Avedisian's administration, city finances and the Warwick Fire Department, has alerted Warwick Police to the latest in a series of harassing letters he claims come from a city staffer, a charge the Mayor says he's made difficult to verify by failing to provide detectives with access to the envelopes.
"I am quite sure that you are aware, or have a good idea who is sending these letters.  In a previous email that I sent to you , I indicated that these harassing letters were being sent to my 93 year old mothers house continually for over a year.  The next letter came 3 days later to my address," Cote said in an email sharing a photo of the latest letter, which he sent to several news organizations and city officials.
Though the letter bears a logo incorporating a firefighter's hat, Avedisian noted there is no other reason to suspect the letter was in fact sent by a city staffer.
"We have no reason to believe it is a city employee. Colonel McCartney and Deputy Chief Babula have stressed numerous times that Mr. Cote should not open such mail and should allow the police department to retrieve such letters and allow them to be dusted for fingerprints," Avedisian wrote.
Cote, when offered an opportunity to share a copy of the envelope the letter came in to the Warwick Post, declined to do so. He said some of the letters have made specific threats, but he didn't detail those threats. He also said he has provided the materials the police have asked for.
Warwick Police Chief Col. McCartney urged Cote to preserve the letters again in response to Cote's email:
"Dear Mr. Cote,
While I am in receipt of this email, I will need for you to contact this department as soon as possible so we can get a complaint investigation going. Has the original letter been preserved for prints since it will have to be turned over to WPD as part of the investigation? With respect to your mother & her age, we may have to speak to her but obviously that may have to handled very sensitively and we may  your assistance or a family member's assistance in that matter.  Our Operations Major, Patrol Commander, and Detective Lieutenant are info'd. on this email and are standing by to handle the complaint. If you have any other questions that I can answer for you, please contact me directly at 468-XXXX.
If you feel that this department may not be objective in this complaint investigation, I would certainly understand if you wish to contact the RI State Police to take this investigation. We can certainly facilitate that action for you if you so desire."
McCartney has repeatedly asked Cote to preserve the letters each time he's reported them, Avedisian said.
WPD Lt. Joe Hopkins said Cote has provide the letters, and an investigation is proceeding.