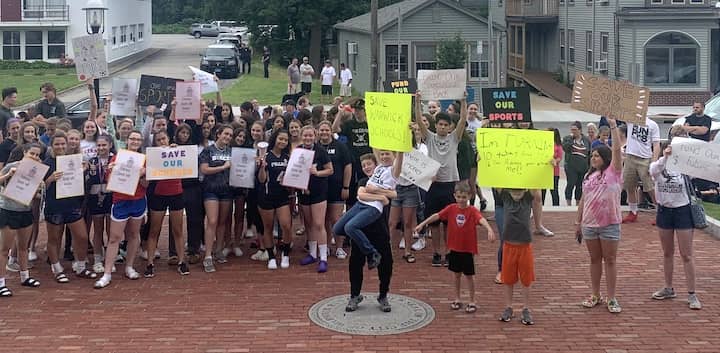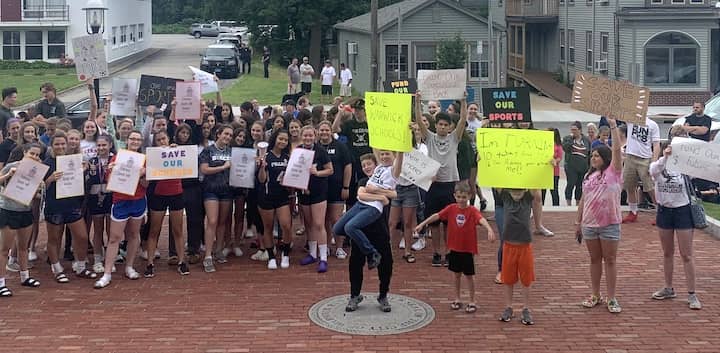 Editor's note: This article has been updated to reflect a more accurate estimate of the funding required to restore school sports, including the items listed before that on the Warwick School Department's list of budget priorities. The update was made at the request of School Committee member Nathan Cornell, who sought to clarify his earlier statement on this subject. 
WARWICK, R.I. – To keep the apparent promise Mayor Joseph Solomon made to some of the 60 students who protested cut school sports programs at City Hall this morning at about 10 a.m., he's going to need at least $3.9 million of the School Department's $7.7 million deficit.
That's the number that solves the problem, said Warwick School Committee member Nathan Cornell, who attended the protest to support the students in their plea to Solomon to work to restore sports programs cut during last night's Warwick School Committee meeting.
Outside City Hall, students held signs reading "Save Warwick Schools," "Save Our Sports," and "Fund Our Future." They also chanted "Save our Sports," and "Fund Our Future."
During a press conference inside City Hall after Solomon's meeting with the students, the Mayor told reporters, "There has never been a question of whether the money is there, it's how it's spent."
'It just doesn't work like that'
How it's spent isn't up to Solomon or the Warwick City Council, which didn't grant the $7.7 million increase the Warwick School Department requested during budget hearings last month.
Cornell said that even though the sports programs would only cost about $1.3 million to restore, there are many other programs and jobs that have to take priority, and thus would be restored before sports.
Items that would receive priority before the sports programs, Cornell said, include after-school activities and funding for new textbooks, which contribute directly to the schools' core mission of education.
"So we have to bring all of those things back before we bring back sports," Cornell said. That is going to require the funding the Schools asked the City Council for in the first place, he said.
To expect that extra funding that's less than $7.7 million will allow them to restore sports as a singular funding issue isn't realistic, he said.
"It just doesn't work like that," Cornell said.
Disappointed in Warwick
Nicole Kinsley, a recent 2019 Pilgrim High School graduate, said her family just decided to move her sister, Olivia, to Warwick to attend Pilgrim High School as a junior this year because of the sports program. Now, with no sports programs in Warwick, her family's efforts seem wasted.
"I'm just super disappointed about how Warwick is getting rid of sports," Kinsley said.
Solomon said that how much of the $7.7 million is added to the school budget depends on whether the School Department renews their lawsuit against the City claiming a Caruolo Act violation. Also, he said, it depends on if the matter goes back to mediation.
Nonetheless, Solomon expressed confidence in an acceptable solution.
"There will be a positive ending to this," Solomon said.
Reached for comment this afternoon by email, School Committee Chairwoman Karen Bachus said a new Caruolo Act lawsuit remains a last resort.
"We will continue to talk about these issues with Mayor Solomon and the council.  We will pursue Caruolo as a necessary option if that is our only course of action to attempt to resolve this," Bachus said. Fy20 SC ADOPTED Budget Cuts 06-18-19