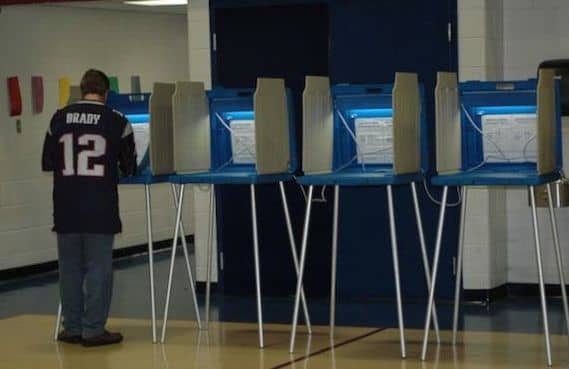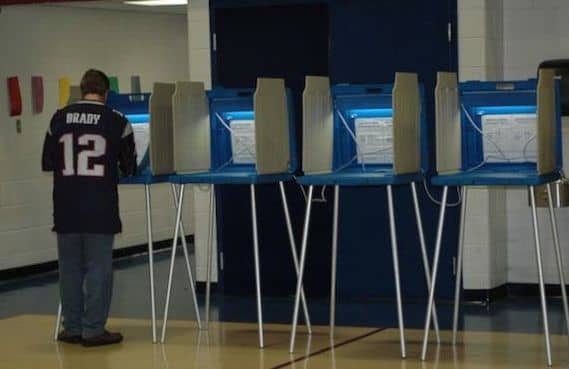 WARWICK, RI — Assuming all the candidates who made the June 30 declaration deadline collect the signatures needed to be on the ballot for the Sept. 13 primary and Nov. 8 election, there will be 27 contested races this election season, with 15 primary contests.
Representatives in the General Assembly need 50 signatures, Senators in the General Assembly need 100 signatures, the Mayor's office candidates need 200, as do at large School Committee candidates. The rest of the town offices require 50 signatures.
Office of Mayor:
SCOTT AVEDISIAN (REPUBLICAN),  RICHARD CORRENTE (DEMOCRAT)
Warwick City Council
Ward 1: TANIOS ELIE BOURAMIA, BARRY D. COOK, RICHARD K. CORLEY, PATRICK E. MALONEY, JR. (DEMOCRAT)
STEVEN A COLANTUONO, RICHARD H CASCELLA JR (REPUBLICAN)
Ward 2: JAMES M DONELAN, SEAN F RAINEY, JEREMY RIX (DEMOCRAT),
JOHN SILVAGGIO (REPUBLICAN)
Ward 3: JOHN M FALKOWSKI (REPUBLICAN), TIMOTHY J. HOWE (DEMOCRAT), KENNETH F. NELSON (INDEPENDENT)
Ward 4: ERNEST W FLAGG (INDEPENDENT), JOSEPH J SOLOMON (DEMOCRAT)
Ward 5: EDGAR N. LADOUCEUR (DEMOCRAT)
Ward 6: JAMES FEROLA (REPUBLICAN), JOHN A. SIMONEAU (INDEPENDENT), DONNA TRAVIS (DEMOCRAT)
Ward 7: CHARLES J. DONOVAN JR, ROBERT GERMANI JR, JOHN T KIRBY, STEPHEN P MCALLISTER (DEMOCRAT)
Ward 8: JOSEPH E GALLUCCI (DEMOCRAT)
Ward 9: STEVE MEROLLA (DEMOCRAT)
Warwick School Committee
At-Large: DAVID A TESTA, DEAN L JOHNSON, DANIEL E HALL, KAREN A BACHUS, NATHANIEL L CORNELL,CHADD L HUDDON.
Dist. 1: RICHARD H CASCELLA JR, (REPUBLICAN) RICHARD K CORLEY, LINDA J DALE, LUANNE DEPETRILLO, PAUL R DEPETRILLO, MARGARET M DOLAN, BRYAN J DOOLEY, DEBORAH A JARVIS, GARY C JARVIS, ROBERT E WALSH (DEMOCRAT)
Dist. 2: JOSEPH M BRENNAN, THOMAS H CHADRONET, CONNOR N DEVINE, WILLIAM R DEVINE,ANGEL V GARCIA, KATHLEEN M MCELROY, LINDA R MORETTI, LINDA L MOWRY, MICHAEL D ZARUM (DEMOCRAT)
DAVID A WATSON SR, NANCY L WATSON, RACHELE R FEILER, MICHAEL S FEILER, (REPUBLICAN)
Dist. 3: ROBERT J CARBERRY JR, JOHN M FALKOWSKIW, KELLY C FALKOWSKI, HOWARD F FLEMING ELIZABETH A. SMITH (REPUBLICAN)
NORMAN R GOODMAN, THOMAS P MCGOVERN, PAUL J MCNEIL JR, VERTEAL D PATTERSON, ELIZABETH A SMITH, KENNETH P WILKINSON, KENNETH P WILKINSON, ERIC J. WINEMAN,KIMBERLY A WINEMAN (DEMOCRAT)
Dist. 4: CHRISTINE N ALLEN, EDWARD A CARPENTER, ANGELICA PENTA, MICHAEL W PENTA (REPUBLICAN)
JERRY A DAMBR, ANTHONY J DELUISE, THOMAS J HOLM, MARY L MCCOY, DIANE OBRIEN, LINDA C REMINDER, JOSEPH J SOLOMON, JEANNE M WILLIAMS (DEMOCRAT)
Dist. 5: WILLIAM R BERNARD, ROBERT M FARRELL, PATRICIA J HAYES, RICHARD A LEANDREJOSEPH C STANELUN (DEMOCRAT)
Dist. 6: RONALD N. BERGERON, SALLIE,  A BRENNAN ROBERT, J. CARBERRY III, KATHLEEN A FEENEY, BEVERLY J STURDAHL, MELVIN E. STURDAHL, DONNA M., TRAVIS WILLIAM A TRAVIS (DEMOCRAT)
Dist. 7: KAREN A BACHUS, CHARLES J. DONOVAN, JR, MARIE F. GREENE, THOMAS E. MARCELLO, NANCY H. MAYER, DANIEL P. OTOOLE, KATHLEEN M. USLER, DANIKA S. VINACCO, GLEN R. WHITEHEAD (DEMOCRATS)
Ward 8: DEREK N. ANDERSEN, BRIAN DUNCKLEY, BETHANY A. FURTADO, JOSEPH E GALLUCCI, CHERYL L IDONE, SHIRLEE A. LOMBARDO, ANTHONY E. SINAPI, GLORIA B WALKER, SHIRLEY A WASHBURN (DEMOCRAT)
EDWARD TAVARES, HELEN M. TAVARES (REPUBLICAN)
Dist. 9: MADISON L ACCETTUROMICHELLE A ACCETTUROHELEN P BARADARTHUR J DEANGELISCAROL A DEANGELISMARK T GABRIELEJEFFEREY M GIUSTIELAINE M MAYAMEDEO C MEROLLANORMA H MEROLLASTEVE MEROLLADONALD G. MORASH JR., THOMAS ROLIN, (DEMOCRAT)
EDWARD TAVARES, HELEN M. TAVARES (REPUBLICAN)
General Assembly Representatives:

DISTRICT 19: JOSEPH MCNAMARA (DEMOCRAT), DAVID D MASTRIANO (INDEPENDENT)
DISTRICT 2o: DAVID A BENNETT (DEMOCRAT), DANIEL ELLIOTT (INDEPENDENT)
DISTRICT 21: MICHAEL W PENTA (REPUBLICAN), MICHAEL L UNDERWOOD (INDEPENDENT), CAMILLE F VELLA WILKINSON, DAVID KRUZONA, EILEEN NAUGHTON (DEMOCRAT)

DISTRICT 22: JENNIFER M. SICILIANO,  JOSEPH J. SOLOMON JR, (DEMOCRAT), ELIZABETH K SMITH(INDEPENDENT)
DISTRICT 23: JOSEPH SHEKARCHI
DISTRICT 24: STACIA HUYLER (REPUBLICAN) EVAN P. SHANLEY (DEMOCRAT)
DISTRICT 26:  VINCENT MARZULLO(INDEPENDENT), PATRICIA L MORGAN (REPUBLICAN) 

DISTRICT 27: MARK E BOURGET (INDEPENDENT), NICHOLAS E DELMENICO,  PATRICIA A SERPA (DEMOCRATS)
General Assembly Senators:
DISTRICT 28: JOSHUA MILLER (DEMOCRAT), REBECCA FAITH MONROE (INDEPENDENT)
DISTRICT 29: RONALD A LOPARTO (INDEPENDENT), MICHAEL J MCCAFFREY (DEMOCRAT)
DISTRICT 30: JOSEPH B. BANNISTER (REPUBLICAN) JEANINE CALKIN, WILLIAM J CLEGG III (REPUBLICAN), MARK P. MCKENNEY, WILLIAM A. WALASKA (DEMOCRAT)
DISTRICT 31: ERIN LYNCH PRATA
DISTRICT 33: SCOTT R. COPLEY (INDEPENDENT), LEONIDAS P RAPTAKIS (DEMOCRAT)
DISTRICT 35: MARK W. GEE (REPUBLICAN), PAUL H. MARTIN (DEMOCRAT)