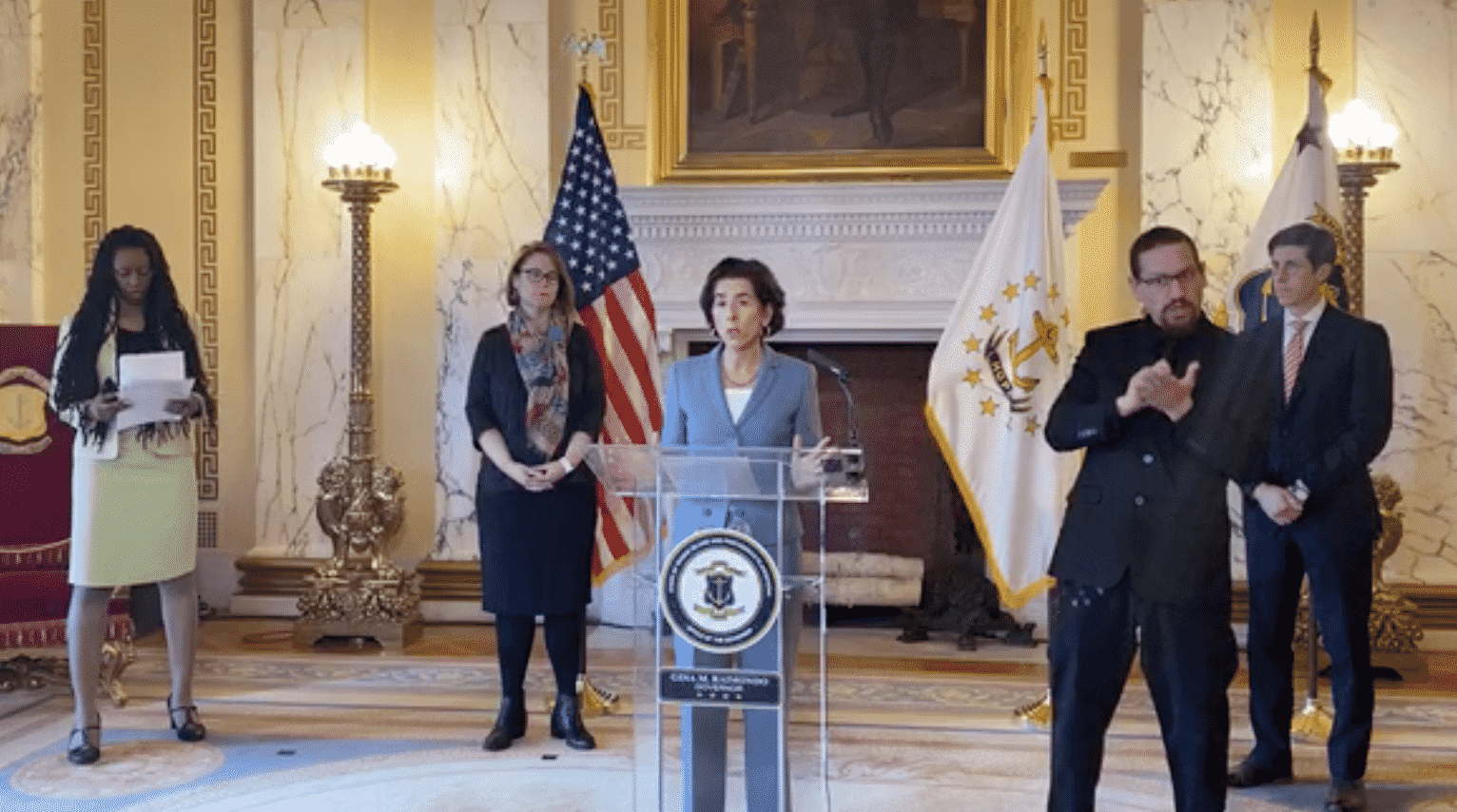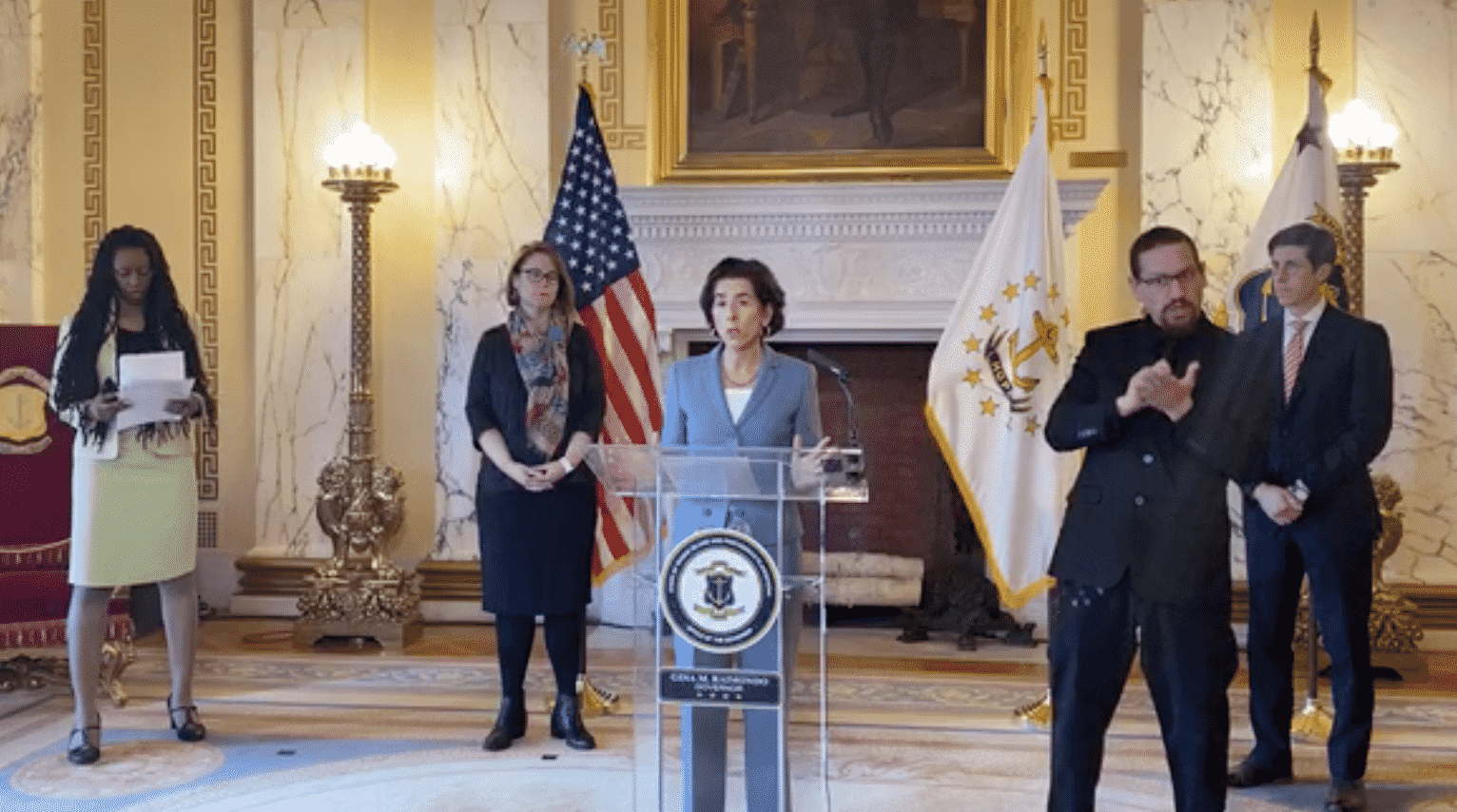 CORRECTION: An earlier version of this story incorrectly stated Care.com was offering free child care and free elder care. The company is offering free memberships. Some parents may be able to access free child care, but only be if the caregiver they select offers to work as a volunteer. 
Editor's note: This article and and most of our COVID-19 related news is free to the public to ensure people have access to life-saving information. If we've helped you, and you're able to help us, we would appreciate your subscription for either $1.50/month or $15 per year.
PROVIDENCE  —Gov. Gina M. Raimondo announced Care.com 's offer of 90 days of a free membership to search for childcare and eldercare, and allowed childcare centers to reopen under new DHS guidelines as RI logged 18 new COVID-19 cases totalling 124.
"The reality is a lot of people are still working because they have to," Raimondo said at the State House during her Tuesday press conference on the COVID-19 outbreak, at essential jobs in healthcare, services, first responders, or government. Childcare and eldercare have to be offered, Raimondo said, to ensure that the state can continue to respond effectively to the crisis.
Free Care.com memberships
So, Raimondo said, Rhode Island is the first state in the U.S. to partner with Care.com to help the state's essential workforce secure healthcare and eldercare. Starting Tuesday, she said, anyone in RI seeking childcare or eldercare can sign up for the free offer by visiting Care.com/RIneed.
"I think anything that helps essential workers perform their work, including relieving them of child and eldercare, is something to pursue," said Jeffrey Bratberg, clinical professor of pharmacy at the University of Rhode Island and member of the Rhode Island Disaster Medical Assistance Team from 2004-2015.
Raimondo suggested applying for work as a child care or elder care worker for extra money, or volunteering those services through the company.
When asked about the apparent conflict between this advice and the directive to stay at home, Bratberg said the move may not be as counter-productive as it appears.
"Right, it's certainly trying to find a balance. In MA, they opened 300 childcare centers for children of healthcare workers, and in my experience there will be no social distancing between kids in these centers, so perhaps bringing one person into a home consistently to care for kids actually results in less transmission," Bratberg said.
Hospital workers offered child care
The governor also noted that the Boys & Girls Clubs, Greater Providence YMCA, Children's Workshop and Children's Friend, and Learning Curve, are offering on-site child care for essential hospital workers.
Child care centers may remain open with new rules
Raimondo said child care centers that want to remain open are free to do so under new rules established for the crisis by the RI Department of Human Services. Raimondo said DHS will strictly enforce the new guidelines will be strictly enforced, including by surprise visits of child care centers to ensure compliance.
Unemployment insurance claims skyrocket
Regarding unemployment insurance claims during the COVID-19 crisis, which has shuttered much of the economy. "It should not be a surprise to anyone that they are shooting through the roof,"Raimondo said.
The state has eliminated the typical 7-day waiting period for unemployment claims, she said, and also, "We are going to pay every claim."
She asked people to resist the urge to check on the claims, reminding people that calls would only delay their processing while the person who answers the call steps away from that work.
RI line of credit sought
Raimondo also announced that she is asking the General Assembly to cconvene the Disaster Emergency Funding Board to immediately provide enabling legislation to allow her to seek a line of credit for the state in the private market.
"This is extraordinary, obviously," Raimondo said, but, "It's also exactly what we should be doing and it's what every business is doing. It's prudent to line up liquidity," she said. The measure will allow the state to continue to pay bills while delays on tax filing causes dips in revenue for the state.