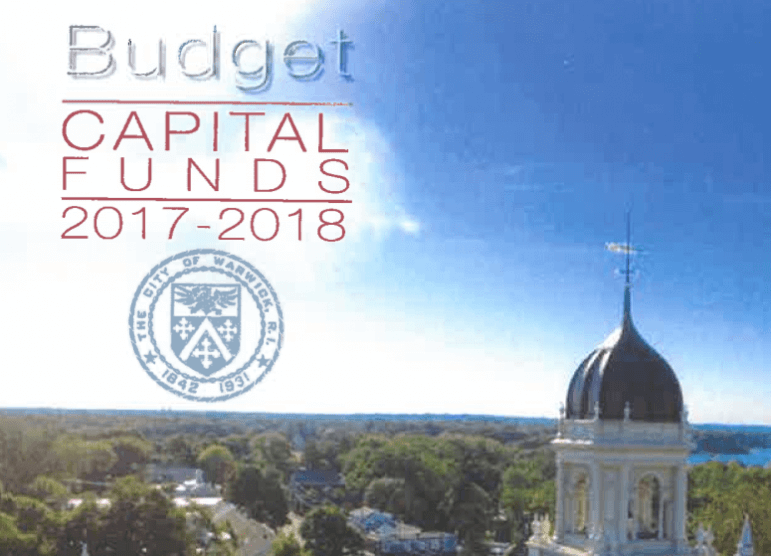 WARWICK, RI  —Mayor Scott Avedisian's proposed capital budget weighs in at $25,676,000, including new school fire alarms, a WPD headquarters addition, new fire station windows, bolstered wastewater plant levee, and sewer extensions.
Capital budget spending is paid for through a variety of methods, including through bonding for sewer expansions, previously approved, existing bonds and new bonds (municipal borrowing) for building improvements, and, for vehicles, the city's lease-purchase program, according to Finance Director Ernest Zmyslinski.
A $9 million building improvement bond will help pay for many of the city building capital expenses. That bond, approved by voters in 2006 (Not to be confused with the $25 million school improvement bond also approved in 2006, the last portion of which was recently released by the City Council), still has about $5.5 million left, Zmyslinski said.
The school department has its own capital budget, Zmyslinski said.
City vehicle purchases are made through the city's lease-purchase program. Under that system, the city issues a lease for the vehicle, which is paid for in the following fiscal year.
Zmyslinski said the capital budget is more of a general plan of anticipated costs/spending on buildings, projects and equipment that may or may not be pursued as the council reviews the budget as a whole during budget hearings.
Public Works
Streets & Stormwater: $1,100,000 for repaving and storm water improvement
Police Department
Parking lot resurfacing: $70,000 in 2017-2018 for resurfacing of the rear lot, which has not been repaired since the 1970s.  Another $80,000 will be required in 2018-2019.
Headquarters improvements: $100,000 for an addition to the front of the building, increasing security of the front entrance, reconfiguring the first and second floor main lobbies, Board of Public Safety meeting room, and Community Room air conditioning unit replacement.
Security improvements: $40,000 for motorized security fencing gates for back lot, securing the crime scene van and SWAT vehicles.
Fire Department
Fire station improvements: $115,500 for new windows at stations 2, 5, and 6 ($40,000) which are drafty and 40 years old, and a new furnace at station five, where the current one dates to 1974 ($40,000). The line item also includes $75,000 for repaving ramps at stations 1-9, where current conditions are a threat to fire trucks.
Vehicle replacement: $940,000 for 2017-2019, the first year of a five-year vehicle replacement plan. The five year plan calls for the replacement of engines 5, 8, 2, 1, 10 and 3 at $2,840,000; battalion vehicles 2 and 1 at $85,000; ladder 1 at $1 million; rescues 4 and 2 at $465,000 and the special hazards truck at $675,000.
Library
Emergency exit: $14,500 to create an exit for emergencies for the approximately eight people in the circulation workroom during an emergency. The DPW will create a door to an existing emergency exit landing through an adjacent wall.
Branch window replacements: $11,000 in 2017-2018 for replacement windows at Conimicut ($11,000 in 2017) Norwood ($28,000 in 2018) Apponaug ($23,000 in 2019), reducing heating/cooling costs.
School Department
Fire alarm upgrades in all schools: $1,200,000 in 2017-2018, with $125,000 budgeted the next four years. The need for these improvements was brought to light in March, when a concerned parent alerted the public to defunct fire alarms at the schools, which school and city officials had not announced to the public for a month.
Building improvements: $3,744,481,381 in 2017-2018 for district-wide renovations, including ACBM (asbestos) ceiling/floor removal, door hardware and restroom partitions, disability access improvements, and new roofs at Toll Gate, Winman, Warwick Neck, and Park Schools, as well as window/door replacement at John Brown Francis, Greenwood, Hoxie, Lippit, and Oakland Beach Schools.
The improvements will require $4,444,381 in 2018-2019; $2,744,381 in 2019-2020; $3,544,381 in 2020-2021; and $3,494,381 in 2021-2022.
Building system upgrades: $1,899,000 for repairs and replacement of systems throughout the district, including elevators and lifts, HVAC replacement at Oakland Beach, Park, Warwick Neck and Toll Gate schools; new kitchen equipment at the elementary schools; new power distribution and emergency generators at Pilgrim, Warwick Veterans Jr. High, Toll Gate, and the Career & Technical Center.
This line item will require $1,400,000 in 2018-2019, $1,690,000 in 2019-2020, $1,425,000 in 2020-2021, and $1,775,000 in 2021-2022.
Site improvements: $630,000 in 2017-2018, for district-wide repair of parking areas, drainage, track resurfacing/field upgrades at Warwick Vets, soccer, baseball and softball field improvements at Pilgrim, upgrading the stands and practice field at Toll Gate. It will also include sewer tie-ins for Warwick Neck, Greene, Gorton and Warwick Veterans Schools.
The need for sewer tie ins was brought to light following recent septic back-ups into areas of Warwick Veterans Jr. High in March. Maintenance for the waste lines at the school following the backups revealed only half of Warwick Vets had been connected to the city's sewer system, and the need for connecting several other schools was noted.
Management Information Services (MIS) Department
Generators: $210,000 in 2017-2018 for purchase and install of a new generator for City Hall and the Annex to insure operations in the event of power loss. Should the data center in the Annex shut down due to lack of power, the City's internet and email would be interrupted.
Optical fiber: $250,000 in 2017-2018 to improve the city's information systems performance over long distances and in high-demand situations.
This line item will also require $250,000 in 2019-2020, 2020-2021, and 2021-2022.
Water Department
Infrastructure improvement: $1,500,000 in 2017-2018 to expand transmission mains, eliminate dead-ended lines and increase fire protection as RIDOT and Warwick Sewer Authority expansion projects continue.
This line item will also require $1,500,000 in 2018-2019, 2019-2020, and 2020-2021, and 2021-2022.
Sewer Authority
*This summary focuses on projects starting in 2017-2018. All projects, including those starting after the next fiscal year, are listed in the capital budget, attached to this report. 
Facility improvements: $300,000 in 2017-2018 for preparing the wastewater treatment facility at 125 Arthur W. Devine Blvd. for a 500-year flood level storm, improvements to reduce nutrient discharge into waters. The protections will guard against 'catastrophic' loss of sewer service.
Levee improvements: $400,000 in 2017-2018 for strengthening against riverine flooding, as in the March 2010 floods.
Primary clarifiers rehab: $237,000 in 2017-2018 for rehabilitation of two primary clarifiers, which are past its useful lifespan, experience frequent breakdowns, and are critical for permit compliance.
O'Donnell Hill Sewer Extension: $1,300,000 in 2017-2018 to address reports of numerous failing septic systems in the area. The neighborhood includes homes on Wallace Aveneue, Adelaide Avenue, Levesque Street, Jambray Court, O'Donnell Avenue and Dongay Avenue.
The collection system will discharge to the Natick pumping station, connecting to the West Warwick Sewer System.
This line item will require $300,000 in 2018-2019.
Governor Francis Phase III sewers: $3,600,000 in 2017-2018 for the final of a three-phase project providing sewer service to 280 properties in the neighborhood. The phase includes the area south of Phase I, Namquid north of Squantum Drive and Apple Tree Lane on the south.
This line item will require $1,500,000 in 2018-2019.
Northwest Gorton's Pond sewers: $75,000 in 2017-2018 for sewer service to 309 homes in the area. The project will be broken into two phases and require land acquisition for pump stations.
This line item will require $2,225,000 in 2018-2019, and $3,700,000 in 2019-2020.
Bayside sewers: $8,000,000 in 2017-2018 for design and construction of sewers in the area, where many homes are subject to the Cesspool Phaseout.
This line item will require $11,000,000 in 2018-2019 and $2,000,000 in 2019-2020.
Miscellaneous Sewer extensions:  $200,000 in 2017-2018 for design and construction of multiple short extensions throughout the city. FY18 Capital Budget