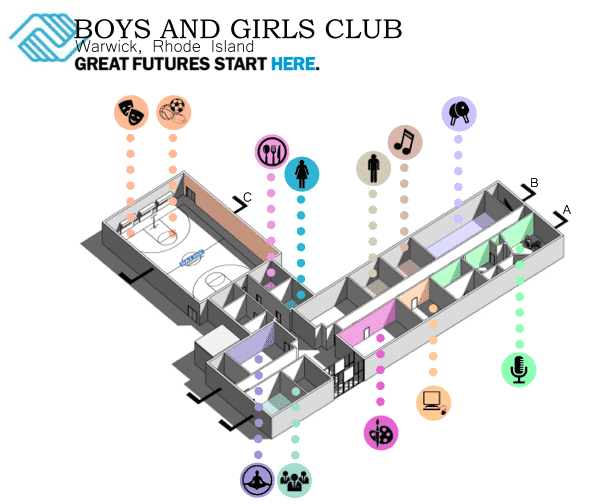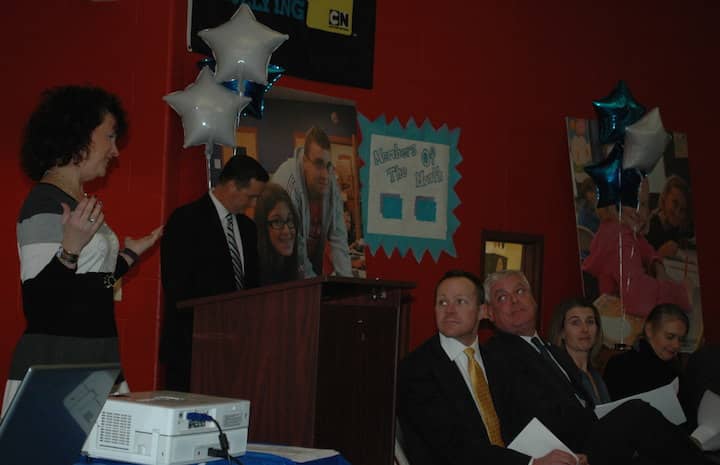 WARWICK, RI — Teens whose interests don't tend toward organized sports will soon have their own spot walking distance from Warwick Veterans Middle School at a third Boys & Girls Club of Warwick branch, 'The Club,' inside the Cooper Building at 885 Sandy Lane, making adolescence easier and more enriching for Kent County kids.
The project has been in the works for  the last eight years, said Mayor Scott Avedisian, during a press conference announcing the project at The Boys and Girls Club of Warwwick at 42 Frederick St.
Avedisian said the City's been working on the idea since the US Base Realignment and Closure process turned the Cooper Building, an armory, over to the City.
The building was named for WWII Pvt. Lloyd Cooper, awarded the Silver Star for Conspicuous Gallantry in Action, noted Sean Collins, a member of the Boys & Girls Club Board of Directors. Cooper is buried in the Sicily-Rome American Cemetery, Nettuno, Italy.
Warwick explored many possible uses for the building, ultimately determining it was only suitable for recreational purposes, Avedisian said.
"Which then gave us the ability to start sit down with Lara (executive director Lara D'Antuono)," Avedisian said.
That was about the same time Warwick Public Schools were beginning to plan the consolidation, Avedisian said, so the City also sought input from school department and the Warwick Police Department.
"Before you knew it, we had this whole group of people," collaborating on the idea to create a space for teens, 'The Club.'
"To provide maximum support to young teens in what is usually a tumultuous time of life, 'The Club' will be open to sixth, seventh and eighth graders only," said D'Antuono. "Also exceptional: we will turn the majority of our space into an arts center."
The city already offers youth many athletic options in this vicinity,D'Antuono said, but for those who want to explore and develop artistic interests and creativity in transformative ways after school, there is currently nothing.
We will fill that gap and more, "by providing a variety of creative arts opportunities, culinary arts, and nontraditional athletic activities as well as a focus on STEAM (science, technology, engineering, art and math) that compliments their in-school learning. We expect our state-of-the- art recording studio will be a big attraction where kids can record their music as well as learn the technical side of the business. They will be able to pick up musical instruments to try and see if they like them.
The possibilities this new branch offers are endless, which is why community and business leaders – and everyone else who knows about our plans are excited and want to be part of what we believe will be a model in after-school programming."
"The partnerships and support developing around this project are already incredible," D'Antuono said.
"The partnerships and support developing around this project are already incredible," continued D'Antuono. The Warwick School Department is working closely with us. We have met with Rhode Island School of Design, New England Tech and Warwick Center for the Arts who all want to help design and deliver exciting artistic and technical experiences most youth would otherwise never have the opportunity to take part in at such a high level.
Early funding support is being provided by the Rhode Island State Council on the Arts, who earlier in the day announced it is providing a matching grant of $100,000 for the Arts Center that will take up the largest space in The Club.
"I'm delighted that the State Arts Council can be a part of the effort to establish an Arts Center through the Boys & Girls Club of Warwick.  After school programming in the arts is an effective way to build skills and a sense of community among young people, as the arts help boys and girls reach their full potential in their community," said Randall Rosenbaum, Executive Director of the Rhode Island State Council on the Arts.
The Rhode Island Foundation also announced a gift of $75,000 towards staffing at 'The Club'.
"Reaching out to these youngsters now ensures they will have the support they need to lead healthy lives and achieve educational success," said Inés Merchán, grants program officer at the Rhode Island Foundation,
Balise Motor Sales is contributing $50,000 that will go toward making the shared gym/theater an exciting space for high-performance activities.
"I was one of those pre-teens or early teens that wasn't part of an official sports team," said Bill Peffer, President and Chief Operating Officer of Balise Motor Sales.
"Balise is a longtime supporter of Boys & Girls Clubs in New England, so when we heard about plans to convert the Cooper Building into a state-of-the-art facility where young people can explore their passions and interests, we jumped at the opportunity to join the team. Dedicated to promoting the benefits of healthy living and the value of teamwork, Balise is proud to be sponsoring the creation of a cutting-edge gym and performance space, complete with indoor turf, simulators and a rock wall. We hope that other members of the local business community will join us in supporting this exciting initiative," Peffer said.
Stephanie Van Patten, chair of the Boys & Girls Clubs of Warwick's Great Futures Annual Campaign, said people can support this endeavor by donating to the campaign. Individuals, foundations and businesses interested in naming opportunities at the new branch, supporting at other levels, or contributing in other ways, should contact the Boys & Girls Clubs of Warwick  (401-467-4385) to discuss how they can help.
"Now we are ready for a larger community to contribute their support," Van Patten said. Boys & Girls Clubs Teen Ctr