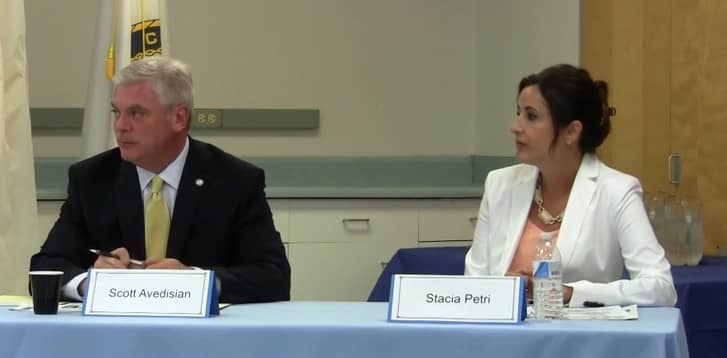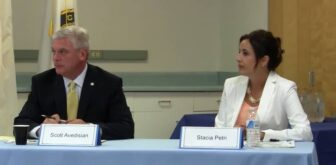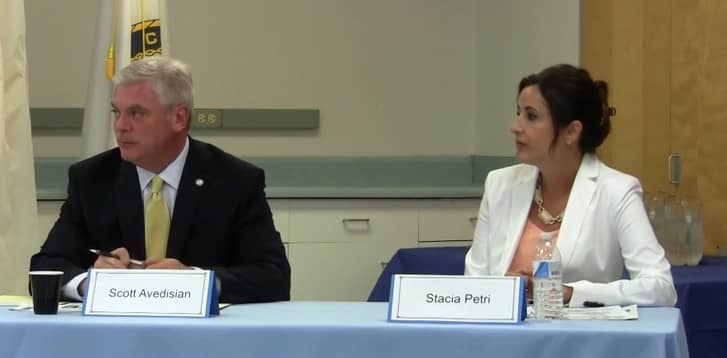 Warwick, RI – Warwick Mayor Scott Avedisian faces primary challenger Stacia Petri for his ninth run Sept. 9, confidently focused on revitalizing Warwick, continuing economic development and seeing the Apponaug Circulator Project to its conclusion.
Stacia Petri, 43, works in pharmacy service, according to her website. The Republican and political newcomer is running against Avedisian, 49, for the Republican mayoral nomination, criticizing the city's rising tax rate, its debt burden, rising taxes and Avedisian's worthiness as a Republican.
"I'm not sure she can lecture someone on what it's like to be a Republican," said Avedisian Monday at his campaign headquarters at Airport Plaza. He said he's been involved in the Republican party since he went to Pilgrim High School and served as a page for the late Republican Sen. John Chafee.
Avedesian — first elected in February, 2000, after then-Mayor Lincoln Chafee was appointed to fill the rest of his father's Senate term — also said Petri hasn't been involved in past Republican campaigns or politics.
Regarding the city's debt burden, Avedisian pointed to Standard and Poor's recent re-affirmation of the city's AA bond rating. In July, the rating agency reported the city has a stable outlook, noting several positive factors, including the city's low debt burden at $1,285 per capita.
"Which would be an expert saying that," Avedisian said. He noted that the city's own experts in the finance department have also judged the city in sound financial shape.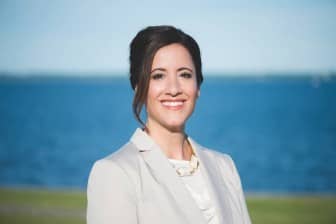 During a mayoral debate hosted by WJAR 10 and the Warwick Beacon at Pilgrim Senior Center Aug. 22, Petri alleged Warwick's combined debt is $800 million. Avedisian said the number is actually $46 million, if you rule out bonds taken out by entities such as the Sewer Authority, which are paid by rate-payers.
Ratings agencies do not factor that kind of debt into their assessments.
During the debate, Petri countered the recent good news from Standard & Poor's with a reference to last year's downgrade of the city's bond rating by Moody's Rating Agency from Aa3 to A1. (Moody's still considers Warwick's obligations upper-medium grade and a  low credit risk) She also criticized the city's unfunded pension liabilities.
Avedisian continued to highlight the city's sound financial standing, noting that with the exception of one pension fund, Police/Fire Pension 1, which was unfunded for a number of years, the city's pensions are the highest rated in the state.
Avedisian said Police/Fire Pension 1 is now 18 years into a 40-year payment plan, and the remaining plans are the only ones in the state considered "Tier 1":
Municipal Pension Plan: 70% funded
Fire 2 Pension Plan: 83% funded
Police 2 Pension Plan: 81% funded
Petri criticized Avedisian for raising taxes every year. Avedisian said it's important to responsibly build budgets for the long run, instead of pushing increases down the road for political reasons, according to The Providence Journal.
Avedisian said he'd like to see the Apponaug Circulator Project, in the works for more than 40 years, through to its conclusion during another term. He said he's looking forward to the day the work will open downtown Warwick to the coastline again, and make the area more pedestrian friendly and easier to live, work and do business in.
The Mayor also noted several economic development wins for the city, including recent announcements from SESA, an electronic highway sign manufacturer in Smithfield, used car dealer superstore CARMAX, Jared Jewelers, and Coastway Community Bank's moves to or expansions in Warwick. He also mentioned plans to bring 40-60 outlet stores to Rhode Island Mall.
All those moves, he said, were aided and courted by the work of city employees.
"Not just me. It's our whole team," Avedisian said.
Avedisian said he's not fazed by the challenge from a fellow Republican. He said he's faced primary challenges before.
"We've always had a game plan and stuck to it. We're doing the same thing this time, which is campaigning, luncheons with our seniors, identifying our voters and making sure we get them out to vote Sept. 9th," Avedisian explained.
Avedisian said said the primary challenge has stirred things up, for the better. He said it's fun to see the lights on at his campaign headquarters at Airport Plaza and watching his volunteers at work.
"What it really has done is re-invigorated us and got our group energized and excited earlier than normal," Avedisian said.
Editor's note: Petri could not be reached for comment for this article after several requests.