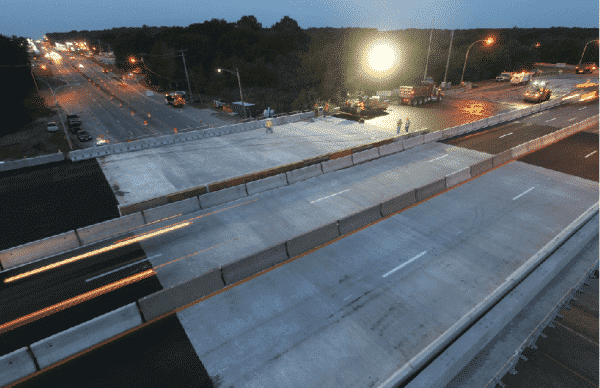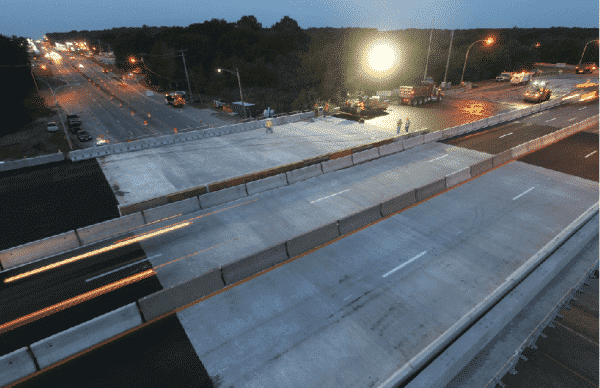 Warwick, RI — Traffic around the Barton Corner Bridge Project is expected to resume on Aug. 28 beginning at 6 a.m., the Rhode Island Department of Transportation announced on Wednesday.
Lane restrictions are still expected along Route 2 from James P. Murphy Highway in West Warwick to Division Road in East Greenwich, according to a RIDOT email message.
The $6.4-million project is wrapping up about two days ahead of its original schedule, thanks to the process of building new bridge sections at sites nearby the construction zone, at Exit 8 off I-95.
Crews built the new sections, then transported them a short distance before putting them in place, which cut the overall timeframe of the project by several months, according to RIDOT.
It's the same process that was used to float the new sections of I-195 into place for the I-Way Bridge in Providence.
With the bridge sections in place and traffic expected to return to normal on Route 2, there's still the work of removing the crossover roads used on I-95 during the bridge replacement and setting up new median barriers to be done. Those final steps are expected to be finished in October.
[Watch the Barton Corner Bridge project live online via RIDOT webcams. Page also includes turn-by-turn directions for getting around the construction area.]
Both ramps are expected to reopen for traffic on Thursday, Aug. 28.
Keep up-to-date with road closures and other alerts on the RIDOT Twitter page.