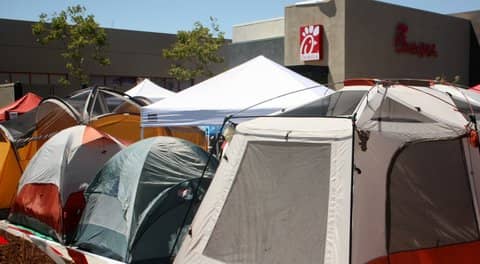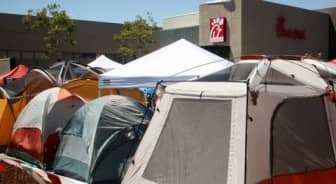 Warwick, RI – Chick-fil-A is expecting campers on-site a day ahead of the Sept. 4 opening of its first Rhode Island restaurant at 1500 Bald Hill Road, and a Warwick Police detail will be there, too.
The first 100 adults in line by 6 a.m. on Thursday, Sept. 4  will receive a digital offer card loaded with 52 free Chick-fil-A meals – a total of more than $30,000 in free food, according to the company's press release on the event.
Participants, 18 years and older with identification, can line up no earlier than 24 hours prior to the opening. If there are more than 100 people when the line opens at 6 a.m. on Wednesday, Sept. 3, all 100 spots will be determined by a drawing with those selected needing to camp out to secure their spot in line. (See Chick-fil-A First 100 for complete rules.)
Toushoua Xiong, the local franchise owner, will award a free, one-year supply of Chick-fil-A meals to each of the first 100 adults in line at the new restaurant.
Chick-fil-A is known for its crowd-drawing openings, where avid customers arrive far in advance, packing tents, lawn chairs, computers, TVs and couches to make their wait more comfortable. Chick-fil-A provides security, entertainment, games and food.
The company has hired a Warwick Police detail for the security. Jonathan Wheeler at the Warwick Police Detail Office said the detail will be present from early Sept. 3 till Sept. 4. Their first task will be keeping guests from entering the lot until the 6 a.m. Sept. 3 start of the 24 hour advance. After, they'll keep the qualified 100 campers secure.
Xiong will also conduct a children's book drive on Sept. 3. Anyone donating at least one new book will receive a coupon for a free Chick-fil-A entrée (one per person). Those camping out for the First 100 promotion also will be engaged in the book drive with the top collector receiving an additional prize.
The company is providing a Book House, built from reclaimed wood, where the  books will be placed as a free library exchange. Xiong is donating the Book House and books to Big Brothers Big Sisters of the Ocean State.
The Warwick Chick-fil-A hours will run Monday through Saturday from 6:30 a.m. to 10 p.m., serving a full breakfast menu until 10:30 a.m. Like all Chick-fil-A restaurants, it is closed on Sunday.