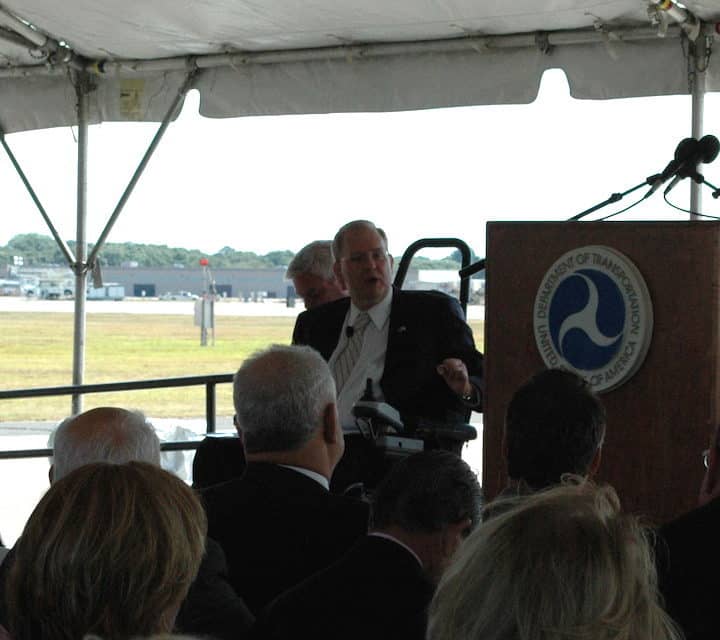 Correction: An earlier version of this story incorrectly reported the timing of Condor Airlines' commitment to providing service from Frankfurt, Germany to T.F. Green Airport.
Warwick, RI – Federal, state and city officials gathered at TF Green Airport Monday morning to celebrate the Federal Aviation Administration's approval of an expansion of the airport's primary runway allowing international flights.
"I'm not sure I ever fully believed that we would get to this day," said Warwick Mayor Scott Avedisian, who recalled a difficult series of negotiations with airport, FAA and city officials during the last 15 years.
In 2011, the FAA green-lit plans for Green Airport to extend the primary runway, Runway 5-23, to the south by 1,530 ft. to a total length of 8,700 ft.  The longer runway will allow for larger, heavier planes which could mean longer distance flights and more travel options for Ocean State travelers.
U.S. Sen. Jack Reed, a member of the Senate Appropriations Committee, has led efforts and worked with the delegation, state officials, and the Obama Administration to help direct about $110 million in federal funds for the T.F. Green Improvement Program.  Work on the project, including safety improvements to a secondary runway, a new de-icing facility, and the relocation of ball fields, is underway and being done in several phases.
Construction will continue through December 2017.
"Although the path has been tortuous at times, it is the right place that we are all here together," Avedisian said.
Avedisian praised the work of everyone involved for their dedication to the expansion, particularly Rhode Island Airport Corporation Board Chair Dr. Kathleen Hittner, Gov. Lincoln Chafee, T.F. Green's staff and Board of Directors, "and finally, to our great city staff, who are going to have a lot of free time now," he said.
Secretary of Transportation Anthony Fox told a story of noticing a photo in Sen. Jack Reed's office of President Lyndon B. Johnson having what appeared to be a heated discussion with then-RI Senator Theodore Green.
"But the senator got the last word, Fox said, "because T.F. Green is getting what it needs."
As a frequent flier, said Congressman James Langevin: "I have to say that we have a great place here."
Langevin also made sure to add someone to the list of people credited with the expansion. "I want to recognize and thank Mayor Avedisian for his leadership," the Congressman said.
After the ceremony, Avedisian pointed to plans to develop 95 acres at Warwick City Centre, and recent news of extremely high occupancy rates reported at Hilton Garden Inn this summer, as evidence of the airport's continued benefit to the area.
"That wouldn't have happened 15 years ago," Avedisian said.
Now, with the obvious support of T.F. Green Airport as a driver of economic development, residents and those outside the city are beginning to take notice of Warwick, Avedisian said.
That includes Condor Airlines, which announced last week it will start regularly-scheduled seasonal service from Frankfurt, Germany (FRA) to T.F. Green Airport (PVD). Condor could have made that move without the expansion, said Karen Jedson, Warwick's director of Tourism and Development.
"People are starting to realize that you can stay in Warwick and see Rhode Island," Jedson said.