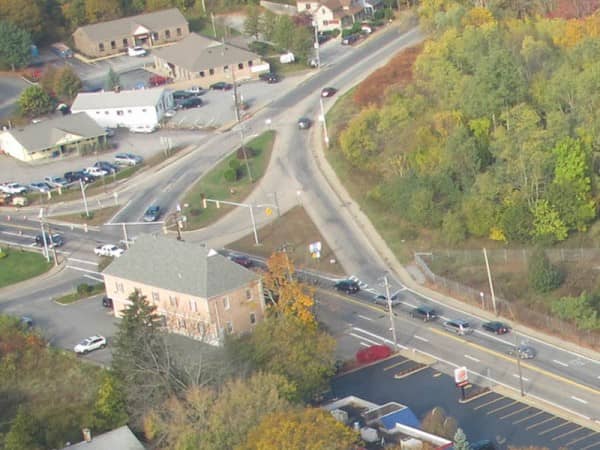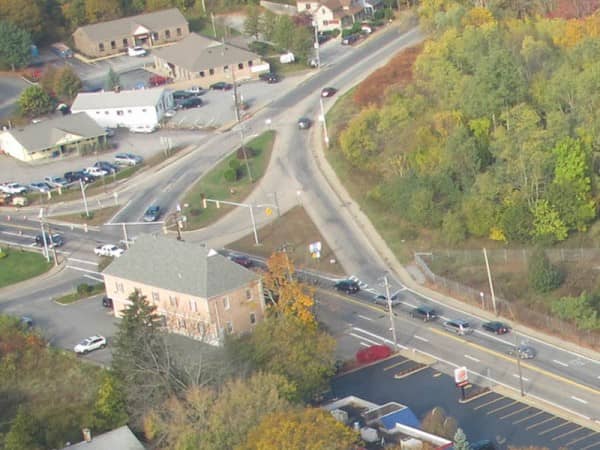 "Hey, look kids! There's Big Ben, and there's Parliament!" – Chevy Chase as Clark Griswold in "European Vacation."
Warwick, RI – The roundabout was an unending spiral traffic purgatory for the Griswolds, but DOT officials say the interchanges are cheaper and safer than intersections, and they're gradually replacing the state's major junctions, including Apponaug's.
In case you're not familiar with National Lampoon cinema, a roundabout is a one-way, circular intersection built with no traffic signals, according to the RIDOT.  With modern roundabouts, which have improved since the 1980s, traffic flows around an island, with drivers entering the circle yielding to traffic already in the roundabout.
As the $29.9 million Apponaug Circulator Project continues, with lane closures and traffic delays expected through the project area, construction on the state's newest roundabout, at Centerville Road and Toll Gate Road, will begin this spring.
The Veterans Memorial Drive and Post Road Extension roundabout begins in the summer, the roundabout at Greenwich Avenue and Veterans Memorial Drive in the fall, and Apponaug Four Corners in fall 2016.
All those re-tooled intersections stand to benefit from the markedly safer roundabout design, said Rose Amoros, chief public affairs officer for the RIDOT.
"Roundabouts have long been a proven safety measure, and the Federal Highway Administration has provided guidance on the benefits of this design since the early 2000s," Amoros said.
New York State, one of the early adopters of the design in the Northeast, sent a design engineer and expert on roundabouts to train RIDOT personnel, Amoros said.
Amoros said roundabouts reduce fatal intersection accidents by 90 percent, because of the lower speeds (15 to 25 mph) drivers enter them at. They're less expensive to operate thanks to the lack of signals, better for pedestrians and the environment (due to fuel/emissions savings from lower speeds).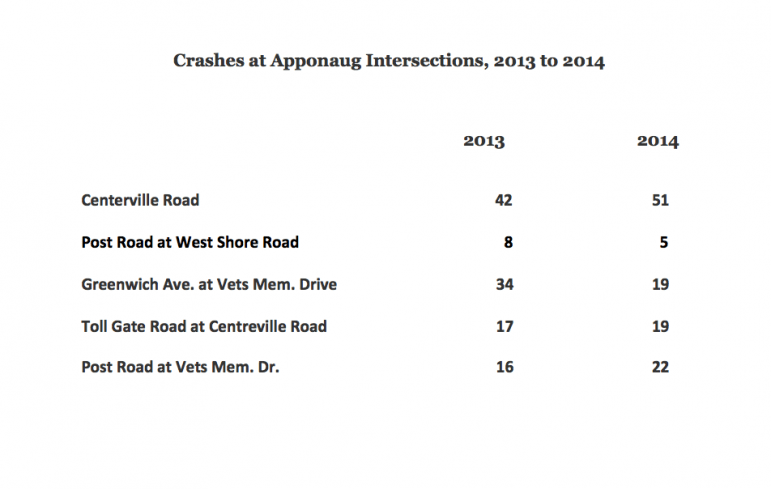 "With this in mind, and with the success of the other roundabouts around the state, we often look to this design as one of the first options when we begin planning an intersection upgrade," Amoros said.
RIDOT has been reshaping big intersections as roundabouts since 2006. There are currently seven roundabouts in the state: Division Road, East Greenwich, Fruit Hill Avenue in Providence, The Quonset Business Park, Providence Street in West Warwick, at Twin River Casino in Lincoln, Centerdale, North Providence and at Rhode Island College.
Bob Benoit, Warwick highway chief, is a fan of roundabouts. His experience has been with one in Maine, he said, that handles traffic pretty well.
"It's great. I'm hoping these are as good as that one," Benoit said.
Central RI Chamber of Commerce President Lauren Slocum is confident the roundabouts will improve Apponaug.
"I know that long-range it will be very positive," Slocum said, "I think when all this is done, Apponaug will be more vibrant, more pedestrian friendly."