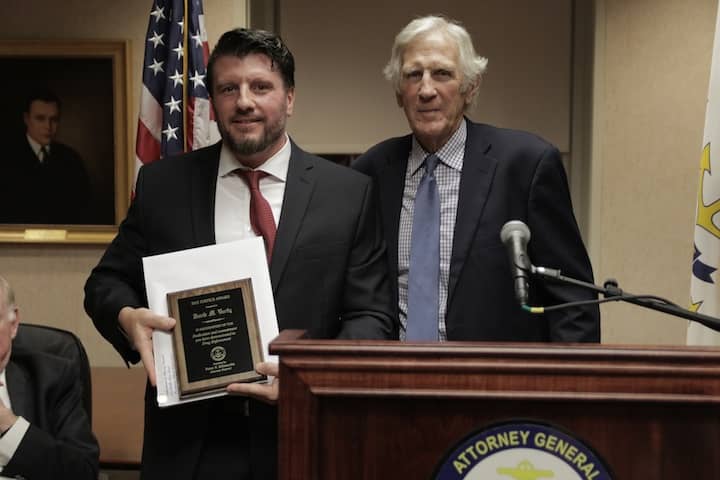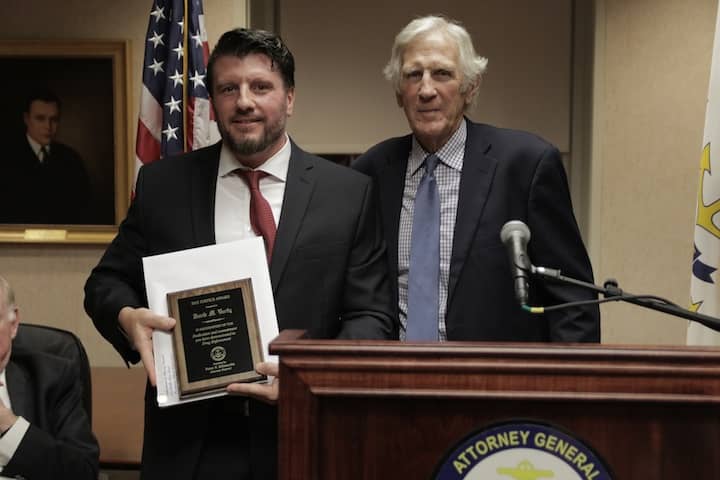 WARWICK, RI — RI Attorney General Peter F. Kilmartin joined past attorneys general in his Providence office to honor individuals and organizations during the 12th annual Justice Awards, including Warwick Detective David Verity,  Rep. Eileen Naughton and RI Trooper Anthony Washington, and Providence Detective Brian Dyer, all Warwick residents.
The Justice Awards are given in recognition of individual and organizational excellence and commitment to justice and the community.  Each award is presented in honor of one of eight previous Attorneys General: Arlene Violet, Richard Israel, Herbert DeSimone, Dennis Roberts, James O'Neil, Jeffrey Pine, Sheldon Whitehouse and Patrick Lynch.
"We have a lot to celebrate in Rhode Island, especially the many people that work and volunteer to make the state a better, safer place," said Attorney General Kilmartin.  "Each of this year's recipients quietly do great work and have a positive impact on our community, never expecting to be recognized or asking for anything in return.  And, that is exactly why they deserved to be honored."
Warwick Police Detective David Verity
Warwick Police Detective David Verity received the Attorney General Richard Israel Award for Drug Enforcement for his efforts in investigating and bringing down a cross country crystal meth distribution ring.
Verity was the lead case agent in a multi-jurisdictional criminal investigation led by the DEA Drug Taskforce  investigating the import of meth into Rhode Island.  After arresting a Rhode Island-based drug trafficker, a wholesale distributor with approximately one kilogram of crystal meth, Verity was able to leverage the trafficker's cooperation, expanding the investigation to Nevada and ultimately to Mexico.
Verity's investigative efforts led to the identification of a high level poly-drug trafficker in Las Vegas, who supplied significant quantities of methamphetamine and bulk quantities of MDMA, more commonly known as Ecstasy.
Cooperating with the DEA in Las Vegas, Verity, under cover, ordered 1,000 Ecstasy tablets and one half pound of meth from the trafficker.  Shortly after, DEA agents in Las Vegas made a traffic stop of the individuals, recovering 1,000 Ecstasy tablets and arresting two subjects.
Simultaneously, DEA agents made a second traffic stop siezing a half kilogram of cocaine, 95 grams of methamphetamine and a Desert Eagle .50 caliber handgun and arresting a third person. Further investigation by Detective Verity and DEA Las Vegas led to an additional seizure of 527 grams of methamphetamines.
Finally, Detective Verity and DEA Las Vegas were able to successfully identify high value targets operating from Mexico who were the source of the aforementioned drug seizures.  Verity continues to collaborate with DEA Las Vegas as well as several DEA offices in Mexico.
Rhode Island State Trooper Anthony Washington
Rhode Island State Police Trooper Anthony Washington received the Attorney General Dennis Roberts Award for Crime Prevention for his investigative excellence and as a member of the Domestic Highway Enforcement.
Washington, a resident of Warwick, has served as a member of the Rhode Island State Police for seven years and is currently assigned to the Wickford Barracks.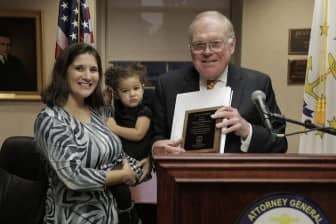 During his career with the State Police, Washington has displayed a strong work ethic and has been a valuable asset to the Uniform Division with his ability to thoroughly investigate any incident, ranging from larceny to sexual assault.
In 2015 alone, he investigated 48 incidents, made 90 arrests, issued 502 traffic citations and investigated 51 motor vehicle crashes. His arrests have involved motor vehicle offenses, larceny, narcotics, forgery, assault, and weapons charges.
Washington, a member of the State Police Domestic Highway Enforcement Unit, received the Department of Transportation Highway Safety Champion Award in 2015.
In September 2015, Washington made a motor vehicle stop on Route 95 North in Warwick after observing the vehicle speeding.  After receiving conflicting stories from the operator and his passenger as to their destination and point of origin, as well as detecting the strong smell of fresh marijuana emanating from the vehicle, a probable cause search was conducted and resulted in the seizure of more than four and one half pounds of marijuana.
Providence Police Detective Brian Dyer
Providence Police Detective Brian Dyer, a resident of Warwick, received the Attorney General Herbert DeSimone Award for Law Enforcement – Non Uniform for leading the investigation into the 1978 homicide of Bobby Oliveira.
In April 2015, 64-year old Patritia (Pat) Santos, visiting her hometown of Providence while here from Florida, walked into the Providence Police station and asked to speak with a detective about a cold case murder.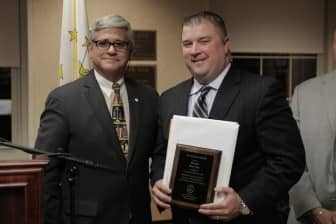 Out walked Detective Brian Dyer, who listened to Pat's story about the 1978 murder of her fiancé Bobby Oliviera.  As Pat talked about Bobby, the murder, the suspect, and the long travel of the case that led to nowhere,  Dyer became increasingly intrigued.
Dyer made a promise to Pat that he would look into it for her.  She left the public safety complex that afternoon with a renewed sense of hope, and Dyer was set on a path that would lead to solving the murder and bring some peace to Pat and her family.
Robert "Bobby" Oliveira was shot and killed on June 8, 1978 at the Roger Williams Housing Projects in South Providence.  At the time of his death, he was engaged to Pat Garrett (now Pat Santos) and the young couple had a child together – Wayne Oliveira.
Pat was enlisted in the United States Air Force and stationed at Pease Air Force Base in New Hampshire. She and Wayne were in New Hampshire at the time of the murder.
Despite witnesses to the shooting, it was not an easy case. No one wanted to talk to police and those who did, said they hadn't seen what had happened. But police had a suspect from the start – Sal Taylor.  Any Providence officer at the time would tell you that Sal Taylor was one bad guy.  One of the toughest guys on the streets of Providence in the 70s and 80s.
Despite the lack of willing witnesses, two grand juries were convened – one in 1978 and one in 1979. Both failed to return an indictment because witnesses failed to appear to testify to what they saw.  After the grand juries returned no true bills, the case was pretty much closed — until that fateful day when Pat Santos connected with Detective Dyer.
Impressed by Pat and intrigued by her story, Detective Dyer contacted prosecutors at the Office of Attorney General to ask how to go about opening the case and tracking all the old files.
It wasn't an easy task.  It took months, a lot of hard work and a little luck to pull together the old files and track down folks who might remember the murder.
Detective Dyer searched out witnesses who were still alive and spoke with retired police officers.  Memories had faded and evidence was sparse.
Pat had done some detective work herself before speaking with Detective Dyer. While living down in Florida, she reconnected to someone she knew witnessed the crime but had refused to cooperate with the investigation.
Pat informed Detective Dyer when that key witness would be travelling to RI. He was met at the airport and brought to a grand jury to testify that it was Sal Taylor who shot and killed Bobby Oliveira.  This time, the witness cooperated.
Others also testified before the grand jury to what they knew and saw that night.
It looked as if Sal Taylor would finally be indicted for his crime almost 40 years later.  But, fate had something else in store for Taylor.  Just days before the grand jury was scheduled to vote on an indictment, police discovered Sal Taylor had died.
It certainly wasn't the outcome Pat Santos and Detective Dyer had hoped for.  Despite that cruel twist of fate, a bond between Pat and Detective Dyer was formed – a bond of trust, respect, and friendship.
Sadly, Pat Santos passed away recently. She too was honored with a special Justice Award for her tenacity in working with the Providence Police to solve the murder.  Wayne and Anthony Oliveira, brothers of Bobby Oliveira, accepted the Justice Award on behalf of Pat's family.
Representative Eileen Naughton
Representative Eileen Naughton received the Attorney General Patrick Lynch Award for Senior Protection for being a champion of the elderly and disabled.
First elected in 1992, Representative Eileen Naughton established herself as a staunch advocate for the elderly, disabled, caregivers, the environment, students, and many others.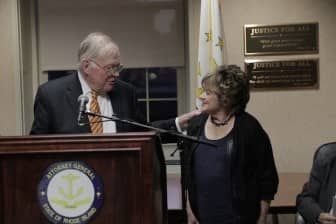 Among her legislative accomplishments, she sponsored, on behalf of the attorney general, legislation that expanded the type of criminal records check required for individuals applying to be routine contact patient employees in a long-term health care facility or provider in Rhode Island.
She also championed a law called "The Family Caregivers Support Act," which provides a caregiver assessment for family caregivers and ensures that a plan of care is developed with the needs of both the caregiver and the recipient in mind.
Naughton also successfully sponsored legislation – the CARE Act – that helps family caregivers. The Caregiver Advise, Record and Enable (CARE) Act allows patients entering a hospital in Rhode Island to designate a specific person who will help care for him or her upon release, and establishes a means by which the hospital shall keep that caregiver informed about the patient's location and how to provide the proper care at home.
Recently, she strongly supported a $15,000 tax exemption on state income tax for social security recipients.  While on the House Finance Committee, she earmarked $400,000 for senior centers and $200,000 for veterans' organizations. She restored monies in the budget for the Volunteer Guardian Program with the Department of Elderly Affairs. Additionally, Representative Naughton co-sponsored legislation easing reporting of elder abuse.
Representative Naughton authored legislation that provides specialized telephone equipment to qualified individuals/seniors who are deaf or hard of hearing, have a speech impairment or who suffer from neuromuscular damage/disease.  She also fought for no-fare bus passes for Rhode Island seniors and disabled persons and she assisted those with disabilities—giving them the right to work and receive healthcare benefits.