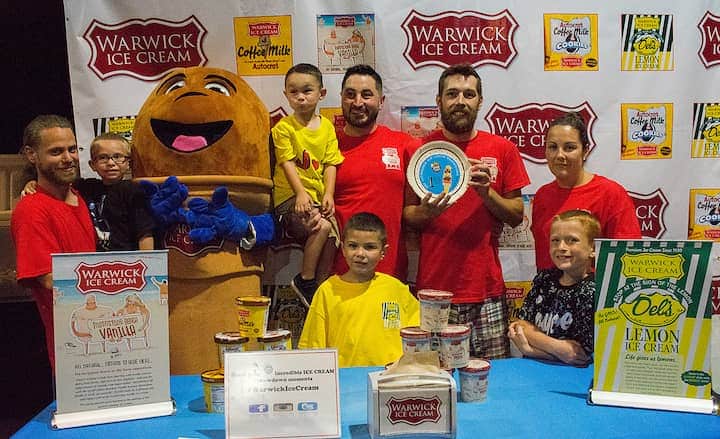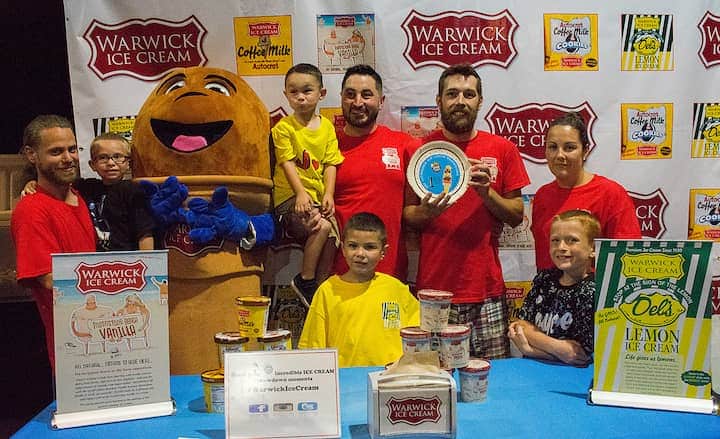 PROVIDENCE, RI — Warwick Ice Cream's team took home First Place at this year's Ice Cream Throwdown, held within the air conditioned confines of Fete in Providence, sporting a new flavor alongside their fan favorites – Moonstone Beach Vanilla.
About 550 people lined the interior of the event space, rubbing elbows for much of the event as they lined up to sample the frozen treat wares of eight vendors: Warwick Ice Cream, Rogues Island Kitchen & Bar, Back Yard Food Co., Sundaes's Lincoln Creamery, Seriously Good, Moo Moo Ice Cream, and New Harvest Coffee.
"I call Fete my home court advantage," said Jim Nellis, owner of RI Food Fights, which throws the annual Ice Cream competition. Nellis, who usually organizes the event himself, said he got some help from the staff at Fete this year, and the indoor environment allowed them to host the even in an air conditioned space instead of the usual outdoor venue, which, in the middle of July, often makes the event a very hot experience.
Also, "They're super helpful, super nice people," Nellis said.
In the far corner of the event space, Warwick Ice Cream was again a popular spot for the crowd, who got to sample their new flavor: Moonstone Beach Vanilla, named after the nude beach closed to nude sunbathers, and swimming in general, in 1987 by the U.S. Fish & Wildlife Service (USFWS), out of concern for the nearby nesting grounds of the endangered Piping Plover. The history is  depicted in Warwick Ice Cream's advertising art for the new flavor, which features nude sunbathers, presumably during the early 1980s, and a few piping plovers, one of whom is depicted telling the people to get off his beach.
Music, free iced coffee and a performance by the Chifferobe Tropigals entertained attendees as they waited their turn at sampling ice cream flavors including bacon and corn and key lime pie as well as traditional chocolate, coffee and vanilla.