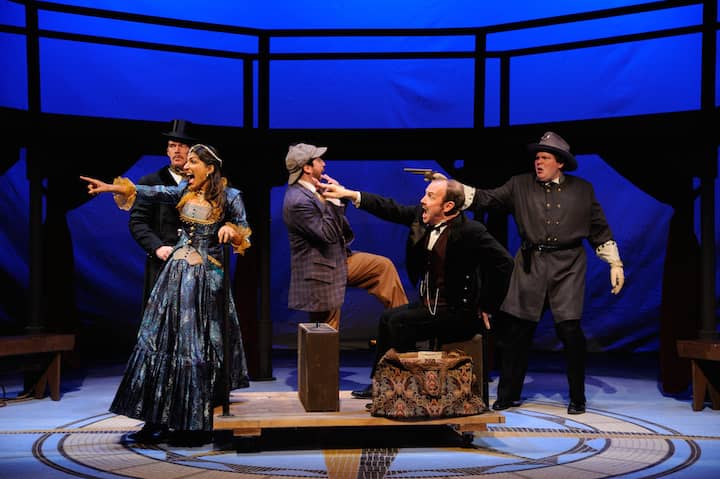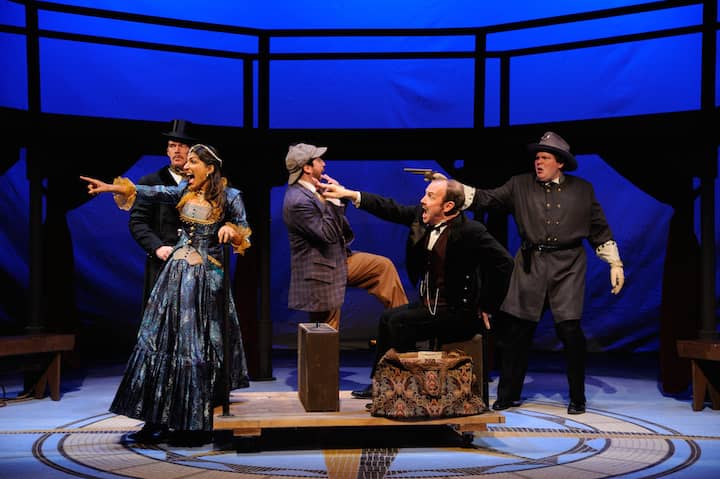 Warwick, RI — Step back in time to the late 1800s, hold on to your hat, and imagine yourself on a whirlwind tour around the world by ship and rail in Ocean State Theatre's "Around the World in 80 Days", showing through Nov. 22.
Purchase your tickets and join in the exploits of Phileas Fogg and his faithful manservant in a race to beat the clock with stops in Egypt, Bombay, Calcutta, Hong Kong, Yokohama, and the United States. Vicarious adventurers will experience intrigue, romance, and madcap comedy every step of the journey.
Based on the classic adventure story by Jules Verne, originally published in 1873, Mark Brown's script is an ingenious and comedic adaptation that shines. Under the direction of Mark Torres, five talented actors portray no less than 37 characters, the action is nonstop, and patrons are treated to comedy that ranges from slapstick to dry and understated. Set design by Michael Martineau is masterful.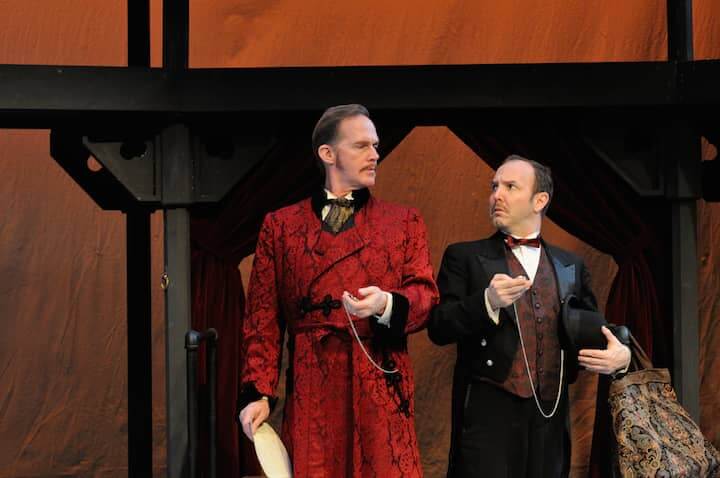 Phileas Fogg, superbly played by Russell Garrett, agrees to a wager and sets out to travel around the world in 80 days, a feat unheard of in the 1870s. Every inch the proper Englishman, Fogg is accompanied by his devoted French manservant, Passepartout, marvelously portrayed by Matt Jones. All along the way, the pair is pursued by Detective Fix, expertly played by David Groccia, who mistakenly believes Phileas is a bank robber. Groccia also excels at playing eight additional characters, including a hilarious turn as the Reverand Wilson's servant.
Minita Gandhi is spot-on in the role of Aouda, who is rescued by the travelers and eventually falls in love with Phileas. Phileas' obvious infatuation with the beautiful Aouda, and his refusal to acknowledge it, keeps the audience wondering when he will finally express his true feelings to her. Jonathan Fisher does a yeoman's job of portraying no less than sixteen different roles throughout the production.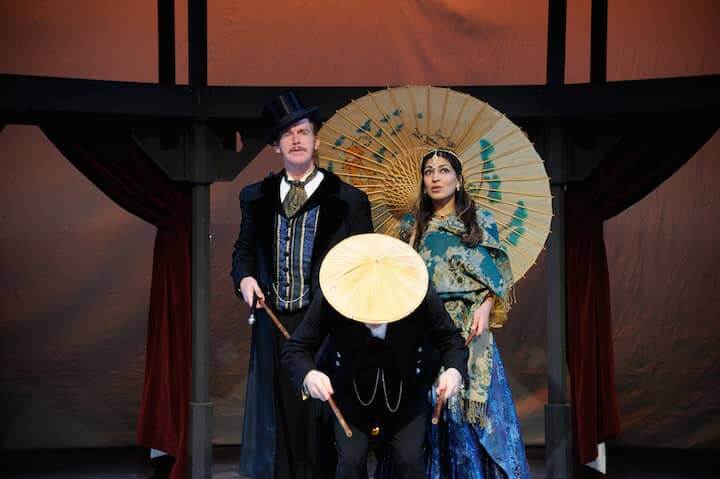 The play's itinerary, which was critical to the original story, is still fascinating as the audience is drawn back to a time when destinations such as Bombay, Calcutta, Yokohama, and Hong Kong held great mystery, not only due to their exotic locales, but because of the difficulty in getting there. The characters in this tale travel via steamer, rail, elephant, and even a sail-driven "snow sled" as they strive to get back to London before the deadline.
Ocean State Theatre is located at 1245 Jefferson Boulevard in Warwick. Ticket prices range from $34-49 and are available online, by telephone, or in person at the box office. Performances are held Wednesday through Friday evenings at 7:30 p.m. with matinees on Thursdays, Saturdays and Sundays at 2 p.m.
It won't take you 80 days to get there, but the trip is certainly worth it.