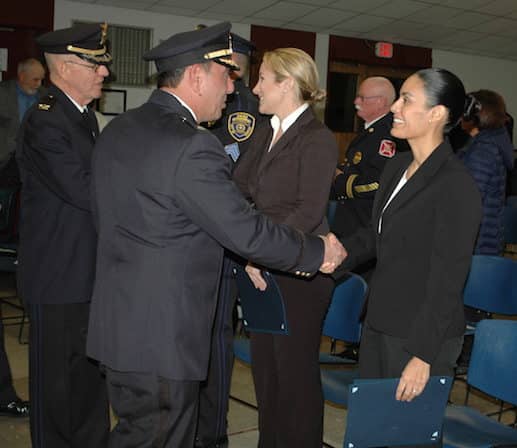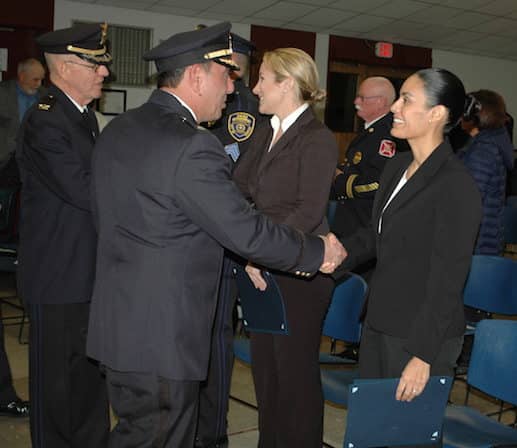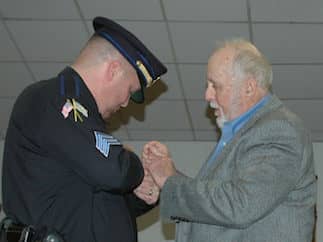 Warwick, RI — The Warwick Police Department honored three officers' advancement to detective rank and the promotion of a detective to sergeant Tuesday night at the community room inside Warwick Police Headquarters at 99 Veterans Memorial Drive.
Officers Nadine J. Parmenter, Nicholas A. Reay, and Gilda T. Fortier were named detectives by the Warwick Board of Public Safety, and Sgt. Frank J. McGee, III was promoted to sergeant.
McGee steps into a post vacated by a recent retirement, said Warwick Police Chief Col. Stephen McCartney. Although the department had just held a recognition ceremony Dec. 16, McCartney said, they decided not fill the empty sergeant's post right away, "Because we know we've got a good man ready to step up to the plate there in Sgt. Frank McGee."
McGee's father, retired Capt. Frank McGee ,RI State Police, is an old friend of McCartney's, and, "We already know Frank is a solid guy who's done great work for us ever since he's done the job." McGee was a reliable Patrolman, McCartney said, and he wasn't surprised when he got promoted to detective. "He did a great job up there as a detective, and now I know he's ready to step up to the plate again, and particularly show our young police officers out there on the third shift, and be a great mentor," McCartney said.
McCartney said the Police Department is also going to begin recognizing officers when they're named detectives "While it's not considered a promotion per se, still they had to work hard as patrol officers. They had to take a test and go through a process, a very difficult process, for three months. in addition to the good work they did as patrol officers. So I think it's high time that we recognized them," the Chief said.
"Job well done," McCartney said to Parmenter and Fortier. Reay was not able to attend the event.
Mayor Scott Avedisian also offered his congratulations. "You've all done incredibly well. We're all proud of everything that you've done, and we look forward to wonderful things from you in the future."
Dep. Chief Michale Babula said they intended to keep the ceremony brief, but made it clear that was no commentary on the importance of the evening in the minds of the officers. "But the fact that this is brief, doesn't mean that this is any less important for these people. I've been on 33 years, and what I remember most clearly, is my first few months as a sergeant, and my first few months as a detective," Babula said.
Babula addressed newly minted Sergeant McGee directly. "Frank, this will stick with you, the first time that you pull up to a call, where something truly bad has happened, and you realize, 'they're waiting for me to tell them what to do', and you realize that they're waiting for you to teach them how to be police officers. And one of the places you learned that is where you just came from, and that's what Jilda and Nadine are learning. This is where you take your ability to conduct investigations to a new level," the Deputy Chief said.
"These are big moments in these peoples' lives," Babula told the crowd before turning his attention to the officers,  "and I want to congratulate all of you."