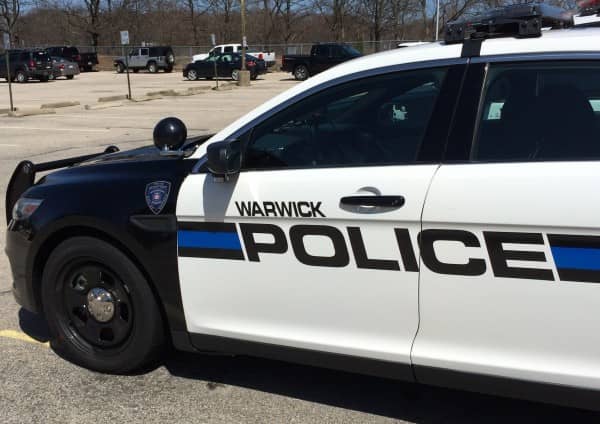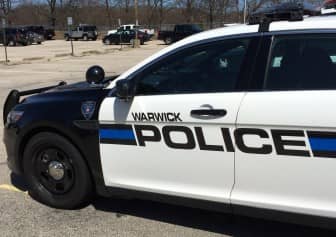 WARWICK — Warwick Police responded to a single SUV crash into a telephone pole and private light pole at 1670 Warwick Ave. July 13 at 5:41 a.m., where a witness reported the driver had fled on foot, arresting the man Aug. 8 for leaving the crash and driving with a suspended license after her turned himself in.
According to the report by Officer Tyler Mobrice, he arrived at the crash, finding a 2009 Ford Edge with heavy front-end damage on the sidewalk stopped over a broken private light pole. Behind the SUV was telephone pole #22, broken in half, pointing sideways with high-tension wires drooping from it, according to the officer's report.
Nearby, a white Ford E-250, parked at Fagnant Carpet, owned by the company, had been damaged, with red paint on its driver's side rear fender, according to the report.
A witness to the crash told police the driver, wearing green shorts and green shirt, with a vest, had left on foot heading south on Warwick Avenue, Mobrice reported.
Police arranged for P&P Towing to take the Edge from the scene, contacted the owner of the private light pole, and also notified National Grid, which replaced the telephone pole.
Police spoke with the SUV's owner, who said her brother, Isidro Cruz-Guzman, 51, of 2250 West Shore Road, had taken her vehicle without her knowledge. She informed officers that she told him to follow up with them to speak about the crash.At about 8:20 p.m. July 13, both Cruz-Guzman and his sister visited Warwick Police Headquarters, 99 Veterans Memorial Drive, to provide a statement about the crash.
Cruz-Guzman said he had been driving the Ford Edge at the time of the crash, but had fallen asleepat the wheel due to an unspecified illness, woke up after the crash, and panicked, leaving the site and the SUV. He said he later visited the hospital for treatment of minor injuries from the crash.
A police investigation revealed Cruz-Guzman didn't have a license at the time of the crash, making it his third offense for driving without a license. Warwick Police issued a warrant for driving without a license, third offense, and also for leaving the scene of a crash with damage resulting.
Cruz turned himself in on the warrant on Aug. 8. He is due to answer the charges at the RI Traffic Tribunal Aug. 16.