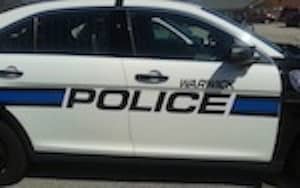 UPDATE: July 5: Warwick Police have identified the rider in the single vehicle motorcycle crash as as Matthew Medeiros, 39, of Hope, RI.
Medeiros remains at RI Hospital for treatment of his injuries.
WARWICK — Warwick Police are investigating an early morning Rte. 37 motorcycle crash at the west Post Road on-ramp that seriously injured the rider.
Warwick Police responded to the on-ramp from Post Road at 4:56 a.m. for a report of a single vehicle crash. At the on-ramp, police found a motorcycle had crashed with a "highway fixture," according to Warwick Police. The motorcycle' rider, the only person on the motorcycle,  was taken to Rhode Island Hospital for treatment of his injuries, according to police.
Due to the extent of the driver's injuries, the Traffic Crash Reconstruction team was called to investigate the crash. It appears that alcohol may have been a factor in the crash, according to a Warwick Police statement on the investigation.
Warwick Police ask any person with information related to the crash to contact the Warwick Police Department Traffic Division at (401)468-4243, and ask for Sgt. John Curley.