WARWICK, RI — Warwick Police arrested and charged two women with conspiracy and obtaining money under false pretenses Feb. 21 after they turned themselves in following a WPD Facebook post showing them using a stolen EBT card at the Bald Hill Road
Price Rite.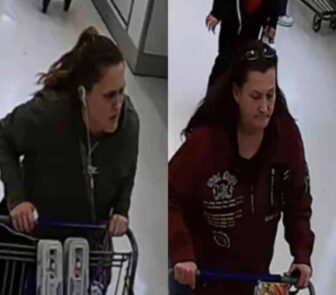 Det. Matthew Smith, who posted the photos of the women, arrested Robin Houle, 49, of 3 Elmore St., Warwick, and Naomi Ramsdell, 30, of 80 Hedley Ave., Apt. 1, Central Falls, for using the EBT card, which had been reported stolen, according to the officer's report.
Smith reported that Ramsdell contacted him by phone shortly after he posted the photos to the WPD Facebook page to tell him that she and the other woman in the photos, her mother, Houle, would come to Warwick Police Headquarters, 99 Veterans Memorial Drive, to speak with him about using the card.
Ramsdell told Smith that on Jan. 19, a woman approached her in the Price Rite parking lot and asked if she and her mother
Ramsdell said they agreed, and each gave the woman $50, receiving the EBT card in exchange. She said the woman then offered the remaining balance of the card for an additional $100, but she only had $72, which the woman accepted. She said they agreed to meet at McDonald's on Broad Street in Providence to return the card.
Ramsdell said she and Houle purchased groceries for their own use at the Price Rite, and that she later visited the Stop and Shop on Garfield Avenue in Cranston to make a second purchase. Ramsdell said she returned to the McDonalds to return the card as agreed.
Houle repeated the story, adding that they had also been given the Personal Identification Number to use the EBT card.
Each woman described the woman who had sold
Smith charged the women and they were later released, each on $100 bail.