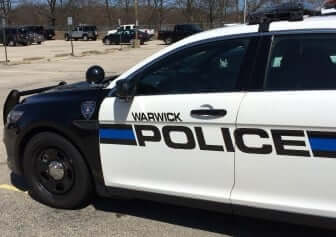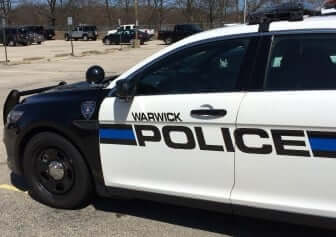 WARWICK, RI— Warwick Police arrested a 41-year-old West Warwick man Feb. 21 at 9:30 p.m., charging him for a $43.20 WalMart shoplifting of tools and carrying an illegal knife.
Officer Derek Hagopian was called to the area of Walmart at 840 Post Road that night by the store's loss prevention officer. The woman said a man wearing a backpack under a red hooded sweatshirt had gathered a number of tools from the store (later assessed at $43.20 in value), walked into the men's room with them, and walked out, taking them with him out of the store without stopping to pay, Hagopian reported.
The man had been last seen walking south on Post Road toward Dunkin Donuts, according to the store staff.
Hagopian spotted a man in a hooded red sweatshirt with a large bulge under it walking south near 900 Post Road and stopped his cruiser, got out and spoke with the man as Officer Timothy Lipka arrived to assist, according to Hagopian's report. Hagopian told the man to stop, and he responded by asking why.
Hagopian asked where the man was coming from, and if he had been inside the WalMart, to which he said he'd been inside to use the men's room. Hagopian asked him to remove his backpack, and he began taking off his sweatshirt to get to the backpack, saying, "All that stuff in there is mine. I bought it earlier," according to the officer's report.
As the man removed his sweatshirt, Lipka spotted a knife in a holster on the man's right hip, and ordered him to put his hands above his head. Lipka took the knife. Hagopian placed the man in handcuffs.
Shortly after, the man said, "I'll give the stuff back and never go back there. Come on, man, don't arrest me," according to Hagopian's report.
Hagopian identified the man as Brad Rochford, 41, of 41 Greenhill St. West Warwick, RI. He was also confirmed as the man seen shoplifting by Walmart loss prevention. The knife blad was measured at 5 inches.
Hagopian transported Rochford to Warwick Police Headquarters, 99 Veterans Memorial Drive, where he was processed and charged with shoplifting, and one count of possession of illegal weapons other than firearms. He was held at police headquarters as a bail/probation violator on a felony assault charge for a Dec. 13, 2020 assault to which he pleaded no contest on Feb. 18, 2022.
Rochford was scheduled for a pre-trial conference on the new charges for March 11 in Third Division District Court, which was continued until March 25.