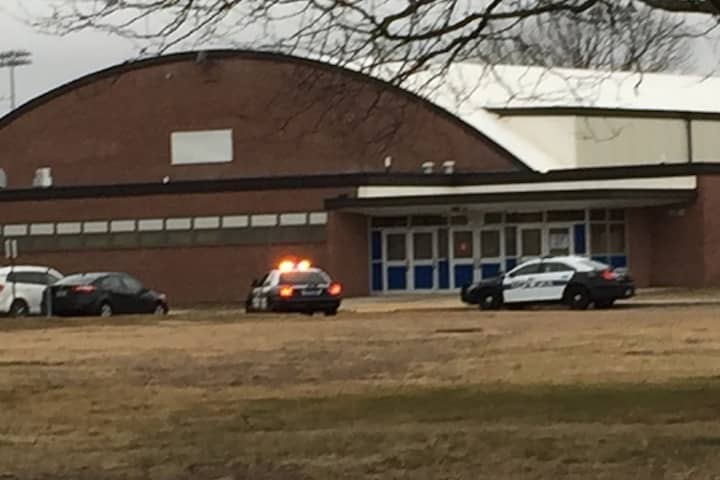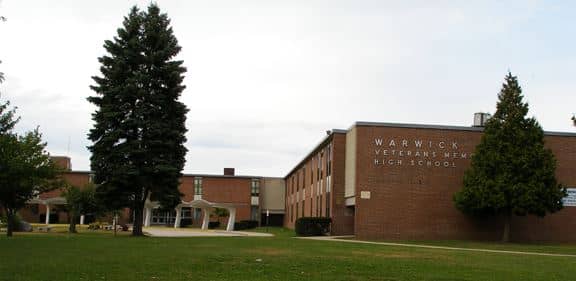 UPDATE – Feb. 4, 1:21 p.m.: Warwick Police announced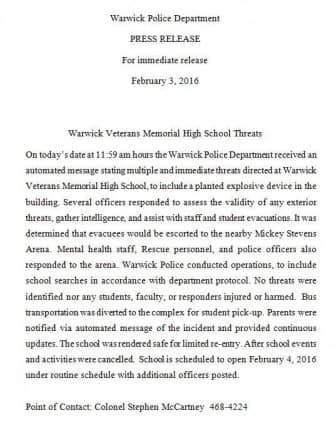 in a press release this afternoon that a bomb threat at Warwick Veterans School Jan. 3 proved a false alarm.
According to the release, posted to the department's Facebook page, Warwick Police received an automated message Jan. 3 at noon stating there were 'multiple and immediate' threats to Warwick Veterans School, including a planted explosive device.
No such threats were discovered during the police investigation into the call, and no one was injured as a result of the threat or the response by police and Warwick Fire personnel.
Classes at the school resumed today, with officers posted to the location, according to the release.
UPDATE – 3:34 p.m.: Warwick Veterans students were moved to the Mickey Stevens Sports Complex at 975 Sandy Lane to get them out of the weather, and to allow police access to the school, said a Warwick School Department spokesman.
Justin Martin, spokesman for Warwick Schools, said the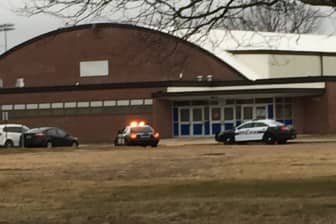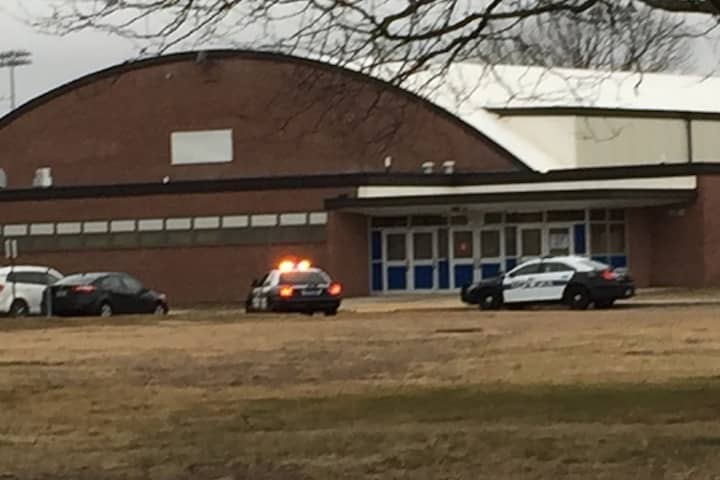 students were moved to the nearby building as it began to rain after the school was evacuated this afternoon due to a call to police reporting a bomb threat at the school.
The students were dismissed from the sports complex at the school's regular dismissal time.
Martin said all after-school activities at Warwick Veterans have been cancelled for the day. Activities at the City's other high schools will continue as scheduled.
UPDATE – 2:20 p.m.: Police remain posted at Warwick Veterans High School as WPD scanner traffic reports teachers and students are being let back into the school.
Students are being escorted into the school, and the building will be locked within an hour, according to scanner reports at about 2 p.m.
RI Interscholastic League reports tonight's wrestling match with Westerly High School at Warwick Vets  has been postponed.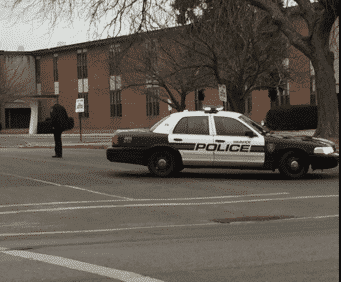 Warwick, RI — The Warwick Department reports everyone at Warwick Veterans High School is safe but locked down following a bomb threat called in at noon.
The Department updated the public through its Twitter feed, and Twitter users reported police and Warwick firefighters at the scene at about 12:30 p.m. this afternoon.
"WPD received robo-call bomb threat at noon for Vet's High School. School is locked down, police present investigating, all are safe," Warwick Police reported on Twitter.
Warwick Post will update this story as more information becomes available.