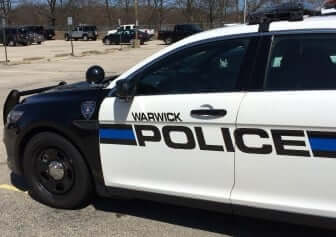 WARWICK, RI – A 25-year-old Providence woman is due in court today to answer a larceny charge after Warwick police arrested her April 1 at 7:52 a.m. after a witness spotted her inside a gray 2007 Nissan at Denny's on Quaker Lane.
Officer Robert Canis-Langlais spoke with the woman pointed out by the witness, identifying her as Alyssa Carter, 25, of 777 Atwells Ave., Providence, RI, and searched the woman's own car, finding a cup containing about $20 in change reported stolen from the victim's car, according to the officer's report.
The victim told Canis-Langlais her son had pulled into the restaurant where she was working and alerted her to the woman in her car. The woman was wearing a black hoodie and returned to a red Kia upon being spotted by the victim's son, according to the report. The victim inspected her car, finding the car's center console was open and a container of change missing.
A second witness to the car intrusion reported the woman, wearing black pants and a black hoodie, was rummaging through the car when they pulled up, then returned to their own car, the red Kia, which was parked next to the victim's car.
Canis-Langlais spoke with the  woman, then searched the Kia, finding the change reported missing, and returned it to the victim. He then arrested the woman and transported her to Warwick Police Headquarters, 99 Veterans Memorial Drive, Warwick, RI, where he charged her with one count of Larceny, Less Than $1,500.
Carter was scheduled for an April 20 court screening, for which she did not show, but appeared in Third District Court the next day, and was scheduled for a May 22 pretrial conference on the larceny charge.