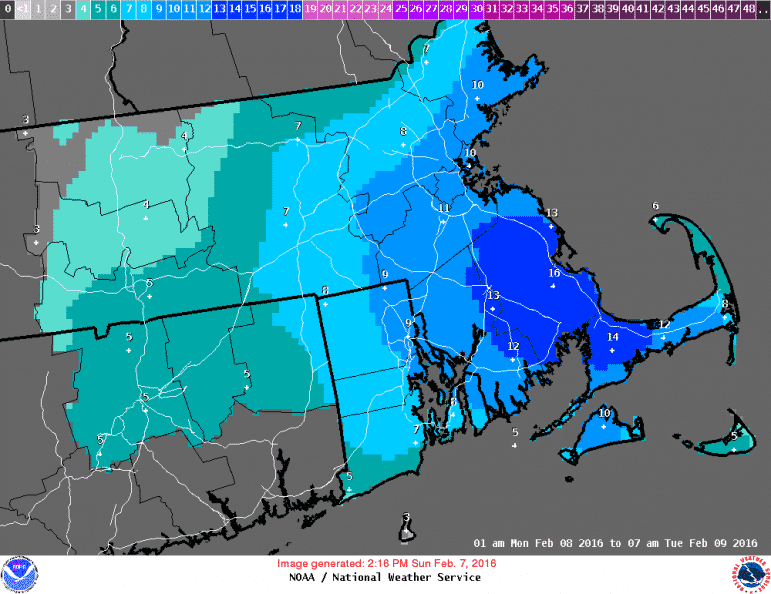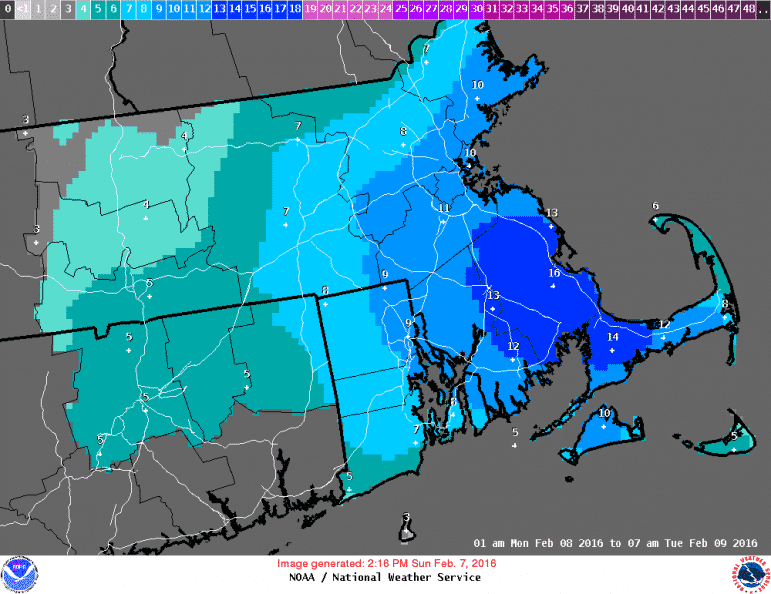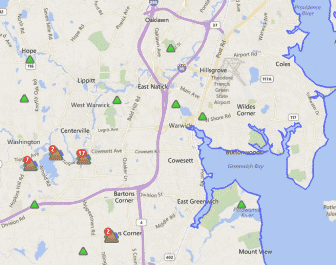 Warwick, RI — The National Weather Service has issued a Winter Storm Warning for the area, including Warwick for Monday, alerting residents to the potential of 6 – 10 inches of snow, winds at 25 mph with gusts of 40 mph and visibility at a quarter mile or less as Winter Storm Mars approaches.
UPDATE – 7:39 p.m.: Warwick Public Schools have cancelled classes for Monday in advance of the storm, according to the RI Broadcasters Association.
Afternoon activities have also been cancelled.
Warwick Public Works has also issued a parking ban for the day, effective as of 2 a.m.
Kent YMCA School's Out-Warwick: Closed

Monday, n

o AM or PM
Johnson and Wales Univ: No Day Classes/Activities
NE Inst. of Technology: All campuses closed
Johnson and Wales Univ: No

Monday

classes/
The warning goes into effect at 4 a.m. Monday and is expected to stay in place through 7 a.m. Tuesday, the weather service reports. Travel is expected to be slow on well-treated surfaces and "quite difficult" on untreated surfaces during the storm, according to the warning. Snow is expected to begin at 4 a.m. and intensify at 8 a.m.
According to the weather service's most likely snowfall scenario, Warwick and nearby areas of the state will receive 7 to 8 inches of snow during the storm, dubbed "Mars" by The Weather Channel.
The storm heads into the area as a number of people throughout the state wait for power to be restored following Friday's winter storm. According to National Grid's Power Outage Map, small groups of less than five homes are without power on Centreville Road and West Shore Road, with larger groups waiting for power to be restored in Coventry, Scituate and Wakefield. A number of smaller clusters of outages remained scattered throughout the state as of 4 p.m. Sunday.
On Sunday, National Grid reported power had been restored power to 97 percent of the 149,000 customers whose power was knocked out by Friday's storm. The remaining outages were expected to be completed Sunday, the utility reported.
The following weather-related links and services will help you stay informed as you monitor the storm:
Emergency Alerts:
Check for weather-related alerts on the homepage of the city's website, and also to Mayor Scott Avedisian's Facebook page.
RIBA – Make sure you're signed up for text alerts from the Rhode Island Broadcasters Association. You'll get emergency notifications (including school closings and delays) direct to your phone or email.
CodeRED – The City of Warwick has instituted a new rapid emergency notification service called CodeRED®.  The new system will distribute emergency messages via telephone to targeted areas or the entire City of Warwick. Register here.
TF Green Airport – Click here to follow arrivals and departures at Green.
Emergency Calls:
In an emergency, dial 911
Police Department: 401-468-4200
Fire Department: (401) 468-4000
Highway Dept./Snow removal – 401-738-2000 ext. 6518
Do NOT call 911 to report a power outage. Contact National Grid at 1-800-465-1212. Smartphone users can also text STORM to NGRID (64743) for outage alerts. To check the status of outages in your area, visit National Grid Outage Central for Rhode Island.
Serve RI is looking for volunteers to help neighbors in need shovel out after upcoming snowfall. You can sign up here.  You can ask for their help at at 401-331-2298. For all other needs, people should call United Way-2-1-1.
Listen to NOAA radio: Check the National Oceanic and Atmospheric Administration radio frequency here.