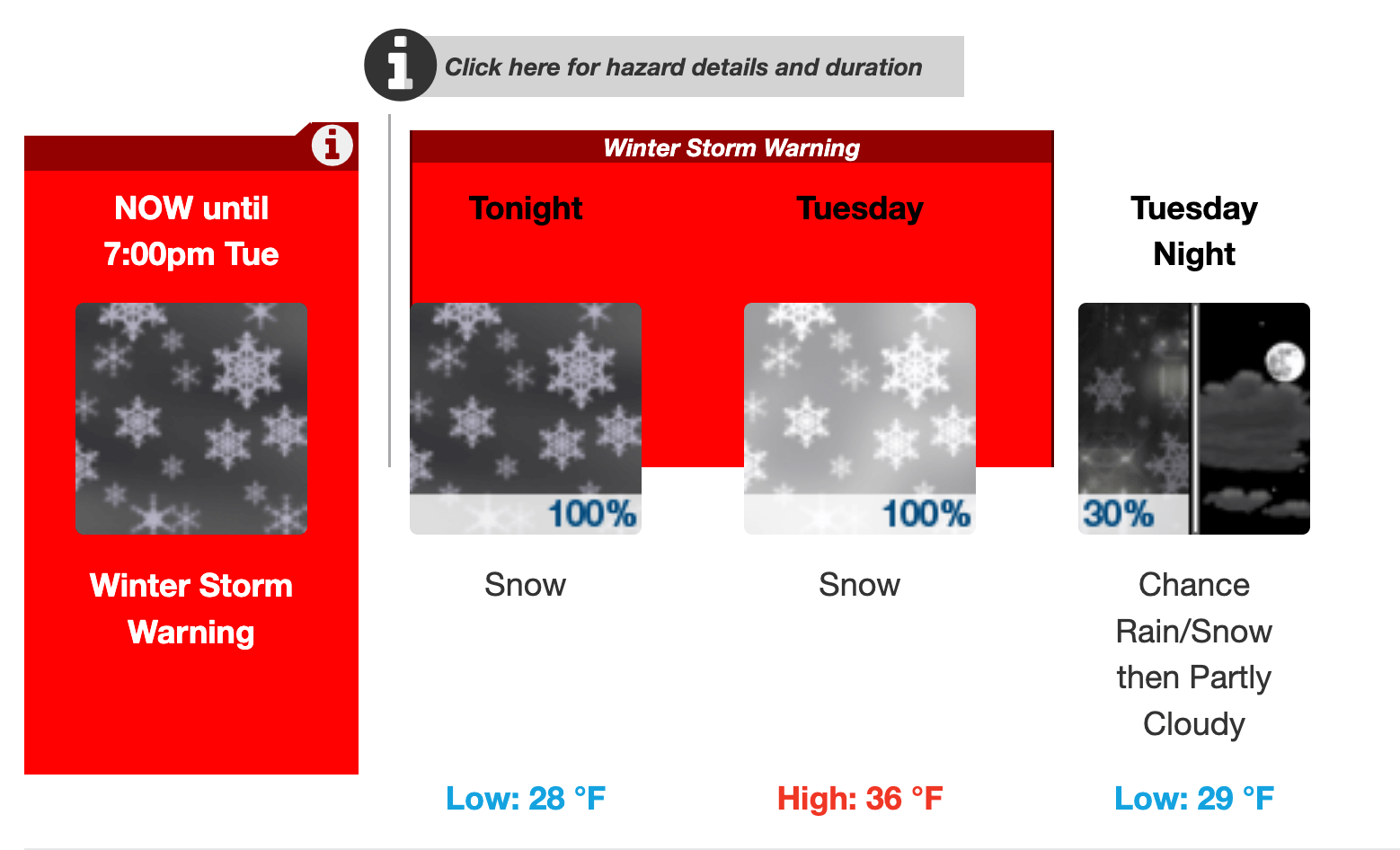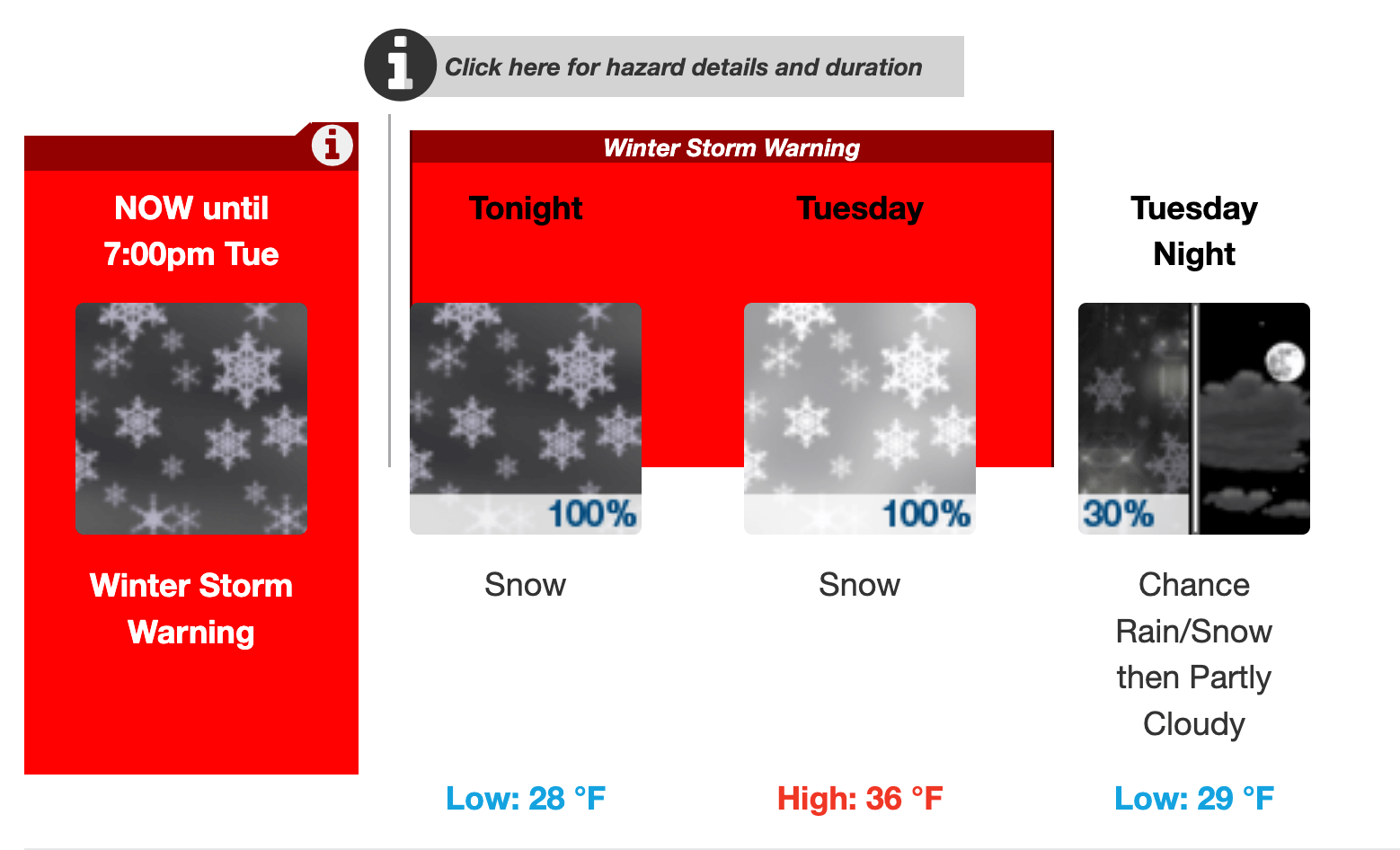 NORTON, MA — There's a winter storm warning in effect for RI and the region till tomorrow night, with 5 to 7 inches of heavy snow and hazardous roads, and 20 mph winds.
The storm is expected to be particularly intense between midnight and the morning commute, with northeast wind 7 to 10 mph, and gusts as high as 20 mph. On Tuesday, Northeast wind will reach 8 to 15 mph, with gusts as high as 25 mph. Wind gusts could bring down tree branches, and power lines with them.
Travel is expected to be very hazardous, particularly after midnight.If you must travel, the National Weather Service advises keeping an extra flashlight, food, and water in your vehicle in case of an emergency.
Road conditions are expected to slowly improve Tuesday afternoon. Snow will spread over western Massachusetts, Connecticut and Rhode Island between 9 p.m. and midnight. The heaviest snow and lowest visibility will come after midnight. Snow will continue through the day Tuesday at a lower intensity. Additional accumulation after mid to late morning will be mainly confined to higher elevations, according to the NWS.
In Warwick, some government and private services have issued cancellation notices, including Warwick Public Schools and Kent YMCA.
Total snow accumulation overnight is expected to reach 3 to 5 inches, with another 1 to 2 inches accumulating in the Rhode Island area Tuesday.
What to do in an emergency:
First, do NOT call 911 to report a power outage.
Instead, contact RI Energy at 1-855-RIE-1102 (1-855-743-1102) To check the status of outages in your area, visit the RI Energy Power Outage Map.
For gas emergencies or leaks, call 800-640-1595 for 24-Hour Assistance
Also be sure to check batteries for radios, and charge up your cell phone in case of power loss.
Emergency Alerts:
RIBA – Make sure you're signed up for text alerts from the Rhode Island Broadcasters Association for school, business, and organization closings. You'll get emergency notifications direct to your phone or email. Check closings and delays here.
CodeRED – The City of Warwick's CodeRED system distributes emergency messages via telephone to targeted areas or the entire City of Warwick. Register here.
Emergency Calls:
In an emergency, dial 911
Police Department: 401-468-4200
Fire Department: (401) 468-4000
Highway Dept./Snow removal – 401-738-2000 ext. 6518
Listen to NOAA radio: Check the National Oceanic and Atmospheric Administration radio frequency here.
Shovel safely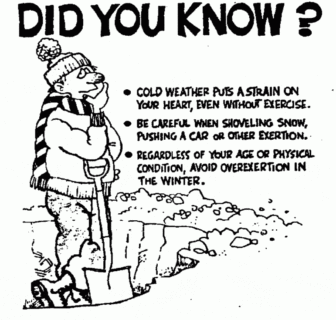 Working in cold weather puts a tremendous strain on the body, even for people in good shape. Take frequent breaks and don't overexert yourself. Make sure you dress properly for the conditions. Wear several layers of lightweight clothing. Air is trapped between the layers to help keep the body warm. Protect the extremities, such as the hands, feet and ears as they are the most susceptible to frostbite. Wear a hat as a large percentage of the body's heat is lost through the top of the head.
Be prepared for winter travel
Travel in winter can be extremely dangerous. The best thing to do is cancel any travel if winter weather will occur. However if you must travel, make sure you plan ahead. Make sure other people know your travel plans and know how to contact you. Travel in convoy with other vehicles if possible. Keep a survival kit in you vehicle. This kit should include items which include non-perishable food such as can goods or candy bars, extra clothes and blankets, a battery powered radio, a shovel, and sand and/or kitty litter for traction in case you're stuck. If stranded, the best thing to do in to stay in the vehicle. Tie a bright colored cloth to the antenna so rescuers can find you. Run the engine occasionally for heat making sure to keep the exhaust pipe clear. Open windows occasionally for fresh air.