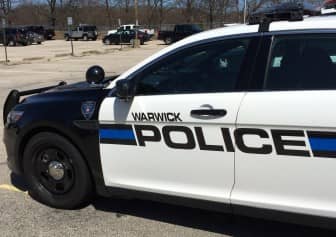 Warwick, RI — A West Warwick man turned himself in at Warwick Police Headquarters Nov. 10 after two women in their sixties reported he menaced them after nearly striking them in a crosswalk.
Warwick Police charged Miguel Angel Marrero, 20, of 72 Gough Ave., Apt. 45, West Warwick, with one count of disorderly conduct for threatening two women, 66 and 61, after they yelled at him to slow down in the parking lot in front of Macy's at the Warwick Mall then also threatening a 67-year-old man who came to their defense.
Officer Joseph Dedonato was called to the 400 Bald Hill Road location at 11:30 a.m., where Police Sgt. Peter Johnston was already at the scene. Johnston advised Dedonato that witnesses reported a red Subaru had sped through a crosswalk, and the driver got out and yelled at and threatened two women in their sixties who called at him to slow down, Dedonato reported.
Dedonato spoke with the women, aged 66 and 61, who said the Subaru had nearly struck them as they used the crosswalk. When they yelled at him in protest, the driver, later identified as Marrero, stopped the car, got out and approached the women, swearing and screaming, according to Dedonato's report.
Dedonato also spoke with Leonard Milazewski, 67, who said he confronted Marrero, whom he described as "out of control" according to the officer's report.
Milazewski said Marrero approached him, called him a racial slur and asked if he wanted to fight. Marrero threatened him several times, Milazewski said, never physically assaulting him but menacing him. One of the women called 911 to report Marrero at that point, according to the report.
As he spoke with the witnesses, Dedonato received word that Marrero had turned himself in at Warwick Police Headquarters at 99 Veterans Memorial Drive. The officer returned to the building at 12:30 p.m., meeting Marrero and advising him of his rights.
Marrero told Dedonato that getting out of his car, "..was a mistake," and that once he began arguing with the women and Milazewski, he "lost his cool," according to the officer's report. Marrero said he had received a call from relatives that police were looking for him, so he turned himself in.
Dedonato charged Marrero with one count of disorderly conduct and released him with a summons to Third District Court on Dec. 6.