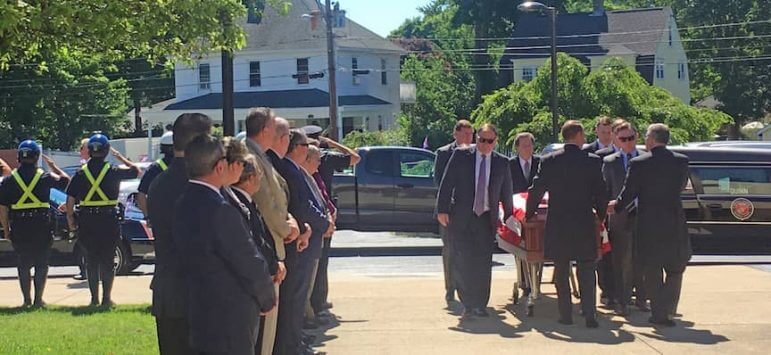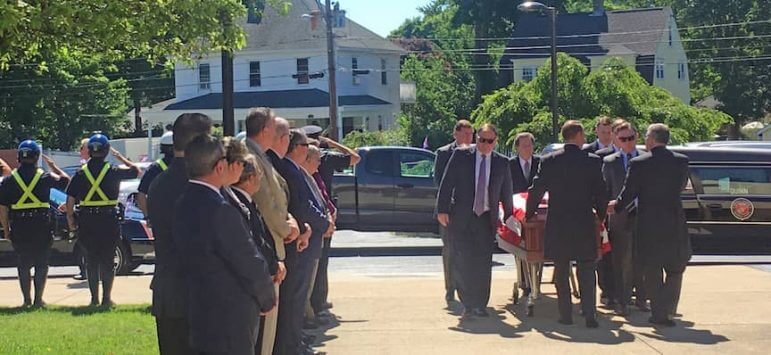 WARWICK, R.I. — Former Warwick Mayor Eugene J. McCaffrey, Jr., 84, was laid to rest with Military Honors  Monday at St. Joseph Cemetery, West Greenwich, following a funeral atSt. Benedict Church attended by local and state officials.
Bagpipers, the WPD honor guard, Gov. Gina Raimondo, RI Attorney General Peter Kilmartin, state senators, Mayor Scott Avedisian, and former mayors lined up to form an honor guard during the ceremony, con-celebrated by Rev. Roland Simoneau and Fr. Robert Marciano who praised McCaffrey's life of service to his family, his church, to the city, state and country
Marciano prefaced his homily by saying anything he could say would pale in comparison to "the homily of Eugene McCaffrey's life."
"Eugene McCaffrey was dedicated to his country, public service and the law, but above all that he was a devoted husband, father and grandfather. He gave selflessly of himself to his community, through military service, public service and his distinguished legal career. The work ethic and commitment to service he modeled is as an example for us all, as is the love and devotion he had for his family," wrote Senate President Dominick J. Ruggerio (D-Dist. 4, North Providence, Providence), Friday shortly after receiving news of McCaffrey's passing.
Warwick Mayor Scott Avedisian has ordered flags at half-staff through today in honor of McCaffrey.