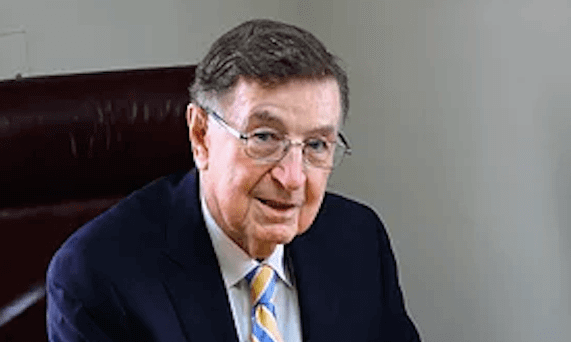 WARWICK, R.I. — Warwick Mayor Scott Avedisian has ordered the city's flags to half staff until Tuesday honoring former Warwick Mayor Eugene J. McCaffrey, Jr., 84, after news of his death at his home Friday.
McCaffrey, a former Warwick representative and senator in the General Assembly, founder of McCaffrey & McCaffrey, one of Warwick's first full time law practices, and charter member of Gaspee Day Committee,  died peacefully at home surrounded by his family, according to his obituary at Quinn Funeral Home.
"In addition to his many political, legal and civic contributions, Gene dedicated much of his life to making Warwick the best place to live, work and raise a family. He was devoted to improving the overall welfare of the community and was a strong advocate for the City's schools," Avedisian wrote in an executive order Friday directing the city's flags to half-staff (embedded below).
"Eugene McCaffrey was dedicated to his country, public service and the law, but above all that he was a devoted husband, father and grandfather. He gave selflessly of himself to his community, through military service, public service and his distinguished legal career. The work ethic and commitment to service he modeled is as an example for us all, as is the love and devotion he had for his family. The thoughts and prayers of the entire Senate family are with the McCaffrey family during this difficult time,"  wrote Senate President Dominick J. Ruggerio (D-Dist. 4, North Providence, Providence), Friday shortly after receiving news of the former mayor's passing.
McCaffrey was the father of Senate Majority Leader Michael J. McCaffrey (D-Dist. 29, Warwick).
McCaffrey was born in Providence and grew up in Oakland Beach. He was the son of the late Eugene J. and Catherine (Atkinson) McCaffrey.
McCaffrey graduated from LaSalle Academy in Providence and received a Bachelor of Arts from Providence College.  After college, he enlisted in the Marine Corps and was discharged in 1959 as a 1st Lt., later earnin the rank of Major in the Marine Corps Reserves.  After his active duty tour with the Marine Corps, Gene enrolled at Suffolk University Law School and received a Juris Doctor Degree.
In 1966, McCaffrey was elected Representative from the Rhode Island 34th District.  After serving as representative, he was elected for three terms as Senator from Warwick in the State Senate.  In 1972, Gene was elected Mayor of Warwick and served two terms.
McCaffrey's funeral will be held Monday, June 26, 2017 at 8:30 a.m. from the Thomas & Walter Quinn Funeral Home, 2435 Warwick Ave. with a Mass of Christian Burial in St. Benedict Church, Beach Ave. at 10 am. Burial with Military Honors will be in St. Joseph Cemetery, West Greenwich. Visiting hours are Sunday 3-7 p.m.. In lieu of flowers memorial contributions to LaSalle Academy, 612 Academy Avenue, Providence, RI 02908 or Bishop Hendricken High School, 2615 Warwick Ave., Warwick, RI 02889 will be appreciated. Executive Order Lowering the City of Warwick flags for Mayor Eugene McCaffrey