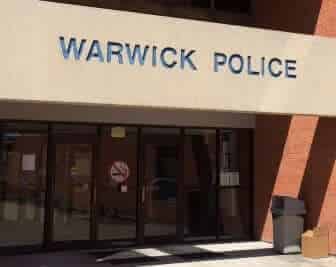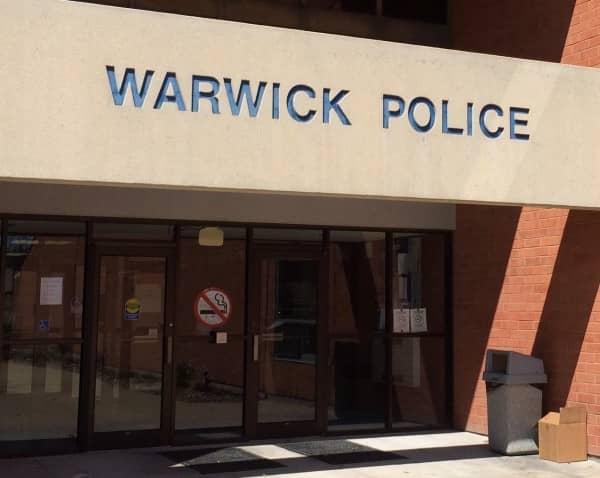 WARWICK, RI — From two men sentenced for selling fentanyl-laced pills to three Warwick people arrested as part of a riot in Providence to a poorly-behaved landlord, there were plenty of notable police stories from Warwick this year.
Here's the list of Warwick Post's top five most-read crime reports for 2020:
Warwick, Coventry Men Admit Fentanyl Distribution
In March, a U.S. District Court judge sentenced two men to more than two years in prison each for their roles in selling fentanyl-laced pills to a third man, who died shortly after ingesting one of the pills.
Judge William E. Smith sentenced David Grimaldi, 24, of Coventry, to 30 months in federal prison, followed by three years of supervised release. In a separate case, Smith sentenced Robert K. Bell, 24, of Warwick, who admitted to helping Grimaldi find the buyer, to a 32-month federal prison term, with three years of supervised release to follow.
According to case records, Grimaldi and Bell arranged to meet the buyer in a parking lot in West Warwick and sold him three pills disguised as oxycodone tablets but in reality laced with fentanyl, a synthetic opioid analgesic that is 50 to 100 times more potent than morphine.
The buyer, identified as a Massachusetts resident, became unresponsive within minutes of swallowing half of one pill and died later that day at Kent County Hospital.
Taco Assault Leads to Irate Customer's Arrest
A Pawtucket woman faced assault and disorderly conduct charges for hitting the manager of a local Taco Bell in the face with a bag of food.
Justina Strickland, 27, of 206 Pleasant St., Apt. 5, Pawtucket, told Warwick Police that the employees of the Taco Bell at 2574 West Shore Road had gotten her order wrong twice before the incident.
A second employee's testimony and footage from the restaurant's surveillance camera confirmed the manager's account.
Strickland pleaded no contest to the assault charge at a March 5 hearing in Third District Court. Judge J. Patrick O'Neill dismissed the disorderly conduct charge and imposed no-trespass and no contact orders.
Under state law, the case can be expunged after one year.
Providence, Cranston, Warwick Curfew Set After Riot
Following a riot at Providence Place Mall on June 1 that resulted in the arrests of three local residents, Warwick joined Cranston and Providence in imposing a temporary curfew the following day.
Gov. Gina Raimondo said in a press conference that the incident, which included rioters equipped with crowbars, flares, and gasoline, was not related to protests that erupted after the killing of George Floyd by Minneapolis Police.
Raimondo and Providence Mayor Jorge Elorza credited the responding police officers from Providence, Warwick, Johnston, Cranston, and Woonsocket with showing restraint in dealing with the rioters.
Providence Public Safety Commissioner Steven M. Paré estimated that 75 people broke into the mall after it had closed and damaged some 20 storefronts. The rioters also set fire to a Providence Police cruiser.
Police later arrested three people from Warwick, two for encouraging the rioters and a third for jumping on the cruiser before it was set ablaze.
William Pallazo, 23, pleaded no contest to one count of disorderly conduct on June 9, while Joshua Martinson, 21, pleaded no contest to one count each of vandalism and disorderly conduct at an Aug. 18 hearing, both held in Sixth District Court.
In the third case, Sarah Taylor, 21, faced charges of simple assault, vandalism, disorderly conduct, and resisting arrest. Prosecutors dropped the assault and disorderly conduct charges at an Aug. 17 hearing, and Taylor pleaded no contest to the remaining two counts.
All three cases were filed, meaning they can be expunged after a year.
RI State Police Arrest 13 Men On Child Exploitation Charges
A Warwick resident was among 13 men arrested in January after Rhode Island State Police conducted an undercover sting they titled "Operation Guardian," where officers posed as juveniles on social media platforms.
Police charged Stephen Lomastro, 57, of 166 Lakeside Ave., Warwick, with two counts of indecent solicitation of a child. He is free on personal recognizance until a trial to be scheduled in Providence/Bristol County Superior Court. He is also prohibited from contacting children and using the internet while awaiting trial.
According to police, the suspects arranged to meet the purported juveniles for various sexual acts at a pre-determined location. Following the two-day operation, officers from the R.I. State Police Internet Crimes Against Children (ICAC) Task Force executed the arrests.
WPD Seeks Landlord for Assaulting, Threatening Tenants
Warwick Police arrested a local landlord in May after a resident of a Suburban Parkway apartment reported that the landlord assaulted him.
Frank Marr, 63, of 115 Lockhaven Road, faced charges of disorderly conduct and assault after the tenant, Lawrence Adekeye, posted a video on Facebook showing the incident.
In the video, Adekeye explains that Marr spat at him and cut his hand with glass. Marr is also heard telling Adekeye and his wife, Casandra, to vacate the property.
Lawrence also explains in the video that he and Casandra were a month behind on the rent because of delays in receiving state unemployment benefits after they were laid off from RJ Carbone Floral Distributors in Cranston.
Rhode Island was under an eviction moratorium order at the time.
The incident was not the first for Marr, who previously served probation in a 2018 assault and disorderly conduct case brought by Warwick Police. Local police also arrested Marr in 2015 after he confronted tenants over a water bill. Officers later found a wad of cash and three diamond rings in a sock tied around his genitalia.