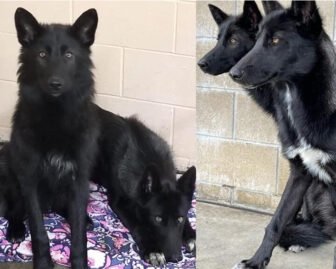 WARWICK, RI —Warwick Animal Shelter reports the famous black wandering dogs secured during the animal cruelty arrest of their owners have the crates needed to send them to a shelter that can care for and place them, whatever the outcome of DNA tests.
The dogs are are not yet proven wolf-dog hybrids, according to an update from Warwick Animal Shelter Director Ann Corvin on the shelter's Facebook page. The test requires saliva samples, and the dogs can't be approached for that without sedation, which will be done with the female dogs are spayed. After that, the results will take four-six weeks to return, and the Warwick Animal Shelter isn't the best place for them for that much time, she said.
The dogs, even if they were to test as run-of-the-mill dogs, cannot be adopted at this time because they can't be handled, she said.
announced on their own Facebook page that they have agreed to take in the dogs. The rescue is seeking donations to help pay for the care of the animals.
"This rescue they are going to can assess them, work with them and if they are able to be placed, put them into an adoptive home after confirming it is an appropriate and safe situation for them. If they are not able to be placed then they will keep them on premises and give them a happy dog life. It is my responsibility to place these dogs to the best of my ability and I feel this is the best situation for them at this time, believe it or not I am pretty well versed in dog behavior," Corvin wrote in a detailed update on the dogs' situation.
Corvin also took the opportunity of the attention the dogs have received to underline common misconceptions about wolfdogs.
"Lastly, We have received a few inquiries from RI residents wanting to adopt them…THEY ARE ILLEGAL IN RI. Wolfdog sanctuaries are full because of irresponsible breeders and uneducated owners. So PLEASE, PLEASE do not get a hybrid of any kind if you live in a state they are not permitted as it will be confiscated and all you will be doing is creating a hardship for the dogs, the shelters, the rescues and yourselves."