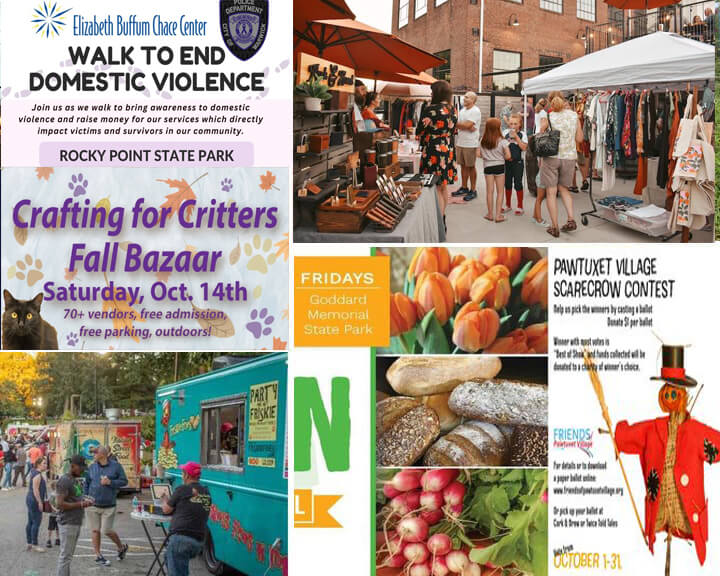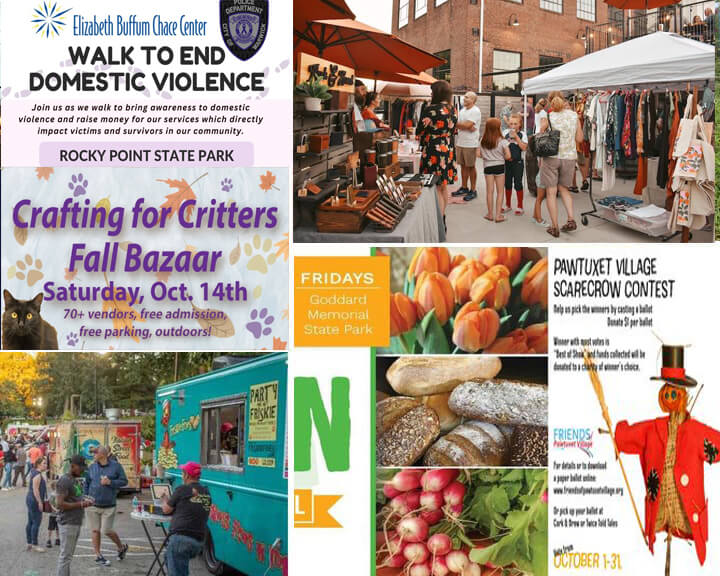 Do you have a community, non-profit or fundraising event you'd like to see included in an upcoming Warwick Weekend? FIRST, enter it into our self-serve calendar, THEN, alert [email protected].
WARWICK, RI — The air is chillier and whiffs of pumpkin spice and cinnamon are detectable outside restaurants and cafes, and autumn events are in motion this Warwick Weekend with scarecrows, jack-o-lanterns, bazaars and a walk to fight domestic violence.
Warwick Weekend weather promises to be sunny and in the low 60s for Friday and Saturday, with a chance of rain on Sunday, though, thankfully, only a 30 percent chance, according to the National Weather Service. Lets start with some events happening throughout the week, as well as during the weekend:
Pawtuxet Village Scarecrow Contest Community groups, youth groups/schools, libraries and creative individuals are invited to participate in the scarecrow contest by adopting one of the historic light poles on Main Street Pawtuxet Village (Broad Street) and creating a scarecrow for display. The contest runs through Oct. 31.
★ You must register with us to participate via our website. If you set up a Scarecrow without signing up, you may be taking someone else's spot who has already registered.
★ To be eligible for votes, all Scarecrow entries must be completed and displayed outside and attached to the historic lanterns/light poles, in front of businesses, or onto park signs on Broad Street (not on the wood poles or trees or they will be taken down by National Grid)
★ Local groups, individuals, anyone can enter — this is not only for Village Businesses.
Roger Williams Park Zoo Jack-O-Lantern Spectacular
The Jack-O-Lantern Spectacular at the Roger Williams Park Zoo is back this year nightly through Oct. 31. This year's event is sponsored by Citizens and takes you through the greatest music of the last 150 years while enjoying the thousands of intricately carved pumpkins on display. All tickets must be purchased online. The trail is open 6-10:30 p.m. (the last entry is 10 p.m.) Roger Williams Park Zoo, 1000 Elmwood Ave., Providence.
Warwick Weekend Friday:
 Bring your own Improv This interactive improv show at the Warwick Center for the Arts welcomes voluntary audience participation! You can participate in one of three ways: applaud for a scene you like, yell out fantastic suggestions, or if you feel you're ready, jump up and get involved with us on stage.
Sip & Shop, Apponaug Brewery  Juicy Market and Apponaug Brewing Company host an outdoor shopping experience in the outdoor patio space behind the brewery Friday night from 4 to 9 p.m.  Enjoy a local shopping experience in the lodge. Overlooking Pawtuxet River. Music will be provided by Indigo Monday.
Halloween Movie at the Complex We are celebrating the spooky season in a family friendly way at the Confreda Sports Complex with a showing of Hotel Transylvania: Transformania.
FREE Glow, Face Painting, + Trick-or-Treat bags (while supplies last) giveaways from local companies and much, much more!
Bring your little ghosts and goblins and enjoy this safe family friendly event.
Movie starts at 6:30 P.M.
FREE PARKING & ADMISSION
Warwick Weekend Saturday:
Crafting for Critters Bazaar On Saturday, from 10 a.m. to 3 p.m., visit the Crafting for Critters bazaar with 70 vendors and craftspeople outdoors on  at the Airport Professional Park, 2348 Post Road.
Start your holiday shopping with over 70 artisans selling their locally handcrafted items, including fine art, jewelry, crafts, handcrafted accessories, apparel, home decor, baked goods, stained glass, candies, jams & jellies, dog treats, pet accessories, books and much more. Check out the great Halloween, Thanksgiving and Christmas themed items!
Event is outdoors. Admission and parking are free. Food trucks will be on the premises.
Walk to End Domestic ViolenceJoin us at Rocky Point Park at 10:30 a.m. as we walk to bring awareness to domestic violence and raise money for our services which directly impact victims and survivors in our community.
Annual Solar Eclipse –  Today at about 12:15 p.m. an annular solar eclipse visible across the United States will also be technically visible here in Rhode Island. An annular eclipse occurs when the Moon is not close enough to Earth to block the entire Sun from our view. This will leave a ring of Sun around the Moon, commonly referred to as a ring of fire. Unfortunately, the hourly forecast for that time of day puts good money on clouds and rain, which will probably block good views of the event.
Nonetheless, Frosty Drew Observatory in Charlestown will host an a viewing party, requiring preregistration of $4 tickets. The solar eclipse starts at 12:15 p.m. and will continue until 2:35 p.m. with maximum eclipse occurring at 1:26 p.m. when the Moon eclipses 19.11% of the Sun.  Frosty Drew Observatory is not along the path of the annular eclipse. But we will experience a partial solar eclipse. The observatory will view the event with their own calibrated equipment and eclipse glasses for the public. You should not look at the eclipse without the proper eye protection, or you'll risk permanent eye damage, perhaps blindness. The observatory has information about testing old pairs of eclipse glasses, in case you have them from a previous event.