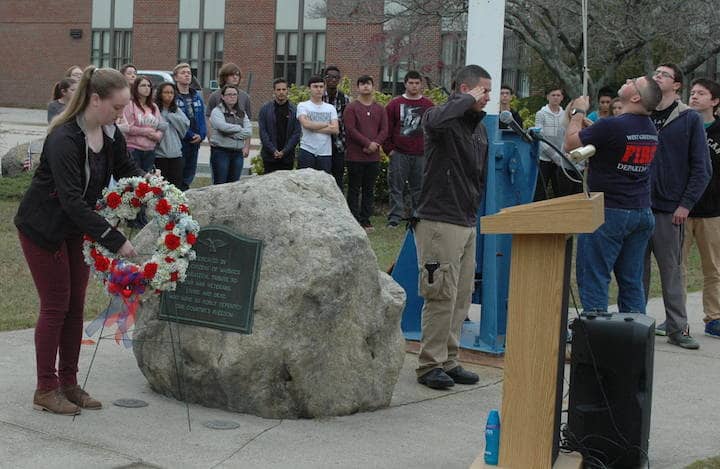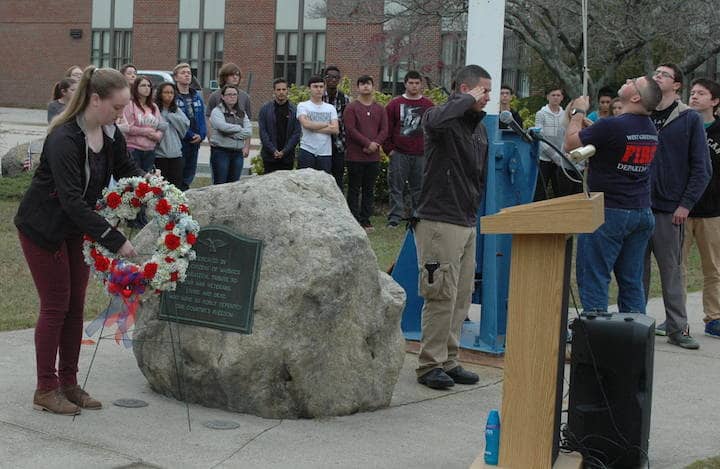 Warwick, RI — Warwick Vets seniors and juniors gathered around the school's flagpole with veterans and officials to honor the city's veterans as a high school one last time Tuesday morning.
"I think a lot of people are here to remember what the school stands for as a living, breathing memorial," to the city's veterans, said Stephanie Racca, Warwick Vets senior and the organizer of the morning's ceremony.
Racca said this year more officials attended the event, including Warwick Mayor Scott Avedisian, City Councillors Camille Vella-Wilkinson, Donna Travis, Edward Ladouceur, Kathleen Usler, and RI Secretary of State Nellie Gorbea.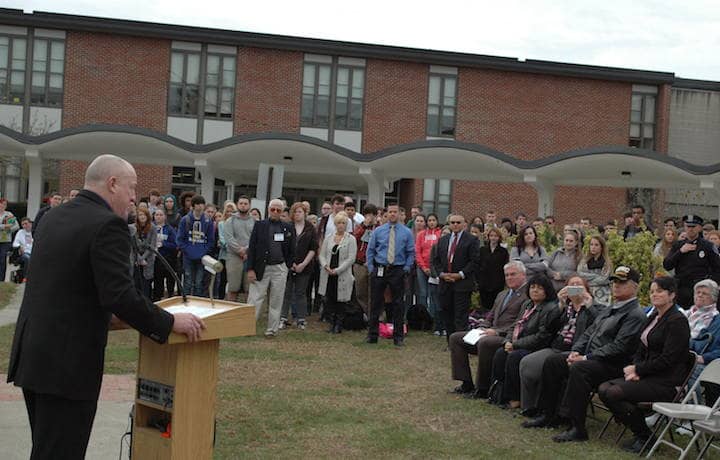 Next year, Warwick Vets High School will be converted into a middle school as part of the Warwick School Department's school consolidation plan. Principal Gerry Habershaw will move to fill a vacant principal post at Pilgrim High School, and many Warwick Veterans High School Students will be assigned to classes there. The balance will go to Toll Gate High School.
The plan, which will also close Aldrich and Gorton Junior High Schools, is expected to save the district $4.5 million annually.
Racca, whose grandfather, John Cabral, a veteran, attended the ceremony, was complimented by Avedisian and Gorbea on her effort to organize the event as her senior project.
Cabral, who served first in the Army and then in the Air Force in World War II building Quonset huts, pointed out his granddaughter with pride.
Jim Burrows, senior vice chair for the RI Disabled American Veterans (DAV), said he hopes the tradition continues after Warwick Vets becomes a middle school.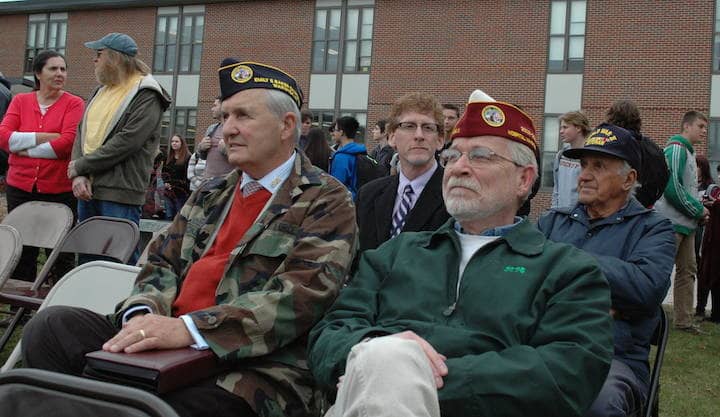 "I hope they keep the name also, 'Vets,' somehow," Burrows said, "The High School was created for that purpose (honoring veterans) with that in mind."
Habershaw echoed Burrows' thoughts on the subject.
"Hopefully the young people who take over this building will continue to honor the veterans in the future," Habershaw said.
Avedisian encouraged thoughts of veterans sacrifices for their country. "We pass Veterans Park atll the time but never stop and think," he said, about what veterans did to safeguard the country's freedoms.
"When you see a veterans have a conversation with them and thank them for all they that they have done," Gorbea urged the crowd of students and officials in front of the school.
The ceremony included singing by the Warwick Veterans Chorale, and ended with a reading of the poem, "Freedom is not Free" by Racca, then a Hanna Ellis placed a wreath on the memorial at the flag pole as Cameron Conroy, Edward Fera Noah Locke and Angus Nathan lowered the flag.