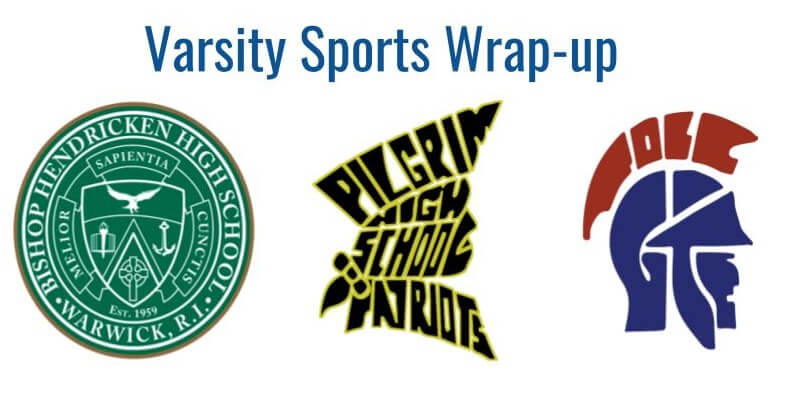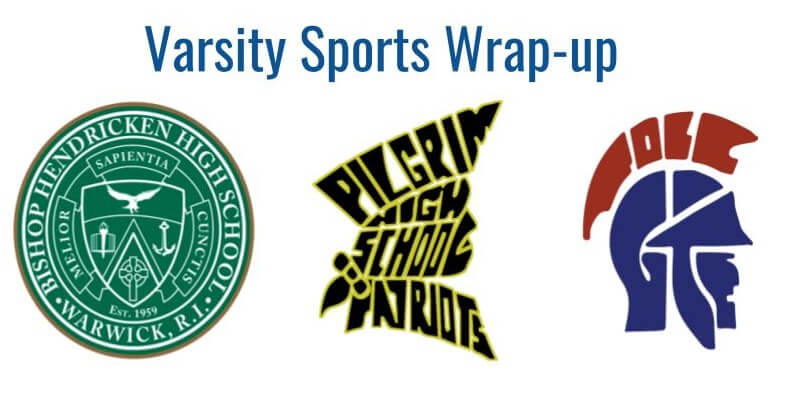 WARWICK, RI — Local teams finished their regular seasons and headed to the playoffs after this week's action in Warwick varsity sports, as reported by the Rhode Island Interscholastic League.
Football:
Hendricken defeats EP, Pilgrim and Toll Gate fall
Bishop Hendricken secured the first seed in the Division 1 playoffs with a convincing 42-21 win over host East Providence on Oct. 27. Senior running back Ronjai Francis led off the scoring with an early TD, and sophomore RB/WR Rollins Sonpon added a rushing touchdown to give the Hawks a 14-0 lead. Junior Xiavier Fisher picked off Townies sophomore QB Jacob Duarte, and the Hendricken offense converted the turnover for another touchdown and a 21-0 halftime lead. Duarte ran for a score and threw a TD, and senior RB Steven Clark Jr. tacked on a one-yard rushing touchdown, but East Providence couldn't overcome the Hawks' advantage. Pilgrim made a late surge, including a 2-point conversion, but failed to convert an onside kick with under a minute left en route to a 21-20 loss to Moses Brown on Oct. 27.  Senior QB Chace Roberts tossed QB passes to senior tight end Cole Bigelli and senior wide receiver Jack Coffey to give the Patriots a 12-0 lead, but the Quakers racked up three touchdowns by senior RB Myles Craddock, giving them a lead that they would not relinquish. Lincoln jumped out to a 30-0 halftime lead on the way to a 43-12 win over Toll Gate on Oct. 27. Senior Mason Tanner collected 84 yards and two touchdowns on eight carries for the Titans.
Next up: Hendricken hosts Central in the Division 1 semifinal on Nov. 10. Pilgrim played Cranston East in an exhibition game on Nov. 2, after deadline for this article. Pilgrim plays at Toll Gate in the annual Thanksgiving Day game on Nov. 23.
Boys soccer:
Hawks playoff bound; Titans advance, Patriots wrap season
After compiling a 11-1-2 overall record, Hendricken heads to the Division 1 playoffs as the number-2 seed, and will host 10th seed Barrington on Nov. 3. The winner of the matchup will face the winner of Central Falls/North Kingstown, also scheduled for Nov. 3. Toll Gate defeated Rogers 3-1 in the first round of the Division 4 playoffs on Nov. 1 and advanced to play top-seeded Mt. Pleasant on Nov. 6. The winner of that game will face Davies Careeer & Tech or Woonsocket, which both earned first-round byes. Pilgrim lost to Westerly in a 5-3 overtime shootout on Nov. 1 after battling the Bulldogs to a 0-0 tie at the end of regulation.
Girls soccer:
Coffey buzzes for Pilgrim, Toll Gate gets first round bye
Pilgrim's Amaya Coffey scored all four of the Lady Patriots' goals in a 4-1 win over Smithfield on Oct. 27. Senior Jenna Madden and sophomore Sloan Hogan stopped nine shots against the Lady Sentinels. Pilgrim heads into the Division 1 playoffs as the top seed. Toll Gate played division rival Narragansett to a 0-0 draw on Oct. 28, giving both teams a first-round bye in the Division 3 championship quarterfinals. Junior netminder Alanna Pereira made 15 saves to hold Narragansett scoreless.
Next up: Pilgrim hosted 4th seed Chariho on Nov. 2, after deadline for this article. The winner plays Mt. Hope or South Kingstown on Nov. 7. Toll Gate hosts three seed Classical on Nov. 7.
Want to contribute photos, video, or recaps of Warwick varsity sports? Contact Editor Joe Hutnak, and use "Varsity Sports Wrap" in your subject line.