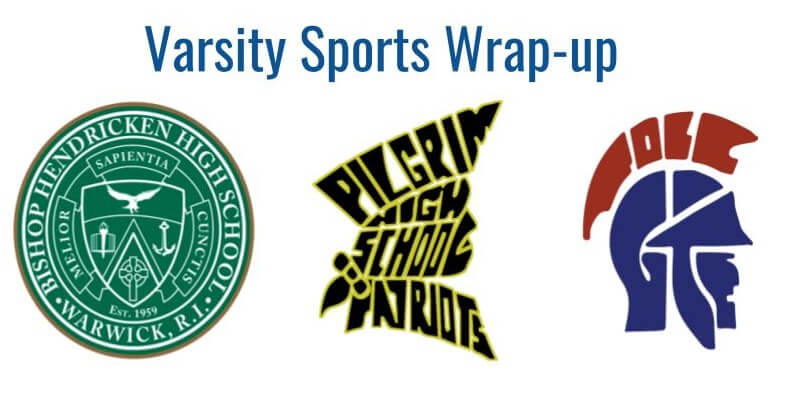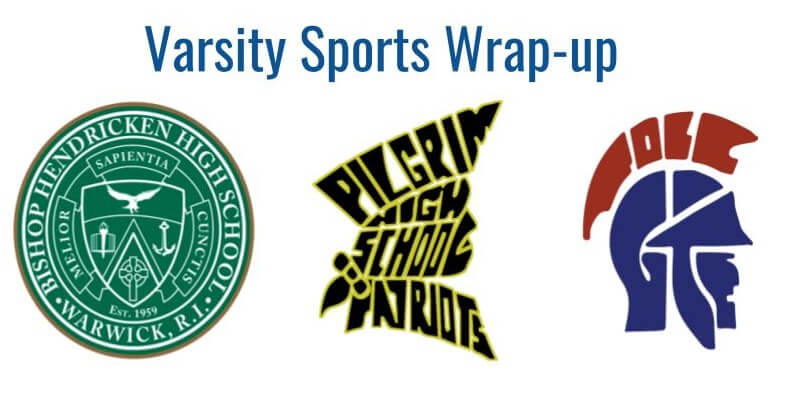 WARWICK, RI — Bishop Hendricken recorded a blowout road victory and both varsity girls soccer squads maintained their hold on first place in their respective divisions following this week's action in Warwick varsity sports, as reported by the Rhode Island Interscholastic League.
Football:
Hawks rout Portsmouth; Pilgrim drops close contest
The Bishop Hendricken Hawks racked up 55 points against host Portsmouth on Sept. 21 en route to a 55-7 victory and a 3-1 overall record, maintaining their top spot in Division 1. After starting the season 2-0, Pilgrim lost a nail-biter to West Warwick, 13-12, on Sept. 21. The Wizards took the lead with under a minute to go after sophomore Nathan Corona connected with junior Carl Swanson on a 24-yard TD pass. Pilgrim, currently tied for fourth in Division 3-B, started the next possession on the West Warwick 42-yard line but could not convert on a last-second pass into the end zone. Toll Gate dropped a 24-7 decision against the North Smithfield/Mount St. Charles Academy co-op team on Sept. 21.
Next up: Pilgrim hosts Ponaganset on Sept. 28. Toll Gate travels to Chariho on Sept. 29. Hendricken faces Cranston West at home on Oct. 5.
Boys soccer:
Pilgrim defeats 'Gansett; Hendricken, Toll Gate take losses
The Pilgrim Patriots defeated Narragansett, 2-1, on Sept. 26, recovering from their 3-1 loss on the road in Westerly on Sept. 23. Sophomores Jackson Bromage and Jonathan Lopes contributed goals to the winning effort against the visiting Mariners. Hendricken gave up two late goals during its Sept. 23 matchup against South Kingstown en route to a 3-1 loss. Toll Gate lost to Mt. Pleasant, 7-2, on Sept. 26.
Next up: Hendricken travels to Tolman on Sept. 27 and hosts Barrington on Sept. 29. Pilgrim visits Coventry on Sept. 28. Toll Gate welcomes Woonsocket on Sept. 28 before traveling to Davies Career & Tech on Oct. 5.
Girls soccer:
Warwick teams lead divisions
Both Toll Gate and Pilgrim girls' soccer teams sit atop their respective divisions, with the Lady Patriots maintaining the top spot in Division 1-A and the Lady Titans holding first place in Division 3-A. Pilgrim blanked LaSalle Academy, 4-0, on Sept. 21, on the offense provided by senior Amaya Coffie (2 goals), junior Chloe Casavante and freshman Allison Patten (1 goal each). Senior Jenna Madison stopped all 6 shots she faced in goal. Toll Gate notched a 4-1 win over Exeter-West Greenwich on Sept. 26. Senior Kaitlyn Pale and sophomores Shinyu Vega, Madison Gautieri, and Addison O'Rourke contributed goals and junior Alanna Pereira recorded 10 saves in the Toll Gate victory.
Next up: Pilgrim was scheduled to play at home against Barrington on Sept. 27, after the deadline for this article, before traveling to Smithfield on Sept. 29. Toll Gate hosts Westerly on Sept. 28.
Volleyball:
Local teams go 1-1
Pilgrim and Toll Gate both went 1-1 in their last two contests, with the Lady Patriots defeating Johnston on Sept. 26 by a 3-1 score after getting shut out by St. Raphael Academy, 3-0, on Sept. 20. The Lady Titans fell to Tolman in a 3-0 shutout on Sept. 21 after beating Woonsocket on Sept. 19, 3-2. Toll Gate currently sits third in Division 3-B.
Next up: Toll Gate traveled to Central Falls on Sept. 27, after the deadline for this article, and host Tiverton on Oct. 3. Pilgrim visited St. Mary Academy-Bay View on Sept. 27 before hosting Mt. Hope on Oct. 2.
Want to contribute photos, video, or recaps of Warwick varsity sports? Email Publisher Rob Borkowski, and use "Varsity Sports Wrap" in your subject line.