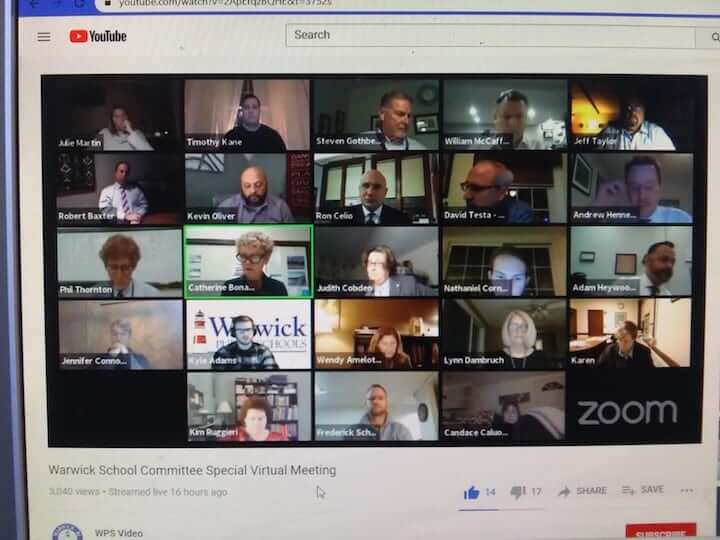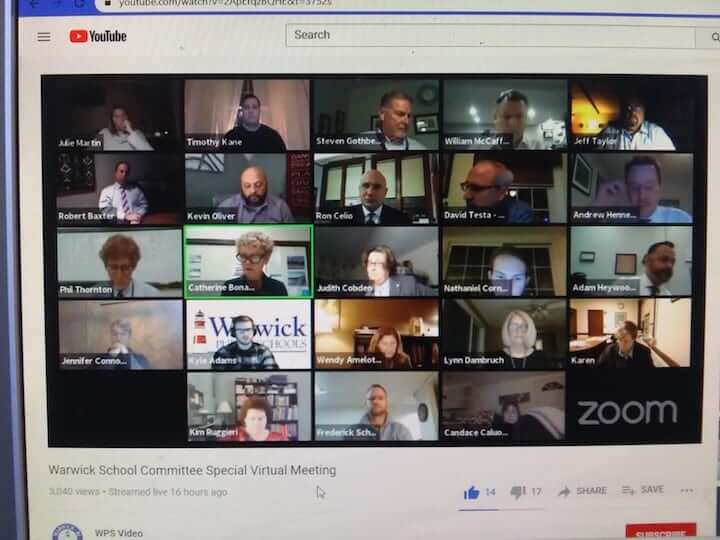 WARWICK, RI — Warwick Public Schools' students will be back to in-class learning beginning Jan. 19, despite a COVID-19 surge and the pleas of the Warwick Teachers Union for distance learning.
Although Rhode Island is dealing with a surge in COVID-19 infections, Superintendent Phil Thornton told the school committee Thursday the district was ready to reopen.
"We have the staffing plan, we have the PPE, we have installed 1,406 air purifiers in all of our schools," Thornton said. "We're confident we can bring all students and staff back safely."
Last week, Warwick Post interviewed experts about what those air purifiers are capable of, and what they are not. While their installation reduces risk of infection with the coronavirus that causes COVID-19, the machines are not able to reduce that risk to zero.
At the Dec. 8 School Committee meeting, Darlene Netcoh, President of the Warwick Teacher's Union, urged the committee to follow the lead of other school districts and stay with distance learning.
"In Rhode Island, the number of cases of COVID-19 is rapidly increasing. More and more patients are occupying beds in the field hospitals. Rhode Island is making national news for the rate in which COVID-19 is spreading in the state," Netcoh said.
"There are now studies and reports that show that children can contract and transmit the virus."
But the district continued to pursue a strategy prioritizing quality of learning over the concern of teachers and staff who bear the remaining risk.
"Providing four days of learning is very important," Dambruch noted. "In order to cover the grade level standards and to prepare students for the next grade and to keep students engaged. We're finding that distance learning is not engaging students as much as they should be."
"I think this plan will give students more opportunities for more instructional time and more learning time and just more social interactions which they need," Dambruch explained.
Warwick Public Schools in-person learning plan
Elementary students will return for four days of in-person instruction from Tuesday through Friday. Mondays will be an "anytime learning" day for all students in all grades.
Special education students at Warwick Early Learning Center will return on Jan. 13.
Warwick Area Career and Technical Center students will also return Jan. 13.
Assistant Superintendent Lynn Dambruch said there would be no busing provided by the district at this time for elementary students. Busing for eligible students will be phased in, possibly in February.
Kindergarten and Grade 1 return Jan. 19. Grade 2 and 3 students return January 20.
Grades 4 and 5 return on Jan. 21.
Grade 6 students will return on Jan. 19.
Grades 7 and 8 will return on Jan. 20.
Grade 9 students will return on Jan. 19.
Grades 10 through 12 will return on Jan. 20.
William McCaffrey, the Director of Secondary Education, said no busing will be provided at this time for the middle schools and high schools.
Middle and high school students will be assigned a Tuesday through Thursday or a Wednesday through Friday in-person group to be determined by school and last name. Mondays will be an "anytime learning" day for all students in all grades.
"Everything we do will be grounded in safety," said Adam Heywood, Principal of Warwick Veterans Middle School. "The health and safety of our school community will be our top priority."
"I think we have a solid plain and should have no problem keeping our faculty and our students safe," McCaffrey said.
Toll Gate High School Principal Candace Caluori said there would be four separate entrances and exits at the beginning and end of each day. Hallways and stairwells will be labeled "one way."
"Our rooms have already been set up so that students will be socially distanced from each other and it will be easier for custodians to clean and get in and out," Calouri added. "We know there will be tweaks as we go because we learn something new every day of what works best and what doesn't."
McCaffrey said the district has the necessary PPE for staff, but there is also plexiglass available.
Start dates for high school sports are tentative and determined by the Rhode Island Interscholastic League. McCaffrey said the district's athletes would follow the standards established by the RIIL.
Ken Rix, the district's athletic director, said the RIIL in coordination with the RI Department of Health, which has provided a 25-page set of guidelines for safety.
"I feel pretty confident that we'll be able to put our athletes in the best possible position to keep them healthy and able to participate in their sports," Rix said.
Only high school sports will be played. Practices begin Jan. 8. Rix noted boys and girls ice hockey, boys and girls basketball, track and field, swim, and gymnastics will be allowed.
The School Committee voted 5-0 to approve the reopening plan.
"You guys did a great job," said Committee chair Karen Bachus. "Thank
you for your dedication to this district."