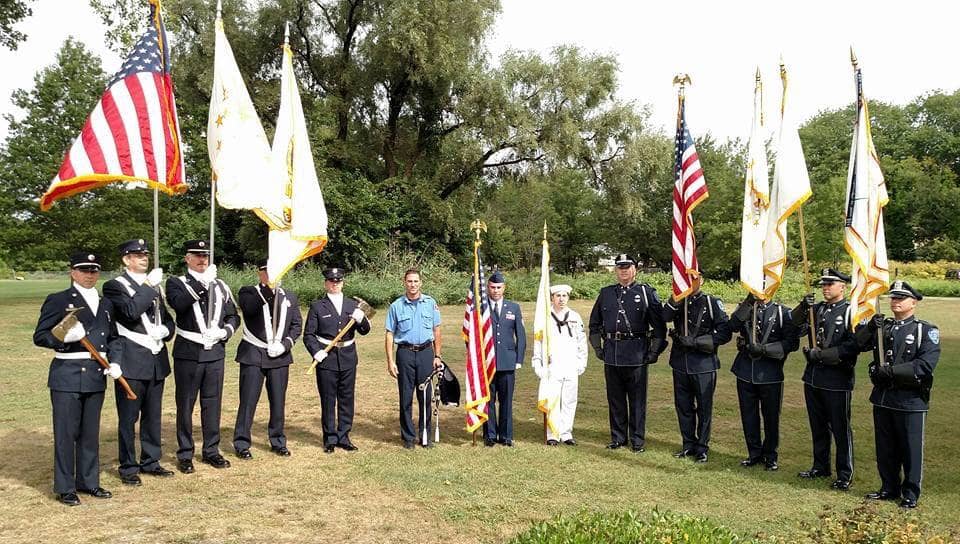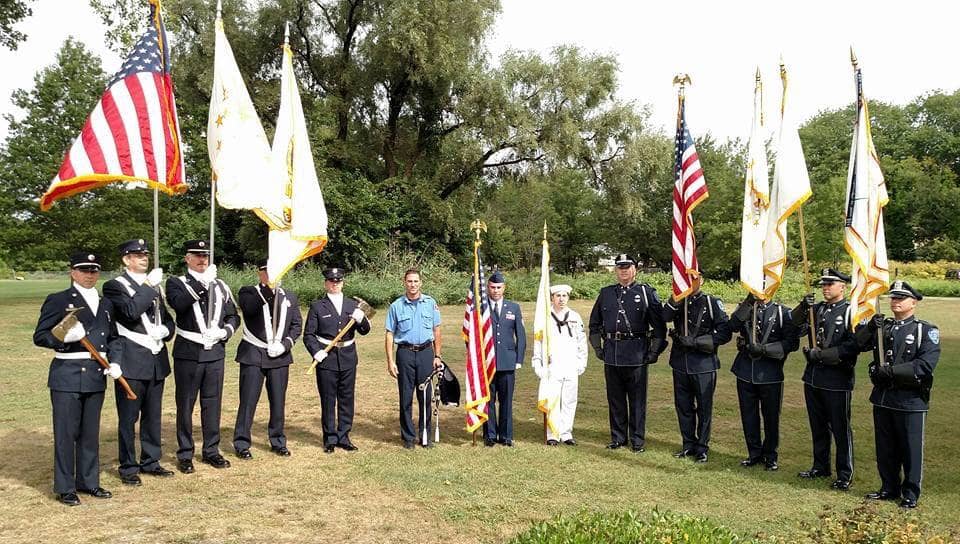 Warwick, RI – Members of the Warwick Police Department and Warwick Fire Department honor guards participated in a ceremony honoring the victims of and responders to the Sept. 11, 2001 terrorist attacks on the day's 14th anniversary Friday.
The Warwick Veterans Services Organization (WVSO) organized the event, which started with a silent march of military veterans from the J.O.N.A.H. Community Center at 10:15 a.m. and joined the Warwick Police & Fire Honor Guards at the 9-11 Memorial overlooking the Oakland Beach sea wall.
Fourteen years ago on Sept. 11, terrorists hijacked four airliners, flew one into each of the World Trade Towers and crashed another into the Pentagon. The fourth, believed to be headed toward Washington DC, crashed in Pennsylvania when passengers fought the hijackers.
The attacks killed about 3,000 people, according to brittanica.com, including about 400 firefighters and police officers responding to the crashes.
Three Rhode Islanders who lost their lives in the attacks are memorialized at the Oakland Beach site:
Carol Bouchard, 43, Warwick, a secretary at the emergency room at Kent County Hospital, flying with her friend, Rene Newell, aboard American Airlines Flight 11, which struck the north tower of the World Trade Center at 8:46 a.m.
Rene Newell, 37 of Cranston, customer service agent with American Airlines, flying with Bouchard on American Airlines Flight 11 for a non-stop flight to Las Vegas.
Mark Charette, 38 of Milburn, NJ, who grew up in Warwick, was at a morning meeting in the World Trade Center, on the 100th floor of the north tower, when the attacks occurred.
Another three Rhode Islanders perished during the attacks aboard American Airlines Flight 175, which struck the south tower of the World Trade Center at 9:03 a.m.:
Amy Jarrett, 28, of N. Smithfield, a flight attendant on United Airlines Flight 175, taking advantage of the travel and pay to regularly spend time with her boyfriend in Philadelphia and her father and brothers in Rhode Island.
Shawn M. Nassaney of Pawtucket, and his girlfriend, Lynn Catherine Goodchild, passengers aboard United Airlines Flight 175. The two were on a trip to Maui, Hawaii, before beginning studies for their MBA degrees at Providence College.
Kathryn L. Labore, of Providence, the lead flight attendant on United Airlines Flight 175.
Friday's ceremony began at 10:28 a.m., the time the second World Trade Center Tower fell in New York City.
For more photos from the ceremony, visit the WPD Facebook page.
Related story:
2014: Warwick Honors Sept. 11 Victims, Responders at Oakland Beach Memorial