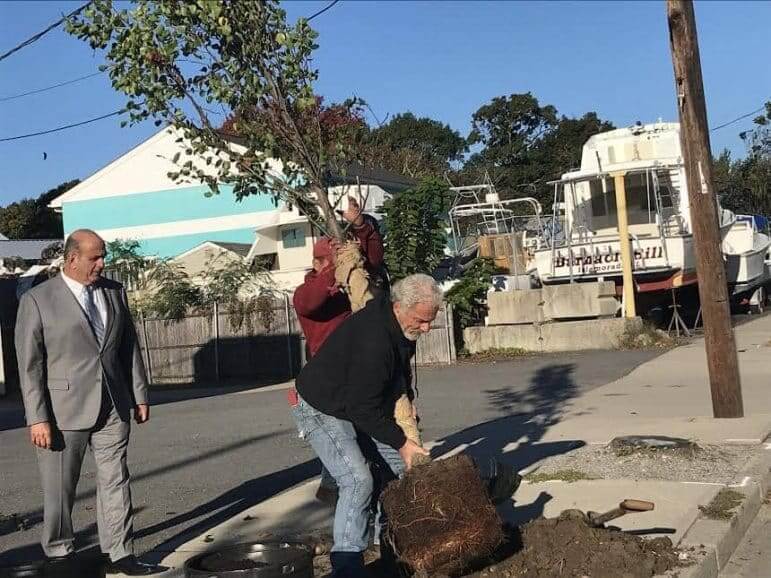 WARWICK, RI — In August, Mayor Joseph J. Solomon announced the city would plant about 48 new trees throughout the City using $15,000 from the City's Tree Trust, the first of which was planted in Conimicut Village Thursday.
Solomon was on hand for the start of the program intended to increase the tree canopy cover diminished over the years due to ongoing development and to decrease maintenance costs by removing older trees dying or in decline and replacing them with healthier, younger and more viable trees.
In addition to the City's Tree Trust, Warwick has also engaged with services the Rhode Island Tree Council, a non-profit organization that has helped administer the program through the application process. Set-back planting is the practice of planting public trees for the benefit of a community on public rights of way and private properties. The overarching goal is to plant trees in larger soil volumes where they have a better conditions under which to survive and thrive.
The Tree Council, which has successfully run similar programs throughout Rhode Island, will screen applications, select appropriate trees, inspect planting sites and contract with a private vendor to plant the trees. They will work in cooperation with City staff, which will coordinate the mapping of these trees in Warwick's GIS for public access and viewing. Approximately 30 trees are expected to be planted through this portion of the funding.
 Homeowners who choose to take part in the program will be responsible for the full care of the tree once it is planted, relieving the City of the cost burden for the upkeep and any related problems caused by root-related sidewalk repairs, Solomon said.
 The remaining $5,000 was set aside, Solomon said, for street trees in Conimicut Village. Any dead or dying trees have been removed by the Department of Public Works. Stump grinders were used to help prepare tree pits for replanting and to cover over pits that were overcrowded or unusable. The Tree Council will plant trees in the prepared pits and provide limited maintenance. Between 15 to 18 trees are expected to be planted with this funding.