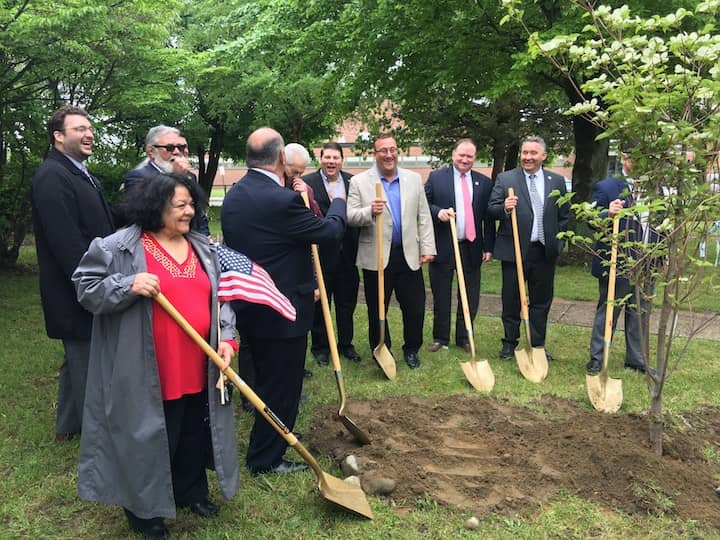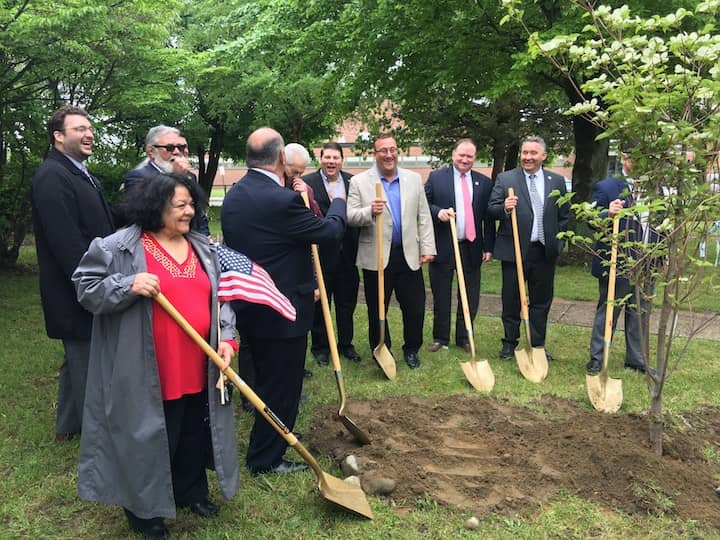 WARWICK, RI — The Rhode Island Military Organization (RIMO), local and state officials gathered Monday morning to  commemorate the 150th Anniversary of Memorial Day with the dedication and planting of a dogwood at Veterans Park outside Warwick Veterans Jr. High.
State Representative Camille Vella-Wilkinson (D-Dist. 21, Warwick) credited City Councilman Timothy Howe with the idea for the planting, intended as a living tribute to Memorial Day on the venerable holiday set aside to honor those who died in service to the country.
Also attending were Acting Mayor Joseph J. Solomon, State Rep. Joseph Solomon Jr., (D-Dist. 22, Warwick), Council members Steve McAllister, Ed Ladouceur, Richard Corley, Donna Travis, Jeremy Rix, Joseph Gallucci, and Steve Merolla, State Rep. Joseph McNamara, (D-Dist. 19, Warwick), State Sen. Erin Lynch Prata (D – Dist. 31, Warwick, Cranston), Sen. Michael McCaffrey & Rep. David Bennett.
Vella-Wilkinson said the cancelled annual Memorial Day parade, which was called off when one of the principal organizers bowed out due to a sudden health concern, took her and other officials by surprise.
"We did not see that coming," Howe agreed.
"We were not going to let it go by without a tribute," Vella-Wilkinson said.
The two, along with other members of the RIMO, worked to add a special observance to this year's Memorial Day ceremony to acknowledge the significant anniversary and help make up for the loss of this years parade. Howe suggested the tree to signify the lasting effect the sacrifices of service members have had on the community.
"Although they may be gone, their roots are firmly planted in the City of Warwick," Howe suggested as an epitaph.
Acting Mayor Solomon said next year, he'll support and work with them and RIMO to organize the next Memorial Day Parade.
"And we'd even like to squeeze in a Veterans Day event," Solomon said,
Howe said a Veterans Day parade would hopefully involve some of the other wards in the city. Traditionally, Memorial Day has involved Wards 3,7,6, while Gaspee Days and that parade happens in Ward 1. A Veterans Day parade would ideally involve other parts of the city, he said.
"As a way of getting the entire city to enjoy something in their community," Howe said.