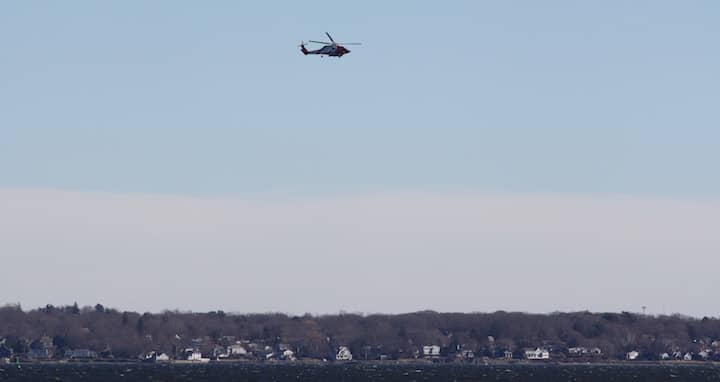 WARWICK, RI — A day after DEM divers recovered  missing kayaker Michael Perry's orange kayak in East Providence Sunday, there remained no sign of the Warwick man himself, and little hope of his safe return, said Coast Guard and local officials.
At 10:04 a.m. Sunday, Northeast Fire Alerts reported a request for cold water suits and an ice sled so they could recover an orange kayak overturned in the water near Veterans Memorial Parkway in East Providence.
"It is the kayak," said Warwick Fire Chief James McLaughlin. However, he said, there is still no sign of Perry, and the discovery did not improve the Coast Guard's assessment on Saturday that the man could not have survived this length of time in the cold waters.
On Saturday, after a long night of searching the water around Conimicut Point for Perry, officials took advantage of the improved visibility to add a third Coast Guard cutter and a helicopter to the search, as well as visually combing the shoreline along Perry's intended route to the Conimicut Point Lighthouse. They continued the search until just before 5 p.m. Saturday, then informed Perry's wife, Deanna, just before a press conference, that they were calling off the search.
"With that extended search effort, if you will, the likelihood that Michael Perry survived the water, the weather conditions, are not conducive to searching any longer," said US Coast Guard Capt. Richard J. Schultz, of Woods Hole, sector commander for southeastern Massachusetts and Rhode Island.
Schultz joined Warwick Fire Chief James McLaughlin, Council President Joe Solomon, WPD Capt. Michael Forde, DEM Chief Dean Hoxie, and WFD Battallion Chief Robert Bubar at Fire Station 6 on West Shore Road to deliver the news to the general public.
At the time of the conference, he said, the water temperature had risen to about 38 degrees after a long stretch of 32 degrees.
 "So, surviving 32-degree water is very difficult," he said, adding the search had lasted well beyond the amount of time someone could survive in that temperature water.
 He said that under good conditions, a kayak trip to the Conimicut Point Lighthouse and back is an easy task. However, the conditions that developed later in the day Friday and overnight were much rougher, with 30-40-knot winds, heavy waves and strong, driving rain.
McLaughlin said the discovery of the kayak has not changed the Coast Guard's assessment of Perry's chances of survival.