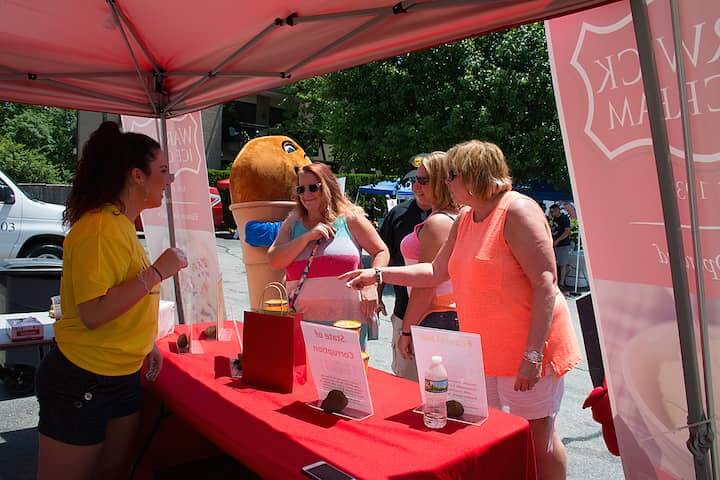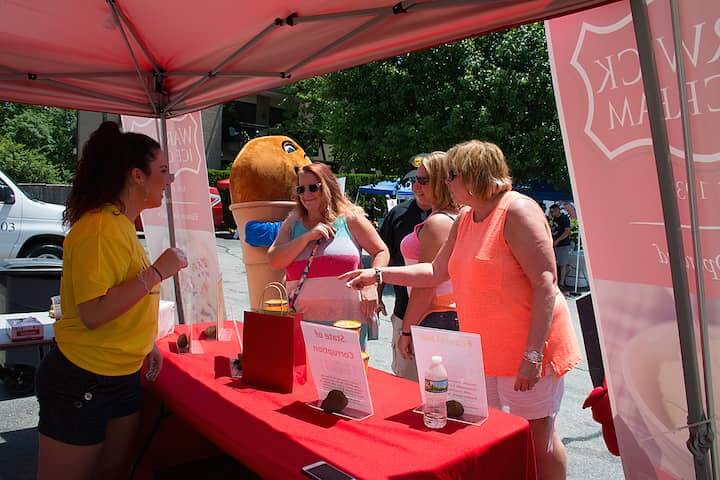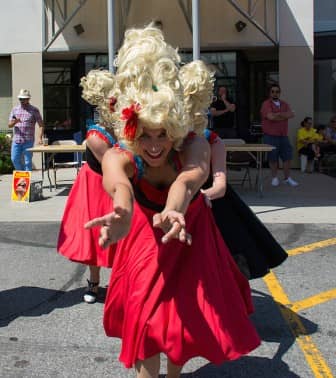 PROVIDENCE, RI — Warwick Ice Cream remains the People's Choice following RI Food Fights' 2016 Ice Cream Throwdown at Rhode Island Eye Institute's lot at 150 East Manning St. Sunday, where about 600 people sampled batches of frozen teats from nine other vendors, a few with local connections.
Holders of $20 admission tickets to the sold-out event were also treated to Yacht Club Soda, New Harvest iced coffee, Granny Squibb Iced Tea, food trucks, craft vendors and an appearance by Captain America.
"Every year it grows," said Mike Mendonca, a member of the RI Food Fights event staff, who noted this year the vendors at the event include a few new names, such as Like No Udder Ice Cream of Providence, serving vegan ice cream, and Mike's Ice of Providence, specializing in Thai-style ice cream rolls.
Mike's Ice didn't place in the competition, but it won bragging rights and many new customers as interested Throwdown patrons formed a snaking line that wound across the lot, dwarfing all others.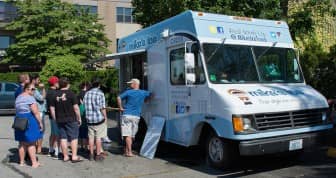 Major Pettaway, co-founder of Mike's Ice, said the business is named for a friend and veteran, Michael Gnolato, who died in a car crash in 2013, while Pettway was still stationed in Afghanistan with the Marines. When Pettaway returned, he and a friend, Sadam Salas, a veteran of the Iraq war with the construction battalion, launched Mike's Ice with the advice and guidance of Joseph Boisvert, owner of Pappi's Tacos on West Shore Road.
Pettaway, who calls Boisvert their mentor, said he offered his help to them out of concern for veterans affairs. Mike's Ice accepts donations to veterans advocacy charities.
At Warwick Ice Cream's tent, samples of Autocrat flavored coffee ice cream were disappearing into the crowd as fast as the company's crew of five could scoop them into mini sugar cones. Marketing support was provided by the teams' mascots, the Warwick Ice Cream Cone and the Autocrat Swallow, who traveled through the crowd and entertained eager samplers while they waited in line.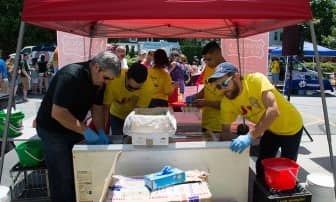 Thomas and Vinny Bucci, fourth generation of the Warwick Ice Cream family, were cheerfully pitching in on scooping line. Thomas credited the company's made-from-scratch recipes and dairy from local New England farms for the 86-year-old business's success at the Ice Cream Throwdown the last two years they've participated.
"We're proud to be from Rhode Island, and a lot of our flavors are special to Rhode Islanders," Thomas said, such as their Autocrat coffee ice cream.
Warwick Ice Cream lent a batch of vanilla to the Backyard Food Company of Warren across the lot, whose tent was staffed by owners and Warwick residents Matt McClelland, and Robin and Louby Sukkar. They were handing out samples of the vanilla, topped with their own Big Apple Butter, an undisclosed recipe of local apples, sugar, cinnamon and cloves.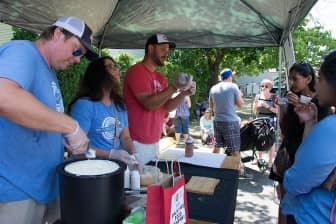 McClelland said they'd intended to prepare their own ice cream for the event, but another event required their pickling efforts for too much of the recent past. "We've been making pickles for weeks," McClelland said.
McClelland said his idea for the company started taking shape after he received a cancer diagnosis and decided to eat healthier, starting with produce from an organic garden he started, "Just to reconnect with the Earth. They said it was genetic, but why take a chance?"
The Big Apple Butter was a big hit for the Warren business, which is located at Hope and Main.
"Where can we get this," asked one satisfied sampler.
"Any Dave's (Marketplace), East Side Market," McLelland replied.
Jim Nellis, owner and mastermind of RI Food Fights, said the aim of the Ice Cream Throwdown, as well as all his company's events, is to promote local businesses. "We really want to get these brands, these local brands, out to the public," Nellis said.