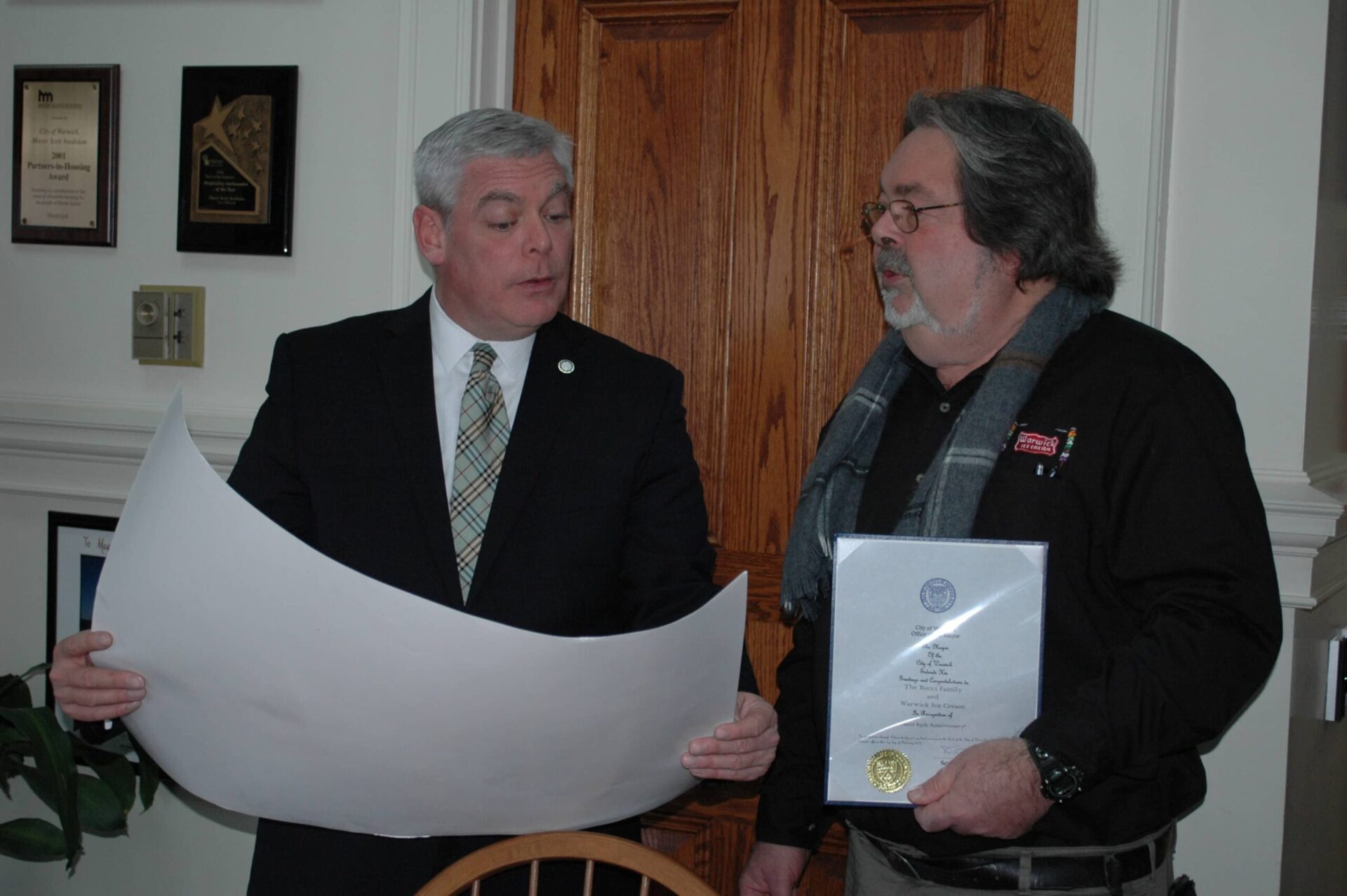 Warwick, RI – Eighty-five years after Charlie Clemente Bucci founded Warwick Ice Cream Company, intended as an employment vehicle for his four sons, the frozen treat manufacturer employs 30 people, distributing locally, nationally, and soon, in China.
Warwick Ice Cream CEO and President Gerard Bucci Jr. happily broke news of the China deal, for a shipment of 3-gallon tubs of various flavors delivered to Wuhu, China, while visiting with Mayor Scott Avedisian at City Hall Thursday morning. The area of China, on the south bank of the Yangtze River, presents a great market for dairy and ice cream sales, Bucci said.
"…there seems to be a lot of opportunity there," Bucci said.
Savvy ice cream connoisseurs and Warwick locals know the venerable purveyor of frozen treats is available at many stores in Rhode Island, including Roch's Market in West Warwick, Phred's Drug in Cranston, Dockside Seafood in Warwick, Big Bites in Warwick, Regency Marketplace, Eastside Marketplace in Providence, Eastside Pharmacy locations and b.good in Garden City Center, Cranston.
In June, Warwick Ice Cream started selling at Sam's Club in Warwick.
The company is also co-branding with fellow local icon Autocrat of Lincoln to produce Autocrat coffee ice cream products.
"It's just the best flavor of coffee extract," Bucci said.
Bucci was visiting with Avedisian Thursday to accept a citation recognizing the company for 85 years of business in Warwick. He didn't come empty-handed, though. Bucci had a gift for Avedisian, the latest Ocean State Treasures poster by Frank Galasso.
Depicted on the poster, among such notable locations as Yacht Club Beverages, The Block Island Ferry, Chelo's and Narragansett Lager is, of course, Warwick Ice Cream Company.
Bucci's the third generation to work for and run the family business. His son and nephew are the fourth generation.Bucci's grandfather started up the business to benefit his four sons, three of whom were deaf, Bucci said.
"The first business started as potential employment for them," Bucci said. Opportunity for the deaf and other people with disabilities in the 1930s, 60 years before the Americans with Disabilities Act, wasn't promising, Bucci said.
In 1976, Bucci started making delivery runs for the company after graduating from URI. He was promoted to CEO in 1978.