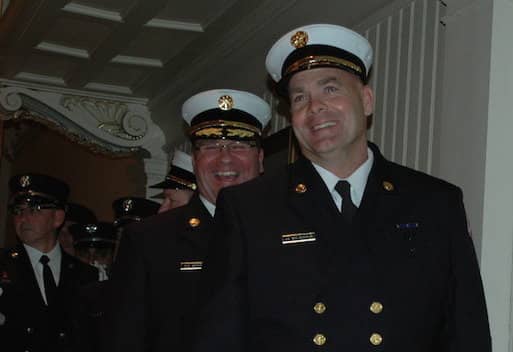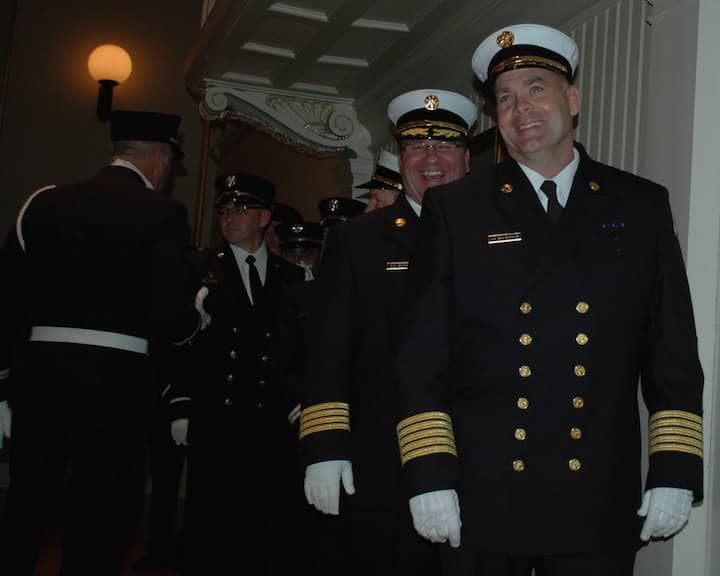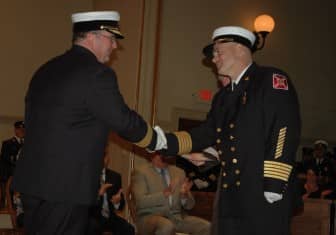 Warwick, RI — A crowd of Warwick Firefighters and well-wishers joined City officials Wednesday night to celebrate the retirements of Chief Edmund B. Armstrong and Assistant Chief Bruce C. Cooley, as well as several promotions, including James McLaughlin and David Morse to Warwick Fire Chief and  Assistant Fire Chief, respectively.
Outside City Hall, every parking spot was filled, with some cars spilling over into the nearby shopping plaza. Inside, all the seats and most of the standing room was also taken as well-wishers, members of the Warwick Fire Department, the Warwick Police Command Staff, Mayor Scott Avedisian, the Public Safety Committee and the Warwick City Council gathered to honor the promotions and retirements the Fire Department's top leadership, but also the promotions of several lieutenants and captains. 
Mayor Scott Avedisian spelled out the big shoes McLaughlin will need to fill, and his confidence that he'd rise to the task. "Tonight you are being entrusted with the best fire department in the state of Rhode Island. We expect nothing, but incredible, incredible leadership, and know that you will continue in the model of so many have gone before you," Avedisian said.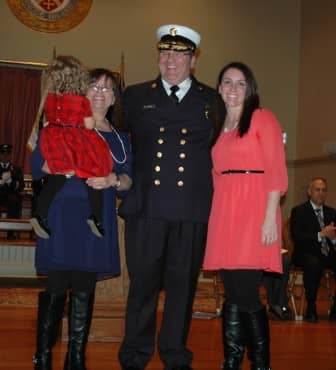 "I am honored, truly honored, be be given the opportunity to serve this great fire department, in this great city. Dreams sometimes come true," said newly minted Warwick Fire Chief James McLaughlin.
McLaughlin repeated his intent to reach out to the rank and file firefighters to make sure their input about the department is heard, and his plan to host open houses at the city's fire stations.
The new chief also put what he called a minority "five percent" of firefighters who don't pay the job proper respect on notice. "These five percent are not bad firefighters. They are not bad people. They just do not give the job the same amount of respect that I believe it deserves," he said.
Some, he said, don't wear the uniform properly, take excessive leave, don't treat people on the road with respect. Going forward, he said, that behavior won't be tolerated.
The warning was the sole piece of tough love McLaughlin had to deliver. The majority of the evening focused on aspiring to solid future work and honoring past service. First on the list for the latter was former Chief Edmund Armstrong, who received a plaque from the WFD as well as from the city.
"Chief, this plaque is on behalf of the members of the Warwick Fire Department," said McLaughlin. The mounted ax bore an inscription from Mayor Scott Avedisian and the Fire Department, among other well-wishers, McLaughlin said.
Councilwoman Donna Travis also presented Armstrong with a plaque, the fond wishes of the Council, and gratitude for his 35 years of service. "We appreciate it and you know we're going to miss you," said Travis.
In addition to the retirement of Armstrong and Cooley, the ceremony also recognized the service of retiring Captain Matthew F. McCauley, Rescue Captain Bryan J. Owens, Lieutenant Carl Pecchia and Lieutenant Michael F. Shea.
Richard J. Bellevance was sworn in as Battalion Chief, Keith R. Brown and Marcel R. Fontenault, Jr. were promoted to the rank of Captain, Gerard A. Bogossian was promoted to Rescue Captain, William A. Alsfeld, Scott C. Iamarone, Daniel J. DeRobbio and Christopher W. Albro were sworn in as Lieutenants. Bradford T. Ginaitt and Michael P. Kretchman took the oath of Rescue Lieutenant.
"For those being promoted this evening, especially Chief Morse and Battalion Chief Bellevance, thank you for understanding your responsibility, not only to do your jobs well, but to be that role model for new firefighters and veteran firefighters alike. I know I'm not alone in wishing you all the best in the new roles each of you are undertaking," said Avedisian.